A Look Back In Time – 1977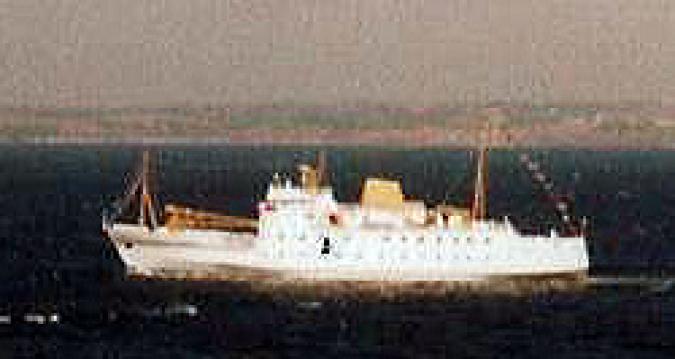 By Phil Westren
May 24 2017
Having earlier this month reflected on certain events 50 years ago, recently publicity celebrating 40 years since the mv "Scillonian III" came into service, prompted me to have a quick check back to 1977.
Firstly, mentioning the "Scillonian III", I must recall the 20th May, 1977, when the vessel first arrived at Penzance to start what has been a commendably long service role, transporting passengers and cargo to the Isles of Scilly. On that day I might well have taken a number of the first ever photographs taken here of the good ship, when she came around Land's End and into Mounts Bay.
Working in the shipping agency department for JH Bennetts Ltd., at the time, a first photo I took was taken from the Newlyn Pilot Boat, manned by Captain and Pilot Les Davies, and boatman and former 'Pirate' Louis Brown. I seem to remember my work colleague Colin Brewer also being aboard, as was Dr. Mike Hersant. Some Customs officers were also likely present.
The reason for our trip to sea was to rendezvous with the Greek bulk carrier 'Proteus' (37,419 gross registered tons) which was on passage from Vancouver to Poland with a cargo of wheat. She had two sick crew members on board, namely deck engineer apprentice Ioannis Bogiatzis (appendicitis) and deck boy Ali Moherem (suspected hernia).
After all but boatman Louis boarded the "Proteus", by way of climbing up a rope ladder, the vessel was brought further up into the bay, and I at the time took the displayed photo of the "Scillonian 111", crossing the bow before she soon entered Penzance to berth on the Albert Pier.
My role in boarding the "Proteus" was to attend to certain customs requirements and to also provide welfare arrangements to help the sick mariners. On such occasions, also in our role as an agent for the Shipwrecked Mariners Society, clothing and repatriation arrangements were often made.
Now, back to rugby matters, what is worth a quick mention for interest? Well, for the Pirates, the euphoria of the previous year when we won the Cornwall KO Cup for the first time was now but a memory.
One particularly interesting fixture was the floodlit game in January against Kansas Jayhawks. Played in front of a big crowd we beat the American side 19-10. The tourists, including Frank Mirikitani who has made a number of return visits over the years, were given a warm welcome, whilst before their eventual departure they were also delighted to find a box of Bill Butters' pasties waiting for them on their coach!
1977 was a time when we still had enough players to field three senior teams, which meant that our efficient Team Secretary, Ken Williams, had a busy role to play. Players presented with 100 games merit ties included Graham 'Granite' Waters, Peter Uren, Jeff Thomas, and Peter Trudgeon. Peter Uren is still helpfully active today, as is Paul Greaves who received his 300 games tankard. At committee level a former player, John Stirling, was presented with a club merit tie in recognition of him serving five years on the committee.
The Pirates were also thriving socially back in those days, with the players active in fund-raising alongside officials and supporters. Our annual Donkey Derby & Fetes were important to help raise revenue, and bring a smile to Treasurer Jack Tonkin's face.
And then there were the Tramps' Balls, which were always fun. Note the photograph of Micky James and 'Jethro' (who played for us in the 1970s), both suitably attired for the 1977 event.
In the County Championship, Cornwall got off to a good start away to Somerset, winning 15-12 at Bath. However, defeats against Devon at Exeter (18-12) and against Gloucestershire at Camborne (35-13) provide indicators nowadays of how difficult it was to get past the SW group stage.
And what of England – post Stack's international career? There would be no Cornishmen in the side, however a nowadays familiar face in Robin Cowling, then of Leicester, played at prop in an encouraging 26-6 winning opener against Scotland. It was England's biggest winning margin against their old rivals, and they won again, 4-0, away to Ireland in their second match. Next up was France and then Wales, which were both narrowly lost (4-3 and 14-9). In a unique season 'Les Bleus' won the Grand Slam, whilst Wales won the Triple Crown.
To end this latest column, a change of subject, for the end of May, 1977, was the time when Prime Minister James Callaghan officially opened the M5 motorway. The final stretch around Exeter being completed 15 years after the first stretch, beginning near Birmingham, had opened!
View a Printer Friendly version of this Story.
A Look Back In Time – 1977
Discussion started by Unofficial Pirates , 24/05/2017 10:01
Unofficial Pirates
24/05/2017 10:01
What do you think? You can have your say by posting below.
If you do not already have an account
Click here to Register
.
Sorry, only registered users may post in this forum.