A Look Back In Time – 1957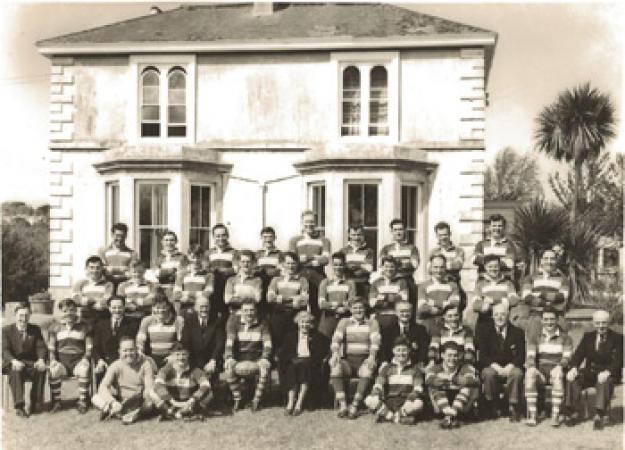 By Phil Westren
June 30 2017
A Look Back In Time – Briefly to 1957 . . . . . . . . . By Phil Westren
Continuing the theme of taking brief looks back to events of yesteryear, this latest column glances through 1957 – a year when despite only one household in 20 having a refrigerator - and it an era still of cold outdoor toilets! - Conservative Prime Minister Harold Macmillan declared "we have never had it so good." It may be strange to consider now, but he was probably right.
Charts hits of the time included Lonnie Donegan's 'Putting on the Style', whilst, in the USA, Elvis Presley was 'All Shook Up'! But what rugby-wise can we quickly reflect on? Read on…………..
The Annual General Meeting reported that the Pirates had played 50 games in the 1956-57 season, winning 29, losing 14, and drawing 7. Peter Michell was our captain, who would lead us again in 1949/60 and 1963/64. John Kent stood down as Team Secretary after 10 years, and his place was taken by another great 'Pirate', namely Rodda Williams.

Rodda Williams
Rodda taught at St.Paul's CP School, which I joined as a pupil in 1957. He was a great personality, as was fellow teacher Ben Jelbert. They had also both played for the Pirates and there is no doubt that each had quite considerable influence in sparking my direct interest in the game.
Cyril Ladner succeeded Geoff Mabbott as Secretary, thus making another personal link to highlight, because when I first became a club official in 1975, it was as Assistant Secretary to help and work alongside the indefatigable Cyril.
On the playing front, September 60 years ago opened with a Scottish Tour, which proved a great success. It is something we can highlight at another time, so I won't reveal too much - just yet!
Arrival in Scotland!
Similar applies to Cornwall's fortunes, to be elaborated upon in the future. For the present though I'll mention that following early season 'friendly' match losses against the British Police and D.R. Gent's XV, few would have given Cornwall much chance of achieving success in 1957-58. Harold Stevens' side, however, clearly had other ideas. In short, for the present, it is revealed that the men in black & gold, in search of winning the County Championship title for the first time since 1908, would actually go oh so close.
Representing Cornwall on the Rugby Football Union Committee was a 'Pirate', Rex Carr. As mentioned in the past he was, of course, the man above all others who had the vision to foresee the immeasurable benefits of amalgamating the hitherto rival rugby clubs of Newlyn and Penzance. Indeed, as Secretary in 1945 of our newly-created club he poured heart and soul into the venture, so the county was therefore fortunate to have him as their representative at the RFU, a post he held from 1953-65.
As for the Five Nations in 1957, despite there no Cornish interest it was a case of England carrying all before them. They won 3-0 in Wales and 6-0 in Ireland, and then at Twickenham beat France 9-5 and Scotland 16-5. In the process the men wearing the red rose also recorded their seventh Grand Slam, a thirteenth Triple Crown and their seventh consecutive Calcutta Cup triumph. And what's a Grand Slam – a term first adopted in 1957, having apparently been mentioned in the England versus Scotland match programme? Well, it is seemingly derived from the game of Bridge and means the winning of all tricks. Another snip of interest relating to England's success that season is the name of fly-half R.M. 'Ricky' Bartlett (Harlequins), who played in all games and was later grandfather to Cornish Pirates squad member Bar Bartlett.
Ricky Bartlett (centre) – in his England days
Two Cornwall players, namely Gary Harris (Camborne) and B.R. Loveday (Launceston & Wasps), would later in the year feature in an England trial.
Gary Harris
To end this brief column, it is worth reflecting on a couple of points which will likely amaze modern day rugby day rugby supporters. Firstly, club administrators were very much not in favour of 'competitive' rugby, which at the time was being mooted, whilst secondly, and this possibly the most controversial general issue in the game, was the alleged effect of televised matches. It seems that all club Treasurers found it hard to accept that the RFU ploughed back television receipts for the benefit of all clubs, as they knew precisely that gate receipts would be considerably less on an afternoon of an important rugby international. On reflection, for certain games thought could have been given to playing on Sundays – however, in those days such suggestions (similarly for Good Fridays) would have been deemed sacrilege and therefore a big 'No No'! How times have changed………………

The Pirates, pictured in April 1957 - Back-row l-r: D. Small, G. Nicholas, M. George, K. Weeks, R. Roberts, R. Horne, P. Dugdale, L. Williams, H. Matthews; 2nd row standing l-r: J. Matthews, O. Barnes, R. Jenkin, S. Richards, C. Rescorla, C. May, G. Vingoe, R. Burroughs, H. Jose, J. Edgecombe; Seated l-r: J. Rosewall (First Aid), G. Paul, C. Ladner (Assistant Secretary), J. Jenkin, G. Mabbott (Secretary), P. Michell (capt), Mrs. M. Lawry (President), A. Williams, A. Nicholls (Treasurer), J. Hosking, Dr. G. Hall (Chairman), J. Thomas, J. Kent (Team Secretary); Front: Ben Jelbert, M. Dowell, R. Williams, A. Strowger.
View a Printer Friendly version of this Story.
A Look Back In Time – 1957
Discussion started by Unofficial Pirates , 30/06/2017 10:36
Unofficial Pirates
30/06/2017 10:36
What do you think? You can have your say by posting below.
If you do not already have an account
Click here to Register
.
*Stalwart
30/06/2017 12:07
Another fascinating article, thanks Phil. I was six years old in 1957 and this was around the time when I attended my first Pirates game (taken to rugby by my sister). Like Phil, my interest was sparked by a teacher. In my case it was Mr Raymond Evans, head at Tolcarne Primary, father of RGRE.
old prop steve
30/06/2017 13:18
That was my very first season as a Pirates supporter - and my first match was the Cornwall v Gent's XV described. My main memory was lying on the grass next to the stand entrance and the ball bounced off the stand roof and hit me on the head. My first Pirates match was about 4 weeks later when they drew with Bart's Hospital. I hardly missed a match from then onwards.

The prematch music came from the old supporters hut on an old gramophone and they only ever seemed to have three well-worn 78" records "Marching Strings","A life on the ocean waves" (vaguely piratical I suppose) and the "Yellow Rose of Texas" all of which they played over and over again.

Phil's job as announcer was undertaken by the very active supporters club - usually Ben Batten - although sometimes by a lovely lady called Mrs.Porritt who when amplified had a voice which would strip the rust off a corrugated iron roof.

My headmaster was the Rex Carr mentioned in Phil's article who always puffed a pipe as he sat in the front row of the stand. He got a bit over-excited at one match and smoke could be clearly seen billowing out of his coat. He had somehow managed to set fire to himself. No harm was done and everyone had a good laugh but I wonder waht the 'Elf and Safety' brigade would make of it all today.

Happy days!
Eastanglianpirate
30/06/2017 16:00
Halcyon days indeed, a whole bunch of St Paul's and Humphry Davy teachers mentioned in your article and the posts above. In the Summer of 1962 my mum paid Alvin Williams ( earning a crust by working as a lifeguard at the Swimmingly Pool) to give me (aged 6) some swimming lessons. I am told I was a poor pupil but something must have sunk ( no pun intended ) in as later on I became a pretty good swimmer, winning a Cornish Schools race being the highlight. Rodda Williams started me off going to watch the Pirates and Bob Horne was inspirational in keeping me at it, not to mention showing me that Maths could be enjoyable - after a certain Henry Ferris had almost put me off it for life!
I look forward to your next feature Phil - great work!
Surrey Pirate
02/07/2017 08:27
A brilliant article, Phil - really enjoyed reading it.
*Stalwart
02/07/2017 12:53
OPS says:"The prematch music came from the old supporters hut on an old gramophone and they only ever seemed to have three well-worn 78" records "Marching Strings","A life on the ocean waves" (vaguely piratical I suppose) and the "Yellow Rose of Texas" all of which they played over and over again."
I always associate marching band music with The Mennaye and rugby, always seemed to be playing before games. I remember seeing a marching band on the pitch before games on special occasions.
cheshire exile
03/07/2017 17:57
Rodda Williams and Ben Jelbert were both teachers of mine at St Paul's. I had no idea of Ben's prowess on the rugby field at the time,although I knew a bit more about the Williams brothers.
My first paid job as a schoolboy was at the new Co-op at Wherrytown, on the princely sum of 21p an hour, where Kenny Williams was the manager.
Ron Jenkin and Ray Burroughs, and their wives, were very good friends of my parents. My first holiday, as far as I can remember, was at Butlins in Minehead with my parents, Ray & Sylvia and their children Jennifer and Mike (who of course followed his father as a Pirate).
Sorry, only registered users may post in this forum.