A Look Back in Time - 1961-62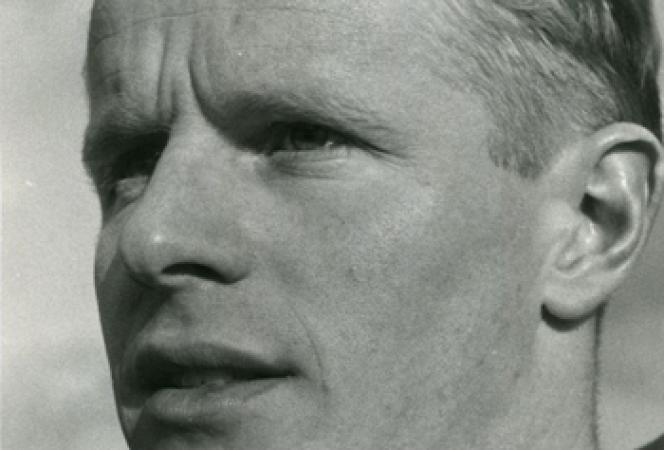 By Phil Westren
September 2 2017
Saddened to hear of recent that former England international Martin Underwood had passed away, it took me back to 1961 and an occasion when I ran along the Penzance promenade with the gifted winger.
Why? Well, it wasn't a training run, as I was aged just 11 at the time, but it was of course to do with rugby!
Martin Underwood
Martin had featured in an England trial hosted at the Mennaye Field, when after the game I spotted him changed and trotting along the 'prom' with his kit bag. Recognising his face, I was keen to get his autograph, and he kindly obliged.
Raised in Worcestershire, Martin was later educated St. Luke's College, Exeter (1958-1961), before taking up his first teaching post at Northampton Grammar School. He returned to Exeter in 1963 as staff member at St. Luke's College, where he remained for the next 40 years.
Martin's actual rugby career started at centre and wing in a star studded Northampton Saints team, He won his first cap for England in his first season of senior rugby with the Saints, and gained his fifth and last cap after moving to Exeter in 1963. Injury cruelly ended his playing career at the age of just 23, however as a highly successful coach, including 17 years as coach of St. Luke's College in Exeter, he was instrumental in the development of hundreds of first class rugby players, among them 35 full internationals and seven British Lions. Of interest he had remained Exeter's last full England international for the next 48 years, until Tom Johnson was capped in 2012.
The England trial mentioned earlier was actually played on the the 2nd December, 1961, when the 'Whites' versus the 'Colours' contest kicked off at 2.45pm. Cornishman Roger Hosen, then of Northampton, but who also played for Penryn and Bristol (and Stithians!) during his career, was selected at full-back for the 'Whites' in a side captained by Northampton scrum-half R.E.G. 'Dicky' Jeeps.
You can see in the copy programme page other star players of the time named in the line-up, including Phil Horrocks-Taylor (Leicester) at fly-half and Phil Judd at prop. A young 'Budge' Rogers (Bedford), yet to be capped, was on the flank. The 'Colours', captained by J.D. Currie (Bristol), included three Cornishmen in the pack – all from Redruth. They were flanker Paddy McGovan, prop 'Bonzo' Johns, who first had an England trial back in 1954, and hooker Ken Abrahams. All very good players, each narrowly missed out on full England honours, although Roger Hosen ultimately won 10 England caps between1963-67.
Redruth's Bonzo' Johns
Following the international trial, the Pirates and the Borough of Penzance received many letters of congratulations for what was a highly successful weekend. A crowd of nearly 10,000 were present, the Supporters Club selling 3,000 programmes, and the general organisation first-class. All in all it was a great day - there also the finest of Duchy weather to confound the pessimists!
Signatures of England Selectors who visited our clubhouse include such famous names as Carston Catchside and Micky Steele-Bodger
The 1961-62 season was at the time considered the most successful in the club's history. Under the captaincy of Johnny Thomas only nine 1st XV games were lost out of a total of….wait for it….. 48 – yes, 48! We topped the unofficial league table and scored more points than any other club in the South-West, plus we retained the Cornwall 'Sevens' title.
Centre Gerald Luke also scored 30 tries during the season. Gerald was a school teacher at Heamoor Secondary School, who created a natural rugby interest in students, as did Johnny Thomas at Lescudjack, and another 'Pirate', Bob Horne, at Penzance Grammar School for Boys.
Gerald Luke scored 30 tries in the season
There are many other fine Pirates that one could recall from this time, including our long-serving President, Mavis Lawry, who was awarded the BEM in the New Year's Honours List. George Luke (father of Peter and Mike) is also someone to mention, as he stepped in to ably fill the role of Team Secretary following 'Scotty' Millar's departure from the area, whilst Louis Brown's 3rd team took the game on high, to Madron (God's own city!) where it played home games beneath a club flag hoisted at the King George V playing field, courtesy of the Supporters Club.
The Pirates 1961/62 – Back-row l-r: G. Mungles, J. Michell, A. Fowler, J. Glover, C. Kelynack, K. Jenkin, A. Blewett, L. Brown, P. Luke, A. Stephens, A. Stevenson, M. Shepherd. Middle: K. Williams, J. Matthews, M. Thomas, J. Edgecombe, R. Butters, A. Byrne, O. Williams, D. Berryman, M. Parker, D. Stephens, T. Eagland, O. Barnes, R. Sincock, C. Matthews, W. Williams, M. Jenkin, T. Luke; Seated: B. Trudgeon, G. C. Luke, G. Luke, C. Ladner, P. Michell, Dr G. Hall, J. Thomas (c), Mrs M. Lawry, R. Burroughs, A. Nicholls, A. Williams, G. James; Front: J. Gendall, A. Uren, G. Paul, R. Eddy. R. Pascoe, P. Harvey.
On the county scene we had a number of players involved in both the friendly and County Championship matches. Concentrating on the Championship, it was a good season. Somerset, Devon, Gloucestershire were all beaten in the group games, and then Oxfordshire (27-3) in the quarter-final played at Iffley Road. For the semi, to be played at Coundon Road, Coventry, against a strong Warwickshire team on the 3rd February, Cornwall's best knew that the sternest of tests lay ahead, and so it proved. Despite losing 8-0, however, they held their own against the home team's feared pack of forwards, with a young prop, 'Stack' Stevens, impressing. Other Pirates in the Cornwall team were centres Jimmy Glover and Gerald Luke, scrum-half Peter Michell, and the second-row pairing of Alvin Williams and David Mann. It was an occasion when before the game a crowd of 15,000 also stood in memory of Harry Oliver, of St. Ives, who had died just two days earlier at the age of just 37. Harry had played 34 times for Cornwall, was an England trialist, and had been a county selector.
County Championship semi-final action at Coundon Road in 1962 – 'Stack' charges down a kick from Warwickshire's captain and England winger Peter Jackson
Moving on to March, 1962, in Penzance the never-to-be-forgotten Ash Wednesday Storm hit our seafront, which inflicted terrible damage. A Mayor's Flood Distress Fund was set up and late in the month we hosted at the Mennaye Field a fundraising match played between a West Cornwall XV and an East Cornwall XV. The Mayor kicked the game off and many gifted players from all about the county turned out.
Finally, as for England's fortunes in 1962, it was a case of finishing third in the Five Nations. At Twickenham the red rose men won 16-0 against Ireland, but then lost 13-0 to champions France. In the match at Stade Colombes, Michel Crauste became the only forward then in the history of the Championship to score three tries. Fly-half Pierre Albaladejo slotted two conversions.
Michel Crauste
England's other two matches saw them draw both their opener 0-0 in Wales, and their final game 3-3 in Scotland. Martin Underwood played in all four games and Cornwall's fly-half Richard Sharp in three, as did Cambridge University centre Mike Wade – who in 1965 wore a Pirates shirt, albeit briefly! Speaking to fellow Pirate Paul Greaves on the subject, Paul seems to remember Mike having a working connection with Finn's Fine Shoes at Eastern Green, Penzance. He is very likely right, as that is about the time the company came to Penzance, and provided employment to many for years. Okay, 'shoes' might be a little off topic, however any such a snip of archive information is still worthy of mention!
Back to rugby matters in 1961-62, there is much, much more of interest that can be mentioned……………..to save for 'Another Look Back In Time'