Devon fail to pick up the crown at Twickenham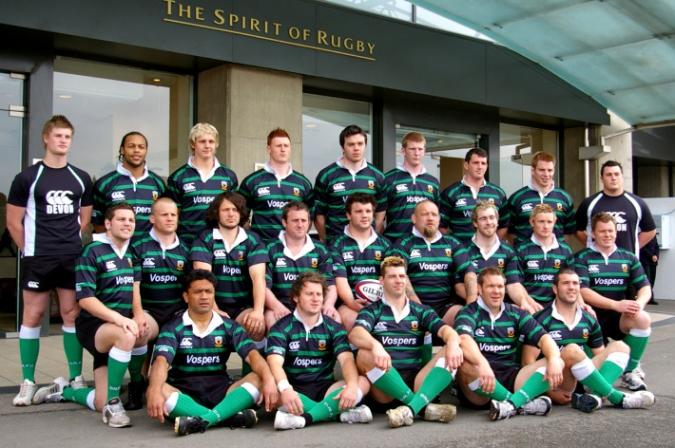 By RFU/Dave Wills
June 2 2008
Devon went to Twickenham with the hopes of picking up the Bill Beaumont Cup but the young side failed to defend the strong Yorkshire attack and were left with the runners up medals. Read the RFU report and the words of players and supporters after the match.
Official report from RFU press office.
Yorkshire claim Bill Beaumont Cup

Bill Beaumont Cup final:
Devon 13 Yorkshire 33



Potato buyer Robin Kitching led the way as Yorkshire mashed Devon in the final of the Bill Beaumont Cup.
The Otley wing scored a try and kicked two conversions and three penalties for a personal haul of 18 points at Twickenham.
His backline colleagues were a constant threat, too, with his Cross Green team-mate Steve Parsons touching down twice and Leeds Carnegie centre Tom Rock scoring their fourth try.
And their superiority at the breakdown meant Devon looked half-baked by comparison as they made too many defensive errors to sustain their challenge for a fourth title in five seasons.
They crossed the Yorkshire line just once for a second half penalty try converted by Ben Scott with Danny Hawkes adding two penalties.
It added up to an 11th Twickenham win in 12 visits for former Yorkshire Under 20 and England Counties coach Bob Hood.
"It was a really good performance and a really professional one," said Hood. "We wanted to play with intensity and our belief in what we were doing shone through.
"We weren't patient enough in the first half but once we settled down we scored some good tries.
"It's been eight years since we last came here and beat Devon and 16 of the 22 we had here today had been here and won in previous years with the Under 20 Championship.
"We have that conveyor belt of young players coming through and rugby in Yorkshire's in pretty good shape at the moment."
Plymouth Albion fly half Hawkes kicked his two early shots at goal either side of Kitching's reply for Yorkshire before a combination of poor defending and excellent finishing saw the cup wrenched from Devon's grasp.
While they made several big individual hits – Plymouth Albion's Keni Fisilau the main culprit – they couldn't halt telling individual breaks with full back Adam Whaites and centre Tom Rock both a constant threat.
Whaites's twisting run on the half-hour saw him evade three tacklers before off-loading for Parsons to score from close range and Yorkshire struck again immediately before the interval.
This time Rock did the damage down the left and although Kitching's return pass failed to find its target Rock recovered to volley the ball over the line and touch down.
Parsons added his second try five minutes into the second half, when Whaites again twisted out of tackles close to the line and Kitching's conversion established a 20-6 lead before Devon got their act together.
They had made key changes early in the second half – Ben Thompson on at fly half for Hawkes among them – then opted for route one by driving a lineout from five metres out. Yorkshire hauled the maul down and conceded a penalty try which Scott converted.
But Yorkshire stepped up another gear with Rock again beating defenders, Richard Wainwright was stopped just short and Kitching piled over the line with referee Rowan Kitt awarding the try after consulting the TMO.
Kitching's conversion was followed by two straightforward penalties that put Yorkshire out of sight going into the last 10 minutes.
"We knew they'd be big and physical, good at the set-piece and in the tackle area and we just gave away too much ball," said Dawe. "We did well to contain Yorkshire at times because they looked dangerous at times.
"We've done well to get here five times in a row, the players can be proud of themselves and hopefully they'll learn from this and we can come here again.
Devon: Ben Scott (unattached); Tom Bedford (Exeter Chiefs), Keni Fisilau (Plymouth Albion), Patrick Sykes (Canterbury), Liam Gibson; Daniel Hawkes, Matt Newman (all Plymouth Albion); Wayne Reed (Launceston), Stewart Pearl (Unattached), Ryan Hopkins, Jamie Tripconey, Ed King (all Plymouth Albion), Danny Thomas (Unattached), Jake Childs, Kyle Marriott (captain, both Plymouth Albion).
Replacements: Stephen Bennett (Unattached), Gareth Evans (Plymouth Albion), David Kimberley (Bridgwater), Richard Jenkins (Bristol), Ben Thompson (Unattached), Marc Dibble (Launceston), Jon Marlin (Mounts Bay).
Scorers: Try: Penalty Try. Conversion: Scott. Penalties: Hawkes 2.
Yorkshire: Adam Whaites (Wharfedale); Steve Parsons (Otley), Tom Rock (Leeds Carnegie), Kyle Dench (Otley), Robin Kitching (Otley); Richard Wainwright (Manchester), David McCormack (Otley); Ryan Wederell (Otley), Scott Plevey (Doncaster Knights), James Armitage (Beverley), Dan Cook (captain, Hull), Richard Hill (Hull Ionians), Dan Hyde Otley), Neil Spence (Bradford & Bingley), Max Lewis (Leeds Carnegie).
Replacements: Peter Wright (Middlesbrough), Andrew Baggett (Wharfedale), Paul Turner (Otley), Will Kay (Halifax), Matt Challinor (Morley), Matt Stockdale (Otley), David Worrall (Beverley).
Scorers: Tries: Parsons 2, Rock, Kitching. Conversions: Kitching 2. Penalties: Kitching 3.
Referee: Rowan Kitt (RFU).

---
And the unofficial story
WAYNE REED
Good game, we made too many mistakes, too many basic errors. they were a good side, broke the game line a lot, we tried to stop it, but we did not give up and let them run away with it to badly. We are a proud side, wearing a Devon shirt means a lot to us. It will be my last game! definitely hope to stay involved, on the coaching side or whatever, carrying the water bottles whatever they want me to do. The county have done a lot for me and I am going to give a lot back. I am really proud of everyone today, they gave their all, they are a knackered, but we will have a good night, think about it tomorrow, its just a great experience to come to the home of rugby.

STUART PEARL
A hard physical game, they got over the game line at times but as Reedy said we stuck at it, just got to keep going, heads up, stick to it as a team and obviously work together as for next year.

TONY BOYLE
Coming to Twickenham is a great thing for the players, we will take this as a learning experience as Devon rugby will always do and it shows there is strength in depth in Devon. Everybody has learnt something from it, we will walk away, the players will hold their heads up high, go away and try and reproduce what we did this season next season and get to to Twickenham and live to fight another day. The lads will enjoy it and we will all learn something from it.
I think the support we had this weekend and throughout the Devon games has been really good and I think it's great that people have followed them especially after a long hard season, but it makes the guys feel really proud.

DAN COOK (YORKSHIRE CAPTAIN)
I would like to thank Devon for the hardest game yet in the county championship, this was our best performance by far, we tried to do a professional job and I think we did it. You guys are a really good team, we have played at the end of the day to our potential.

Mrs REED
It was great to to see them hear again, shame about the result, they did us proud anyway, good bunch of boys.

LAUREN DAWE
I thought the game was really good, they tried their best and that's what matters.

BABS JENSEN
I thought overall quite a disappointing game when you look on the games the boys have played in the past, it is great to see young players coming through and gaining valuable game time, but it was just disappointing, I think we could have done better and they have played better.
---
Pictures to follow