Five thoughts from Harlequins v Newcastle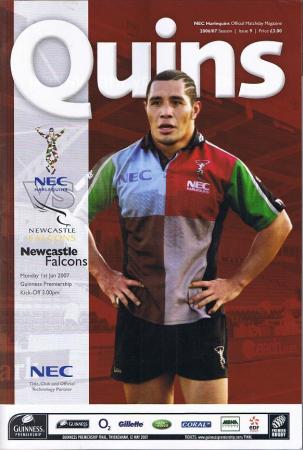 By Leipziger
March 25 2017
The scoreline tells a big story. But I tried to make some sense of the game and here's what I came up with while on the Tube:
1) Starved of possession
I'd expect the possession stats from today's game to be 70-30 in Quins' favour, at least. Their forwards controlled the breakdown and the scrum, and their backs were largely error-free, so we couldn't get enough ball and when we did, we struggled to create momentum. It's all reflected on the scoreboard.
2) Quins' big game players fire
A few Falcons fans were nervous when Harlequins named a team packed with internationals, and they were proven right. Danny Care had a fantastic game, and Nick Evans, Jamie Roberts, James Horwill and Mat Loomanu were also brilliant. When you're up against so many top players on their game, things will be difficult.
3) No standout performers
On the flipside, I'm struggling to think of any Falcons players who had really good games today. I can think of a few who made some mistakes, but nobody stood out as having played well. I guess when we had such little ball, that's inevitable.
4) Top 6 probably too far away
With the Falcons now 11 points behind Quins in sixth, and only four games of the season left, it looks like our hopes of finishing in the top half of the table this season are over. Never mind, there's still higher places to play for and we'll approach 2017/18 with confidence.
5) Tomfoolery?
I thought referee Tom Foley had a good game today. I couldn't argue with either yellow card, and Foley let the game flow quite well. It didn't feel stop-start. A good show by the man in yellow and we don't often make a point of saying that.