Leicester Preview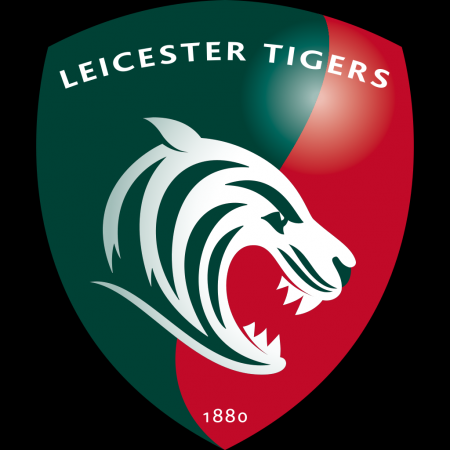 By Falconfan07
April 11 2017
Now all. I hope your tickers are all in fine working order after the drama that was Friday night. Not one for the elderly or those with high blood pressure, but our boys pulled through and kept the chances of a top 7 finish alive in nail biting fashion. A huge challenge this week for our team though as our boys travel down to the fortress that is Welford Road!
I'll be heading down on the supporters bus and I've got to say I can't wait to experience the atmosphere at the ground, and shout myself hoarse cheering the boys on of course...
Soon to be Newcastle Falcons player, Maxime Mermoz of Leicester tackles Matt Banahan of Bath Rugby. The tigers lost 27-21 at Twickenham on Saturday. The game was Matt O'Connor's first in charge of the club after Aaron Mauger's departure. Though the Tigers lost, the club still sits on 4th place on 52 points, Bath also on 52 points, but in 5th because of points difference. Newcastle are still in 9th, but are only 7 points away from 7th place after the weekend's result. Leicester will expect to stick 5 points on us at home and need a performance to keep themselves in the race for the play-offs, while Newcastle realistically need to get a LBP or 2 to keep themselves in the race for Europe.
1. To keep hopes of a top 7 finish alive. I don't expect us to win this game, I can't recall the last time our lads won at Welford Road because I have not been supporting the club long enough, if someone knows please pop it in the comments below, but it is an extremely hostile place to go play rugby. The club has the biggest fan base in the premiership of around 16,000 season ticket holders, and they never get under 20,000 in attendance at home games in the league, but our boys could really do with a LBP going into must win games against survival battlers Worcester & Bristol who are fighting for everything right now so will be no easy games.
2.Build on last Friday's result. After 3 on the trot in the league with nothing, and a mammoth amount of points shipped, it was nice to get the win and only concede 14 points while doing so. But now Dean will be saying let's finish this season on a high and win at least 3 of our last 4 games, which we are more than capable of doing, as long as the lads empty the tanks, work for each other, and believe in themselves this weekend. I think we can keep Tigers close as long as we are clinical and accurate. Mind you, 40 odd Falcons supporters plus the 50 that are going down from Darlington Mowden Park chanting for the boys should give the boys a mighty big lift!
The Lowdown on Tigers.
It has been somewhat of an ''Up n' down'' season for Leicester. Not something you associate with the Tigers. Normally you see the club consistently grinding wins week in week out, just trucking along nicely, but with so many changes being made this season and the club on its third director of rugby this year you can see why there is inconsistency there. The club showed its vulnerability in the in the 40 odd nil thrashing at home to Glasgow and showed in previous big defeats in Europe away to Munster and Glasgow. The club failed to make it into the final 8 of Europe and is in a dogfight for making the play offs! At a club where the fans & board demand success, Matt O'Connor and his team will be under pressure to make things right this weekend. O'Connor needs his first win under his belt and will see this game as perfect opportunity to do so.
Leicester players looked dejected after the club suffered it's heaviest defeat ever at home in Europe to Glasgow Warriors. Tom Youngs said he was embarrassed by the result saying it's not what Leicester is about, as the team where booed off by their home faithful. Premiership results haven't always favoured Tigers this season either. Big defeats away and at home to Exeter Chiefs, an away loss at Sale Sharks, losses away and at home to Wasps, and a close shave at Kingston Park at the start of the season saw Richard Cockerill sacked by the Tigers board. Kiwi Aaron Mauger stepped up on the short term and was told to bring a more expansive style of play to the Tigers team, the board still not satisfied with results...let him go.
In comes Matt O'Connor.
O'Connor, who is now in his third stint with Tigers after stints with Pro 12 outfit Leinster, and recently Super 15 Australian franchise Queensland reds, has relished a return to the club with which he won 2 Premiership titles.
For a club of Leicester's pedigree, to have not won any league or European trophies in 4 years is somewhat unacceptable. With only the Anglo Welsh Cup to their name this year, the club and O'Connor will be looking to kick on and end the season on a high, and hopefully get more silverware. It is a huge challenge for Leicester, given the lack of depth due to injuries in some areas like centre, world class players Tomua & Tuilagi both out for the remainder of the season. They have a somewhat lack of go forward in some areas like Number 8, but they still have plenty of quality in guys like the Young's brothers, Burns, Veianu, Mermoz and JP ''that really good South African winger...''
If Falcons are to get something...
If Newcastle are to get something from this game then we have to front up, stop that Tigers pack going forward, and keep the Tigers faithful quiet and aggravated. With Burns likely to start @ fly half, rush up on the outside to block his options of class distributor Mermoz and force him into kicking to the likes of Goneva, Watson and Tait. On kick chase we need to be on the money, not necessarily fly up, but stay tight around your slowest man. If we don't and have a dog leg the Likes of ''Twinkle toes'' Tongan International Telusa Veianu will wreak havoc on us. And as always against Leicester DISCIPLINE! We can't give away silly penalties for them to get field position and use their line-out. They have brilliant operators in Dom Barrow who has grown as a player since moving from Newcastle. We need to sack the line-outs as quickly as possible to stop any chance of go forward, otherwise the penalties will rain in and it'll be a long old day.
LEICESTER'S LAST 5 RESULTS-
34-15 LOSS @ HOME TO EXETER CHIEFS IN PREMIERSHIP
32-10 WIN AWAY @ SARACENS IN AWC
16-12 WIN IN ANGLO WELSH CUP FINAL AGAINST EXETER CHIEFS @ STOOP
36-31 WIN AWAY @ NORTHAMPTON SAINTS IN PREMIERSHIP (AARON MAUGER'S LAST GAME)
27-21 LOSS AWAY @ BATH @ TWICKENHAM IN PREMIERSHIP
3 OUT OF 5 WON, 6 POINTS IN LAST 3 PREMIERSHIP GAMES. 120 POINTS SCORED/114 POINTS CONCEDED.
NEWCASTLE'S LAST 5 RESULTS-
46-31 WIN @ HOME TO NORTHAMPTON SAINTS IN PREMIERSHIP
36-14 LOSS AWAY TO EXETER CHIEFS IN PREMIERSHIP
35-27 LOSS @ HOME TO SARACENS IN PREMIERSHIP
53-17 LOSS AWAY TO HARLEQUINS IN PREMIERSHIP
16-14 WIN @ HOME TO GLOUCESTER IN PREMIERSHIP
2 OUT OF 5 WON, 9 POINTS IN LAST 5 PREMIERSHIP GAMES. 115 POINTS SCORED/168 POINTS CONCEDED.
Changes I'd make-
Local lad back in at 10 & Tongan sportsman of the year back in We've got to move that big old tigers pack about the park. Joel looks to have got some confidence back, Delany looks to be injured and Joel contributes more than Mike. Joel in to start and get the back line firing. Tane will bring his usual aggression and speed to the breakdown at 9, and also kick the goals if needs be.
Scottish flair back in the front row Aye, Jon was in that scrum when we demolished Gloucester so he deserves the start. Bobby Vickers was class on the night so Jon to Tighthead & Wilson to the bench. Callum Chick came very close as I thought he was fantastic, but he will bring some hard carrying with him off the bench. Hogg was class against Gloucester, so hopefully he is good to start again.
My Newcastle Falcon's to face Leicester Tigers.
1. Rob Vickers
2. Kyle Cooper
3. Jon Welsh
4. Evan Olmsted
5. Calum Green
6. Mark Wilson
7. Will Welch
8. Ally Hogg
9. Sonetane Takaulua
10. Joel Hodgson
12. Juan Pablo Socino
13. Chris Harris
11. Marcus Watson
14. Verniki Goneva
15. Alex Tait
16. Scotty Lawson
17. David Wilson
18. Ben Harris
19. Will Witty
20. Callum Chick
21. Michael Young
22. Craig Willis
23. Sinoti Sinoti
A tigers player to look out for.
Tigers hooker/flanker Harry Thacker recently signed a new deal at the club after speculation arose that he was off to Worcester. Harry came through the Tigers academy and his dad, Troy also played hooker for the club.
A bundle of energy to watch and also known as the ''little dumper truck'' could easily slot in at 12 or 13 at this level, has so much pace for a front row forward. Though only short, he is the same build as our Juan Pablo Socino, just solid muscle and power. Watch out for his barnstorming carries and work rate around the park, and for him sticking his head in rucks to pinch balls. Size is not an issue with this kid, punches well above his size & weight, class player.
Rallying call to all Falcons fans making the trip to Welford Road to make yourselves heard and give the boys a big lift. Bring ya flags if you can.
Aye, I'll be going up on the supporters coach and will be shouting and waving my flag in the Crumbie Terrace for the boys. This is a massive challenge and they could really do with our vocal support. If you see a lad with a big Falcons flag waving about and screaming like a lunatic, aye that's me. Come over and join in with a sing song chant. Let's get behind the lads!
COYF!
View a Printer Friendly version of this Story.
Leicester Preview
Discussion started by FalconsRugby.org.uk , 11/04/2017 13:27
FalconsRugby.org.uk
11/04/2017 13:27
What do you think? You can have your say by posting below.
If you do not already have an account
Click here to Register
.
falconsfan07
11/04/2017 14:32
Thanks for the edit as always Monkey! Looks fantastic... really appreciated.
pityacker
11/04/2017 14:52
5 of us going by car sitting at the back of the big new stand , the last time we were there was when George Ford was only about 19 before he went to Bath and he was playing as Flood was injured and he was sensational for a young kid and we got the usual walloping at Welford Road so hopefully Saturday will be better. Roll on can't wait.
Leipziger
11/04/2017 19:34
Cheers FF07, I can't get there but looking forward to watching it on the tellybox.

I've seen us take some poundings at Welford Road (83-10!!) but I also remember a draw on a Friday night about ten years ago... before that game, it had been more than a year since any team had got so much as a losing bonus point at Leicester in the league. So there's always hope.
falconsfan07
11/04/2017 20:04
Quote:

Leipziger
Cheers FF07, I can't get there but looking forward to watching it on the tellybox.
I've seen us take some poundings at Welford Road (83-10!!) but I also remember a draw on a Friday night about ten years ago... before that game, it had been more than a year since any team had got so much as a losing bonus point at Leicester in the league. So there's always hope.
No bother, thanks for reading. Aye I'll have it on record...ive got a game for you Leipz, every time the bt sport cameras show Matt O'Connor, drink. Youll be wobbly by half time I bet.
Jeez that is some record! Tough place to go. Hopefully we pick a LBP up...
I was there for that game, and if I remember right we even got snowed on. Never mind, we still had fun on the bus on the way home.
DeceptivePace
11/04/2017 20:30
Mike Delaney was at KP for the A Team fixture on Monday and looked very like he had a lightweight cast on his wrist/hand. I'd be surprised if he's in contention for the game.
tigerburnie
11/04/2017 21:15
Hope you have a good trip down, one that Deano and Wellsey will be relishing, think home advantage will see us through. Not expecting 5 points, you're putting in some good performances.
falconsfan07
11/04/2017 21:58
Quote:

tigerburnie
Hope you have a good trip down, one that Deano and Wellsey will be relishing, think home advantage will see us through. Not expecting 5 points, you're putting in some good performances.
Thank you tiger burnie! Looking forward to experiencing the Welford Road atmosphere and sharing some crack with the tigers fans. Only time will tell... you guys will be after all 5 I think, you need it for the play offs.
Can't wait for Saturday
Many thanks Monkey I hope you enjoy your trip, the game but not the result
falconsfan07
11/04/2017 22:00
I'm sure he hurt it tackling the glos 12 Mark Atkinson DP, got bounced off and landed awkwardly then was changed for Joel. Can't see him being fit.
The Falcons beat Leicester at Welford Road in the championship season with Pat Lam scoring twice. Don't think they've won there since, although they lost on one occasion only because the officials gave points to Leicester for a kick that did not go between the posts.
Sorry, only registered users may post in this forum.