The greatest club in the world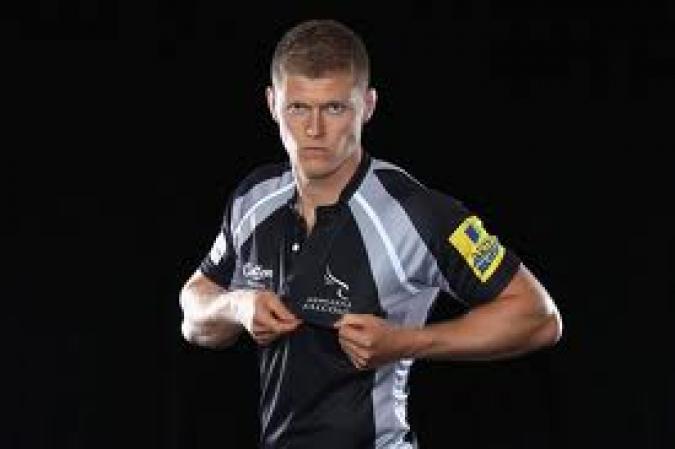 By Leipziger
April 27 2018
As a Falcons fan of 22 years, I've seen some fantastic wins.
Two amazing cup finals in 2001 and 2004, simply unforgettable days. I can still see Dave Walder scoring the winning try in 2001 from the corner of Twickenham in which I was sitting, and I remember the utter, explosive thrill of that moment.
I remember Matt Thompson turning back to the crowd in 2004 after the rest of the team had moved further around the pitch, facing through the north goal at Twickenham, and throwing his arms up in celebration. It was like he and I were staring directly at each other.
Bristol in 2009. The semi-final at Harlequins in 2011. Sale away in 2010 – I think still the best Premiership game I've ever seen. Saracens away at Christmas 2007.
Some amazing atmospheres. Leicester at home in 2003. Leeds at home in the Championship playoffs in 2013. Outsinging the Shed when we beat Gloucester away in 2012.

Some mindblowing scores. Tom May's penalty against Gloucester at home in 2009, Tim Swinson's try at home to Sale in 2012. The aforementioned try by Dave Walder to win the 2001 cup.
There have been some heart-crushing lows. Exeter at home in January 2012, when I thought there was no possible way that Alan Tait could continue as manager (he didn't). Just when you thought that game would be the lowest point of our Falcons-supporting lives, there was Worcester at home in 2014, a game as inexplicable as it was poor.
Hammerings at London Irish, Bristol, Sale, everywhere… an 83-10 pounding on my first visit to Welford Road!
But this is what it's all about. It's all a journey, through the highs and the lows.
Big results may yet conspire to keep the Falcons out of the playoffs, if we get nothing against Wasps and Leicester get five points at Sale. We may go to Exeter or Saracens and lose 50-0.
This season may prove a freak and we could finish 10th next season.
Who knows? But all I know tonight, is that I've witnessed something special, and I only got home at 8.30pm to watch the second half on TV!
The Falcons showed pure heart, determination, and a will never to be beaten and gave us supporters a win that, even in this extraordinary season, was something few of us will ever forget.
Missing Toby Flood, Jon Welsh and Will Welch. Losing our only recognised fly-half early in the game. Going ten points down in the second half. Yet still, somehow, winning away to England's biggest rugby club and one of the biggest clubs in the world, for the first time in 20 years.
It is something incredible.
I've nothing against Saracens, Leicester, Leinster etc. winning all of their trophies. I wish we could too. But I would not swap all of Leicester's silverware for the incredible journey I've been on over the past 22 years as a Falcons fan, and which I'm sure will continue for years to come.
This journey is incredible just because the Falcons are my team, my home city team. To me they are the greatest club in the world, and the only club I could ever support with such passion, simply because the emotion they give me, for good or bad. Worcester in 2014, Exeter in 2012… they were worth it, to experience this night that will go down in North East sporting history.
Get in!!!
P.S. Sorry if that was a bit rambling, I just felt called to write and post something on such a magical night.
View a Printer Friendly version of this Story.
The greatest club in the world
Discussion started by FalconsRugby.org.uk , 27/04/2018 22:22
FalconsRugby.org.uk
27/04/2018 22:22
What do you think? You can have your say by posting below.
If you do not already have an account
Click here to Register
.
RiponFalcon
27/04/2018 22:31
I wish some of the other sports teams in the north east had a fraction of what the falcons have, I was going to list the qualities where they fail to match up to the Falcons but the list would be far too long. Proud of the club from the owner to the staff that post on here to the people who work in the shop and serve the drinks,, Whatever happens for the rest of the season they should all be proud
Tigers can't catch us. There's only Glaws or Sale left now. Glaws need 7 points from Bath and Sarries and Sale need 10 from Chiefs and Tigers.
What do we think folks????
Correction...Glaws actually need 8 points from their last two games if we got nothing against Wasps as we've had more wins.
NorfolkFalcon
28/04/2018 08:46
What a fantastic article, Leipziger. I echo your conclusion. I'm so proud of the whole club. It's been a fantastic season so far. Let's keep going!
Davidten31
28/04/2018 10:00
Great article Leipziger, I cannot match your 22 years supporting the lads, but for the last 6 years we've been there home and away. The Falcons have had a massive season both on the field and off and it might not be finished yet.
Hopefully the new North stand wont take too long to go up and we can get a few more supporters into KP.
Already looking forward to next season COYF
zackary71
28/04/2018 10:05
Spot on Leipy. All the suffering, the heartache, the disappointment, the oh so nearlys...were forgotten last night as the lads dug out a victory when literally on the ropes. The future's bright...the future's Falcons
Beautiful read thanks Leipy. We are blessed with incredible supporters, best anywhere in my utterly biased opinion.
Sorry, only registered users may post in this forum.