Are we nearly there yet?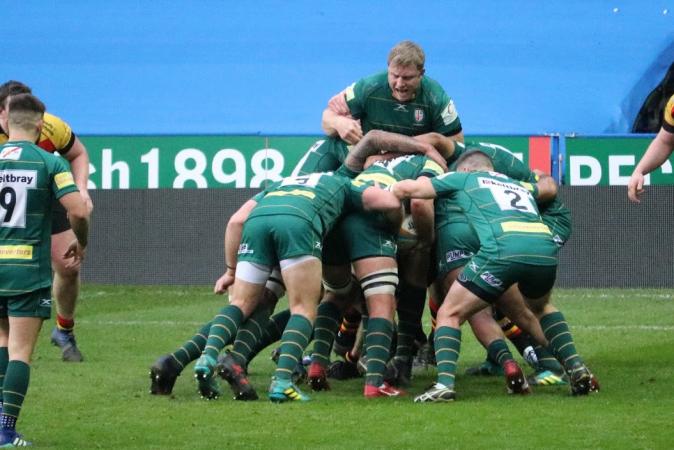 By Griff & MickeyMouse
January 17 2019
After a long while London Irish returned to the Madejski Stadium for a meaningful match in the Greene King Championship against Richmond. It has felt like an absolute age since the last game - for the record it was October 27th against Pirates, 77 days. Sure there's been a bit of cup rugby that leaves Irish in the Quarter Finals against Coventry coming-up but it almost felt like a new season starting on Sunday.
So how would Irish fare against semi-pro Richmond who reside at the lower end of the table? Badly, certainly at first.
So the game, Richmond came with what looked like a handy pack who held their own pretty well supported by a backline that puts the money we spend on ours to shame. Early-on there was very little in it and the match remains scoreless for almost the first quarter before Dave Porecki added to his impressive try tally for the season. Loss of concentration let the visitors back in shortly afterwards. A Ben Meehan try, sniping off the back of a collapsed maul, put Irish ahead but, despite a few nice lines run by the backs, the home side couldn't add any more points in the first half.
Half time Irish 12 - 5 Richmond
Declan Kidney possibly gave the boys a rocket in the changing room because they were uncharacteristically first out of the tunnel and within a minute of the restart Irish had a third try and Ben Meehan his second when an actual backs-move actually paid off. Momentum continued albeit not so stylishly as Irish camped-out well into Richmond's territory and after a few attempts at a rolling maul finally managed to get over the line from one with Dave Porecki joining Meehan on a brace. The bonus point was secured.
Further hurt for Richmond ensued, Porecki left the field to avoid buying us all a beer for a hat-trick but his replacement Saia Fainga'a went over for the next. Personally I think Dave still owes us a jug...
The visitors weren't done though hitting back with a try of their own with ten minutes to go but it was a losing cause. Two more tries for Irish from Captain Josh McNally and Porecki-replacement Fainga'a (you really do owe us that beer Dave) left the final score 47 - 12.
It was not as convincing as the score makes-out. Sure, when push comes to shove we can maul a try but the backs cutting a proper running line is very scarce and this is all in the Championship (and I mean no disrespect to the other GKC teams by that statement). If we have ambitions to return to the big time, and more importantly to stay there, then we need to be putting a much more complete game together. I had hoped that K&K would be starting to effect such a plan by this point in the season, maybe next time...
[Ed: That was Griff's report which we needed to get the site back online, having now got MickeyMouse's report it complements it rather well so here it is]
So, here we are. The first home match after the much rumoured move to the new Brentford Community Stadium. It will be interesting to see what this would do to the attendance, especially with a pre-match Q&A. Having been to all the Cup Matches over the past few weeks, it's been quiet and cold, the attendances have not been good. Living in Wokingham, London Irish was always my choice of team and am proud to be part of the Reading 4. However, I am not obtuse enough to think that the club can survive Professional Rugby with the attendances we have been getting, even in the Premiership, it has been a long time since the hey-day when we were winning matches and attendances were good. Still, that does mean I can get a pint more quickly these days!
Unfortunately day started in a proper vexed manner. The trains were completely cancelled between Wokingham and Reading which meant my original plan of getting the train in had been scuppered, only I found out at the station. My immediate thought was how did I not know? I live in Wokingham and train to Reading each day and have a rough knowledge of the trains, but I'd usually have seen a heads up from someone on the Craic or somewhere as I'm not the only one to travel from this direction, maybe due to our dwindling numbers this will improve. Thankfully a friend offered to give me a lift, a self-confessed fair weather fan. He's been a long time London Irish fan, even a season ticket holder, but in his words, he's supported us in a season in the Championship and just not interested in attending meaningless games.
We arrive at the stadium and park, pretty painlessly. The group of people that attended the meeting arrive. Fellow STH IronLung was amongst them who gave us the headlines, which seems to be that there are 10 new signings for next season to be announced over the coming weeks. Some elements of the commercial arrangement were highlighted in that Irish have a partnership with Brentford, even if they are the owners and have Primacy of Tenure. In English, it means Irish will have opportunities to make money out of the match-day experience, something we cannot do with the Reading arrangement and a very positive thing in my mind - it allows Irish to truly invest in the match day experience. There are a couple of other positives, but there are other threads on here for that. All told, it sounds like a solid investment.
I shall instead stick with the atmosphere! It was a pleasing change from recent Cup Matches, 3,002 was the official attendance. I forget what the other cup games were but it was pleasing to see people and have more noise than usual. On the pitch, it was a bit of a slow start, but Irish got there in the end. I feel we are seeing a lot of forward dominance this season, something one would expect with a squad costing millions verses hundreds of thousands (if that?). I do like the practice of never taking the 3 and always going for the corner, but for me what's missing this season is movement along the backs. Back in the day we used to have killer backs and it wasn't unheard of to have wonder tries scored from the half way line. Whilst it's not the case that these aren't happening, considering our aspirations to head back to the Prem, it would be good to see some training ground moves make their way to the pitch.
One last point to make, the moment of the match for me, by far, was a fallen Richmond player being carried off by his team-mates. A stretcher had been called for which was late, so the players took it upon themselves. This is fantastic teamwork and great to see on the pitch, something you wouldn't see in the Professionalism of the Premiership.
View a Printer Friendly version of this Story.
Are we nearly there yet?
Discussion started by The Craic www.londonirish.org , 17/01/2019 14:36
The Craic www.londonirish.org
17/01/2019 14:36
What do you think? You can have your say by posting below.
If you do not already have an account
Click here to Register
.
Now with added MickeyMouse report - I kept mine as they complement each other IMHO.
Sorry, only registered users may post in this forum.
More London Irish headlines