A Spot of Admin...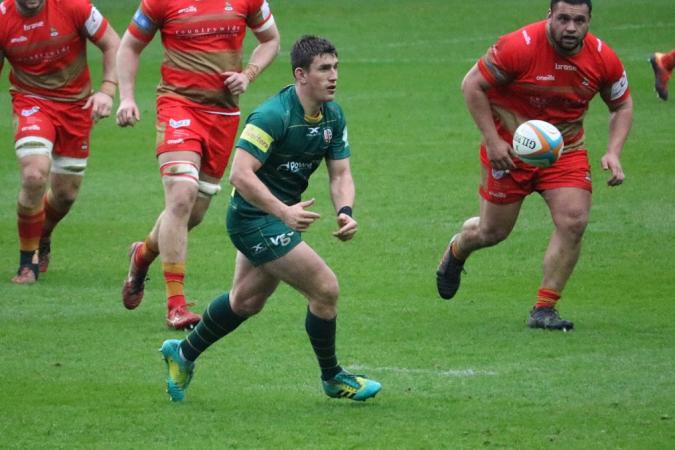 By Griff
February 22 2019
The problem was forged right at the start of the season, it was inevitable and assured and its repurcussions would be far-reaching. Where it would occur we couldn't know but it would almost certainly be a perfect storm when it arrived. I'm not talking about the rugby, this is the Championship, we should do fine, I'm talking about my organizational skills.
During the week I was clearing-out my PMs when I came upon a brief conversation from last summer. It was between me and one harristocrat, who had won the prediction league last season. I offered him the usual bottle of bubbly and we agreed that we'd both be at the home games and we'd do the hand-over at one of them. And that was the end of the conversation, we both went about our lives.
Finding these missives in February shows how well organized I am. I immediately contacted the gentlemen, apologised and arranged to belatedly present his prize at this week's game. I then caught one of the worst colds I've ever had - I made it to work on Thursday with a sore-throuat and left with streaming eyes and barely able to stop sneezing. Friday was a write-off but at least I had the good sense to stay at home and rest. So came Saturday and I was feeling so much better than the previous day that I decided the fresh air would do me good so I would go to the game. I planned to leave giving myself an extra 30 mins to buy harristocrat's bubbly - sure I had bottles lying about but it felt wrong to re-gift especially as it was so late. As I was getting my stuff together I notice that the expected 1500 kick-off is actually 1445. Not to worry, 30 mins was way too long to buy a bottle...
Drive went perfectly, got to Morrisons on Rose Kiln Lane as expected and within 5 mins had completed the task. And then it went wrong. Someone has decided to close one of the lanes on the A33 bypass out of Reading so my progress back to the stadium was severely held-up. As I sat in the ensuing car-park I watched the time tick over on my car's clock. As kick-off arrived traffic cleared ahead and I was able to sail to the Madge claiming my parking space, grabbing the drum and sprinting as fast as a fat man with a cold carrying a drum can. I rejoiced in the fact that, being in the West for this season meant that at the end of the sprint were 5 sets of stairs...
The upside of this vis-a-vis the match report was two-fold. Firstly I was rubbish at work on Thursday and comatose on Friday and so I never got round to asking for volunteers and thus I get the honour. Secondly I only heard the Ian Keatley try as I, let's face it, jogged across the car-park. It sounded O.K. and I've just watched the video which backs-up that judgement: rolling-maul secured from line-out, ball taken by McKibbin fed to an on-rushing Keatley who simply pinned his ears back. Welcome to the club Mr K.
From here it became more of an arm-wrestle. Irish seemed happy to give Coventry the ball so long as it was in their half and then the home side tackled until Cov either kicked or lost the wrestle. At which point Irish would kick it deep and start the whole thing over. It's a tactic that wins I suppose but it doesn't exactly gush confidence. Having been shown by Keatley what a running-line into a gap can yield it does seem uninpsiring to fall-back to this meat-grinder every week. I suppose the final score shows that the meat-grinder works, and it surely was the reason that Irish had the opportunities to run-in a load more scores but it doesn't make me happy and I can't see that it helps the long-term plan to make a fist of (hopefully) the Prem next season. Coventry managed to edge the arm-wrestle slightly scoring a penalty to close the game up.
Whinging aside it was during this period that Coventry full-back Halaifonua made a bullocking run only to be met by debutant Keatley. The attacking player moved his arm to fend-off the defender and the defender was out-cold before he hit the ground. It's the sort of "positive" ball-carrying we got from Chris Hala'ufia and it should end with the Coventry player up before a citing panel. How Sir deemed a scrum to Cov restart is beyond me, but frankly much of his decisions this afternoon were beyond me (I swear at one point he penalized Irish for driving straight at a scrum...). I did wonder if I was wrong about the Halaifonua/Keatley contact seeing as I only saw it at full speed the once but having reviewed the video I haven't changed my mind. The camera angle masks the attacker's arm so you can't actually see what part of his body is used but you can see the arm come forward fast and Keatley's head springs back on impact while his body continues forward. A hand-off doesn't have that violent an impact. It marred what was a fine performance from the Coventry full-back, he was a proper nuisance all day.
With Keatley off counting the cartoon birds circling his head and Jacob Atkins on, play continued much as before. Topsy Ojo did manage to squirt off the back of a maul for a score. The Irish match-report says this was McKibbin but I'm sure it was announced as Topsy at the time, it certainly looked like Ojo. From here Coventry worked hard to prevent quick ball for Irish, not always legally and one of their locks got a ten minute sit-down.
During the yellow card Irish went into another gear, the extra space allowing the Exiles to break the line more often and pressure the goal line. Dave Porecki scored at the back of a maul to give Irish a 19 - 7 lead at half-time.
After the break the gear change continued with Ollie Haskell-Collins catching an almost perfect Atkins cross-field kick to speed over the line. Bonus point secured, were we to tear loose and take the game on?
No. Back to the plan, albeit one that was definitely bearing fruit, a fabulous move through the middle saw Albert Tuisue on the end of a pass to crash over the line but apart from that it was very much business as usual. Post Tuisue try Coventry stepped-up their efforts, and Irish posibly took a breath, we do seem to lose focus when we're a long way ahead. 31 - 3 up and the visitors were making in-roads one Cov drive saw Exile TJ Ioane heading for the bin for killing the ball. A resurgent Coventry made good use of the time running a couple of tries in.
This seemed to wake Irish from their torpor, Haskell-Collins again on the receiving end from a barracking Tom Stephenson run breaking trhough tackles to offload and leave the winger a nice run-in for his second. Ten minutes later a good team move was finished by Brendan Macken bursting through tackles to roll over the line. Job done surely? 45 - 17.
Coventry didn't give-up and managed a score of their own, more evidence that Irish need to keep focus when the game seems won but Topsy Ojo finished the game with a proper winger's try for the last play of the game. It was fairly emphatic in the end but it didn't feel like we were 30 points better than Coventry, they put-up a great fight and our apparent game-plan to allow them possession rather that keeping ball-in-hand meant we were battling for much of the game.
The icing on my own personal calamaties would have been that I'd forgotten to then present harristocrat with his bottle, or that he'd missed the game for his own reasons but, thankfully, neither of those happened and I was at least allowed to put last season's prediction league to bed. Congratulations sir, hope the Moet goes down well.
View a Printer Friendly version of this Story.
A Spot of Admin...
Discussion started by The Craic www.londonirish.org , 22/02/2019 16:19
The Craic www.londonirish.org
22/02/2019 16:19
What do you think? You can have your say by posting below.
If you do not already have an account
Click here to Register
.
Sorry, only registered users may post in this forum.
More London Irish headlines