Craic Open 2005 - Report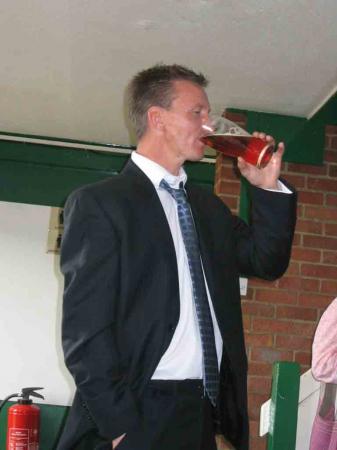 Rich H
By Rich H
September 22 2005
Last week, Wilf and I had more reason than usual to monitor the weather forecast. After more than 80 emails and god knows how many posts on the four (known) London Irish message boards, it was finally the week of the 2005 Craic Open.
I chased up the last few entrants and Wilf went shopping for prizes. Dougie Wheatley confirmed his attendance and made his lunch choice (of which more later).
After the forecast for Friday had been rain all week we were delighted that the day itself dawned clear and blue, if a tad chilly.
2004 Champ Mick Graves
Nineteen players in all and what a line-up: the 2004 Champion, Mick Graves, no less than two message board co-editors, a Supporter of the Season, an ex- Chelsea player and, so it transpired, a few people of Mexican parentage.
Sadly, the wizened founder of the Society, Robbo, was deemed too far into his dotage to be roused from his bath chair to play.
Once the athletes had completed their warm-up of demi-cappu's and bacon butties, it was up to Ian 'Monty Mouse' Montgomery to get us under way with a fine drive.
Monty at the First (no, not that Monty)
I went off last with what turned out to be one of only a handful of decent shots all afternoon. I was so crap that I picked up on one hole, to do a fairway interview with Gerry McManus, from the Irish Post.
Everyone made it back, even OxonRob whose driving of the Craicbuggy was looking a little wobbly after one or two long pulls on his flask of sloe gin. I'm sure he gives thanks to his playing partners, Brosie, Neil and Richfitz, for ensuring that his rations were not larger.
Rob likes sloe gin
With everyone safely back in the clubhouse getting outside a fortifying AG or two in the company of the excellent Doug Wheatley, it was time for lunch.
Griff sat himself opposite the enormous prop, obviously in the hope of a quick Craic interview. His hopes must have evaporated as, accusing Giles the Drunk of questionable sexual preferences because the latter had plumped for lasagne for lunch, Doug's own lunch arrived. You guessed it. Lasagne, of course. Griff coloured hugely and croaked, "Good choice, Mr Wheatley" before contemplating his own ham and eggs.
Doug took it all and more in great humour and kept us entertained throughout. He can come again.
And so to the prize-giving.
In third, with an excellent 42 points from a 24 handicap was Mark Boucher. Mark is unfortunately a round ball man but can be forgiven having playing the game professionally. Thus we were happy to hand over the booze and golf goodies.
Doug has the good humour not to give the ex-Chelsea man a kicking
Scoring 43 points from a 20 handicap earned Guy Fisher second spot. Guy sells bananas and safety pins from a barrow on the streets of Beaconsfield when not playing golf.
Guy pleased with the booze.
In First place, and the 2005 Craic Open Champion is our own Liam Kelly, or liamk to his friends on the Craic messageboard. Liam's excellent 44 points off 18 was fought tooth and nail with Guy. Liam was presented with the Four Seasons Landscapes Craic Open trophy, champagne and numerous other geegaws by Doug to rapturous applause.
Liam Kelly accepts the Four Seasons Landscapes trophy for winning the Craic Open 2005
Liam also won the longest drive earning him another armful of prizes.
Fix!
The presentations concluded with a prize for nearest-the-pin which went to co-organiser Wilf Cook.
More London Irish headlines