OUR FAVOURITE GAMES # 4 TOULON v SARACENS 15.10.16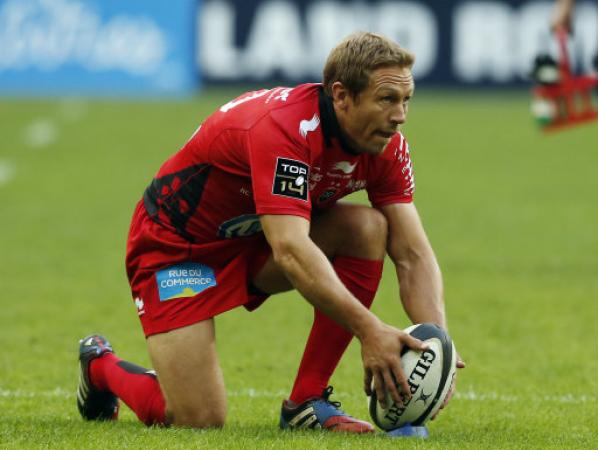 By TheSaracens.com
March 26 2020
Today we go back to October 2016 when Saracens travelled to the Stade Mayol and inflicted the first ever home defeat on the mighty Toulon in Europe's top-flight competition
When the draw for this year's European Champions Cup was being made, the DGs and our friends the Farmers had fingers toes and everything else crossed for a trip to the south of France. So we hit the jackpot with a game in Toulon in October when the sun would shine and the Cote would be azure and we could make a pilgrimage to the last kicking place of St Jonny.
Arriving at the lovely Luton airport early on Friday evening we didn't realise that 'pilgrimage' was going to be quite such an appropriate term! We were greeted by a heaving terminal and an hour's delay. Departures at Luton is not a pretty place and on Friday night it looked more like a war zone. So reluctantly we abandoned the idea of a late dinner in Nice and headed for Frankie and Bennys. And there we stayed. 1 hour became 2 then 2 ½ then 3. Our aircraft, it appeared, was stranded in Pisa in a thunderstorm! Finally we embarked around 3 hours late. How ironic that the passengers were now slowing things down to ensure a 3 hour delay on arrival and trigger EU 261 while the Easyjet staff (who when it came to seeking out refreshment vouchers had vanished) suddenly reappeared and urged everyone on board!
We landed 3 hours 25 mins late at a soggy Nice airport. But our troubles were not over! We had decided to postpone travel to Toulon until the morning and booked a couple of rooms in the Novotel Suites. It was 1.30am. It was pouring. We could see the hotel but we couldn't get there. No shuttlebus and the taxis weren't interested in such a small fare. We phoned the hotel. They gave us the number of a taxi company who said they'd be there in 10 minutes but they never came. Just as all hope was departing, Hertz called to ask why we hadn't picked up the rental car! When we pointed out their paperwork said they closed at midnight they said "non, non Monsieur, we wait for you! " Alleluia, one up to Hertz. We negotiated the road works, found the hotel and fell asleep!
Morning dawned with clear blue skies and sunshine. We drove to Toulon, checked into a lovely friendly little boutique hotel and headed for the shrine of St Jonny, wandering past sandy beaches, dipping our toes in the Med and Mr DG and Mr Farmer became delightfully aware that topless sunbathing is still popular on the Cote d'Azure! Down at the harbour, the port-side bars and restaurants were bathed in red and black. Mainly Les Toulonnaise but an encouraging sprinkle of Saracens as well. And there before us was the imposing edifice of Stade Mayol, the shrine of St Jonny. The saint himself was not in evidence but everywhere we saw pictures and photos of the greatest pair of kicking legs in the game!
We sent up a quick prayer. After all here we were in Toulon, holders of the title from 2013-15, unbeaten at home in the competition and we were very aware that on our 2 previous meetings, it had been men against boys with Sarries very much the boys! Toulon, very much the Princes of Europe. But hang on a minute, Saracens have been English Champions for the past 2 seasons and we are reigning European Champions. We are Kings of Lyon. We have every right to hold our heads up high in such exalted company. In the presence of kings, even princes bend a knee.
So we entered Stade Mayol, the Cathedral of St Jonny. The atmosphere matched the sunny weather. Everyone was happy and looking forward to the game. We took our seats in front of some jolly Irishmen who seemed to have got confused between Toulon and Toulouse. The band struck up God Save The Queen which was rendered almost as lustily as the Marseilles, followed, somewhat bizarrely by Flower of Scotland from the fans behind us.
And so it began. Saracens attacked from the kick off and within 2 minutes had taken the lead with a penalty from Farrell, starting his first game for Saracens since the Premiership Final and about as rusty as a shiny new nail!. Halfpenny responded almost straight away with a much tougher kick which sailed between the posts. Is there a better kicker in world rugby ? How fitting his feet grace the same turf as the Saintly Jonny. And what a privilege to watch probably the 2 best kickers of a ball on the pitch at the same time. Nonu (interesting point here – spell check corrected Nonu to No use!!!) was forced into touch in his own 22 and from the resulting line out the ball came out to Maitland on the wing. Was it a try? It went to the TMO and to the horror of the local support, Mr Lacey raised his arm. Farrell missed a tricky conversion but a lead of 3-8 with Toulon barely touching the ball, was looking encouraging.
It was a measure of Toulon's desperation that Trinh-Duc decided to attempt a drop goal which Billy easily charged down. Wiggy forced Nonu into yet another error and the ball was back in the Toulon 22. Kruis won the line out and found Jamie George who carried immensely before slipping the ball to Wiggy for a 2nd try under the posts. An easy conversion for Faz and the lead was now 3-15 and we were only 15 minutes into the game. Rhodes was a blood replacement for Wray. Saracens fans were pinching ourselves to make sure this wasn't all a dream.
Halfpenny knocked on from the restart and we had our first scrum. The ball was secured and kicked ahead for Maitland to run on to and he forced another knock on. This time the scrum was in the Toulon 22. Blood was racing. Damn! a free kick for early engagement. But Kruis ran the ball back and forced Toulon to infringe giving Farrell a straightforward kick in front of the posts! 3-18 and we were still in the first quarter! Calm down everyone let's not count any poulets, this match has a long way to go.
Finally Toulon got some sort of attack together when they won a scrum penalty which Trinh-Duc plonked to the 5m line. Danger averted, Itoje turned the ball over and the ball was cleared. Another dangerous attack from Toulon also broke down when the ball was passed into touch, missing Tuisova's outstretched hands by a couple of feet. Finally a shell-shocked Toulon seemed to be waking up. The ball found Habana clear on the left wing but Wyles got him into touch. Unfortunately Mr Lacey was alerted to a high tackle from Itoje for which he got a telling off and conceded a penalty. Another tricky kick but once again Halfpenny nailed it. Still it was encouraging that these leviathans of Europe were resorting to long distance kicks to score their points.
Saracens scrum was looking more and more solid and another penalty was won on half way. Up stepped Bosch but the kick was short and wide (has he actually scored one since that day in Paris?) As we approached half time, Sarries won a line out on half way. Lovely work from Billy found Farrell, Barritt and Bosch then on to Itoje and finally out to Wyles who scored in the corner. Faz nailed a tricky conversion and none of us could believe what we were seeing as the half ended with Sarries leading 25-6 and worth every point.
A lot of men with big golf clubs put the divots back while we refuelled ourselves and wondered how long we could keep this up.
All credit to Toulon, they didn't lay down and die, they came out with renewed fire. Within 4 minutes Halfpenny kicked another 3 points. From the restart, Nonu clumsily tackled Barritt. Mr Clancy had a look and waved a yellow card. Farrell kicked the 3 points to restore the 19 point lead.
After 50 minutes, Figallo and George were replaced by Brits and Du Plessis and immediately the scrum looked less dominant. Toulon won a penalty for a high tackle and this time kicked for touch. Sarries defended the drive with gusto - a bit too much gusto as Itoje was sent to the bin for a cynical foul. We hadn't made the most of the 1 man advantage and now it was 14 v 14 and Nonu would shortly be back. In fact Toulon didn't need him when they took a tap penalty and scored through Chilachiva. Again Halfpenny converted for 16-28 and with 25 minutes to go, we all felt the tide may be turning. Michael Rhodes replaced Jackson Wray permanently this time. Amazingly the Sarries scrum held 7 v 8. Kruis pinched a lineout ball in the Toulon 22 but Toulon got the ball back and Nonu set Habana free. A second try looked inevitable but we had reckoned without Alex Goode who hung on to him long enough for reinforcements to come along. But so strong was the tide that inevitably the wall was breached and Habana found a huge gap and scored a second try. In fairness Sarries were down to about 10 men with bodies everywhere on the pitch. Again Halfpenny converted – does that guy ever miss – and it was now squeaky bum time. 23-28 and still 20 minutes to hang on but I think we all felt the force was with Toulon. Finally their supporters got behind them and the players responded.
Spencer replaced Wiggy and Itoje returned but it was an expensive sin bin, costing 14 points. Finally Sarries seemed to have steadied the ship. They had a bit more ball and managed to creep back into the Toulon half. Billy was heroic. How he came up with the ball following a messy breakdown, god only knows. But relief was temporary and Nonu broke up field. He had support either side but instead went for glory and once again Alex Goode saved the day and the try. Mr Lacey had seen another misdemeanour and Schalk Burger was off for the rest of the game. Sarries had 8 long minutes to survive. The irresistible force finally seemed to be shifting the immovable object.
Anxiously we looked at the clock. Surely we couldn't hang on that long. Well we reckoned without the Saracens ethos and fitness, because in the end that was what told. Sarries won a penalty on half way which Wiggy, back on for a bloodied Spencer, kicked to touch. We had almost forgotten about a fourth try and a bonus point but maybe, just maybe it was on? From the drive, Barritt grubber kicked the ball through for Maitland. It seemed to rebound off the corner flag over the try line and Maitland's momentum took him over the ball which he grounded with his foot. No try but a 5m scrum to Toulon in their own 22. Only 5 minutes left. Just keep the ball up this end of the pitch lads! Itoje forced an error from Trinh-Duc and Toulon went off their feet. Mr Lacey awarded the penalty. No thoughts here about a 4th try, if this one went over, Toulon would need 2 scores in 90 seconds – and sure enough Farrell nailed it.
Slowly my heart rate slowed just a tad. McCall tried to use up a bit of time by bringing Spencer back and adding Lozowski and Hamilton. Into the last minute. Surely not enough time now! Toulon won a line out in the Sarries 22 and to be honest I would have given them the try just for the game to be over. But the men in black (or in this case red) were having none of it and as the clock went dead they forced Toulon to knock on.
Elated on the way out, I bumped into a tall man with grey hair - Nigel Wray himself. We thanked him profusely for giving us days like this!
Wow! What a match. Every single Saracen stood up to be counted today. Farrell won man of the match but to be honest there were probably 15 candidates. Mr DG, who professes to know nothing about rugby and only comes on these jaunts for the beer and the food, said he's never seen rugby played better than that. A quick prayer of thanks to St Jonny for watching over his old muckers then off to celebrate in the best fish restaurant in town.
I came home with a stinking cold and we picked up another hour's delay on the way back but who cares, I wouldn't have missed it for the world.
Toulon
Halfpenny, Tuiosva (Escande), Carraro, Nonu (Bastereau), Habana, Trinh-Duc, Tillous-Borde (Bernard) ,Fresia (Chiocci), Guirado (Orioli), Chilachava (Saulo), Manoa (Taofifenua), Gorgodze, Ollivon, Lobbe (Gill), Vermulen
Saracens
Goode, Maitland, Bosch, Barritt (Lozowski), Wyles, Farrell, Wigglesworth (Spencer), M Vunipola, George (Brits), Figallo (Du Plessis), Itoje (Hamilton), Kruis, Wray (Rhodes) Burger, B Vunipola
Toulon (23) Tries: Chilachava, Habana; Convs: Halfpenny (2); Pens Halfpenny (3)
Saracens (31) Tries: Maitland, Wigglesworth, Wyles; Convs: Farrell (2); Pens: Farrell (4)
Attendance: 14,103
Referee: John Lacey
View a Printer Friendly version of this Story.
OUR FAVOURITE GAMES # 4 TOULON v SARACENS 15.10.16
Discussion started by TheSaracens.com , 26/03/2020 07:28
TheSaracens.com
26/03/2020 07:28
Hope you enjoyed going back to the South of France

Let us know if you're enjoying these trips down memory lane and don't forget - any suggestions of your old favourites gratefully received



Edited 2 time(s). Last edit at 2020:04:01:07:41:57 by Darraghgirl.
Paxton sarrie
26/03/2020 18:55
Wstched some of the game on BT sport today... was a fantastic game and nerve wracking despite the first half scoreline
I think this was the single best performance i've everr seen from a Saracens side. This was Toulon at gheir best and we took them apart in theri own back-yard.

The first ever team to do so in Europe
The Bard
28/03/2020 23:45
Gutted to have missed this on BT the other day. What a weekend. We drove from Marseilles on the Friday, game on Saturday, Aix-en-Provence on the Sunday before a Monday flight home.
Despite being European champions at the time I felt we needed a win like that to remove any doubt we really were the best.
Thanks for bringing back such great memories!
One of my best days as a Saracens supporter.

Successful hills are here to stay
Everything must be this way
Gentle streets where people play
Welcome to the Soft Parade
Sorry, only registered users may post in this forum.