ENGLAND RUGBY
JUNE 2009: IN REVIEW
---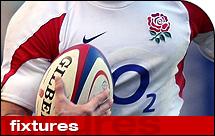 England counties Japan 2009
Torrential thunderstorms and lightning cut short the England Counties RU team's first training session in Seoul, South Korea today (Tuesday, June 2), but the weather did nothing to dampen coach Dave Baldwin's delight at the way the squad came together.
Although the Counties have a new coaching team and a squad including 14 newcomers, there will be no changes to the ethos of enterprise and ambition that has become the hallmark of the side.  New backs coach Tom Borthwick played a part in designing the blueprint when, with Bob Hood, he coached the inaugural tour to Chile in 2002. Since then the representative flagship of club and County rugby outside the Guinness Premiership has stuck by an approach which always finds favour with successive groups of players.
England Counties Squad:
Backs: Chris Bishay (Wasps & Middlesex), Gareth Collins (Leicester Lions & Warwickshire), Nick Royle (Fylde & Lancashire), James Aston (unattached & North Midlands), Jack Harrison (Tynedale & Northumberland), Patrick Leach (Manchester & Cheshire), Kyle Dench (Otley & Yorkshire), Steve Parsons (Otley & Yorkshire), Mark Woodrow (Birmingham & Solihull & Gloucestershire), Tom Eaton (Manchester & Cheshire), Tom Richardson (Stourbridge & Berkshire), Huw Thomas (Nuneaton & Warwickshire).

Forwards: Chris Rowland (Clifton & Somerset), Rob O'Donnell (Sale & Lancashire), Joe Graham (Tynedale & Cumbria), Owen Hambley (Redruth & Cornwall), Matthew Long (Birmingham & Solihull & Gloucestershire), Peter Joyce (Redruth & Cornwall), Matt Owen (Manchester & Cheshire), Paul Ralph (Manchester & Cheshire), Mike Howard (Bedford & Eastern Counties), Eni Gesinde (Tynedale & Northumberland), Chris Rainbow (Hertford & Hertfordshire), Wayne Sprangle (Plymouth Albion & Somerset), Sebastian Moss (Manchester & Lancashire), Jason Smithson (Blaydon & Northumberland).


Tour itinerary:

Friday, June 5 Korea President's XV v England Counties at Seongnam Stadium, Seoul.
Monday, June 8 -East Japan v England Counties in Tokyo
Friday, June 12 - Yamaha Jubilo v England Counties at Yamaha Resort Tsumagoi

---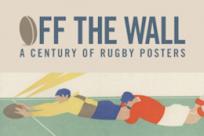 Twickenham Museum - Century of Rugby Posters now on display
TREASURES from Twickenham Stadium's World Rugby Museum poster collection now on display in a temporary exhibition.

From its earliest days, rugby has inspired artists and graphic designers. This display brings together the finest examples of rugby-related work from around the world.

Highlights include Dame Laura Knight's original artwork for the famous London Transport 'Rugby at Twickenham by Tram' poster; an advertisement for 'Dandy Shandy' and a 103-year-old poster advertising a match on the groundbreaking All Blacks tour of 1905.


---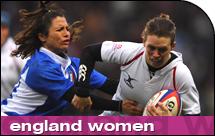 England Women's Rugby -U20 Nations Cup Squad & Fixtures 2009
England Women Under 20s will take on Wales, the USA and Canada as they bid to retain their Under 20s Nations Cup crown this summer.

The reigning Nations Cup champions will have home advantage on their side with the tournament being staged at Brunel University from July 9th - 18th.

The USA are new entrants to the tournament this year and they will open their championship campaign against Wales on July 9th. England meanwhile will take on Canada, a side they defeated twice last season, on the same day. 

Rising star Emily Scarratt - Photo courtesy of RFUW
---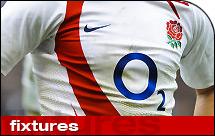 England U20 Junior World Championship Team Announced
LUKE EVES leads England into the opening game of the IRB Toshiba Junior World Championship in Tokyo tomorrow.

The Bristol centre takes over from Calum Clark (Leeds Carnegie) against hosts Japan at the Prince Chichibu Stadium which kicks off at 11am BST.

Elsewhere in the side Leicester Tigers wing Jack Cobden wins his first cap with Sale Sharks No.8 Carl Fearns making his first start.

England Under 20 captain Luke Eves

---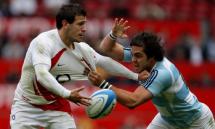 Argentina v England Match Views
England played away from home at Old Trafford for the first time since 1997 in aid of funds for Argentina.  A crowd of 40,521, sponsorship plus a television deal with Sky helped raise an estimated £500,000 for the UAR's, which will be gladly welcomed I am sure.
The weather held, the crowd in jubilant mood, so much so that they did not want to see kicks they wanted kicks to the corner and action.
Overall an enjoyable game to watch, some good rugby and excellent defence.  I thought Tom May was outstanding in defence (but maybe I am being a bit one eyed here as he is a favourite player of mine).
A number of players stood out Matt Banahan with a debut try., Dellon Armitage with two tries  and Danny Care who was solid and to my mind just what a scrum half should be.  I am sure our fans /posters will have their own take on this.

Englands Matt Banahan celebrates scoring a try on his debut

---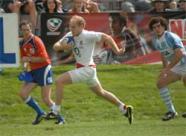 England Saxons Win first match in Churchill Cup 2009
ENGLAND SAXONS kicked off their Churchill Cup defence with a hard fought victory over Argentina Jaguars.

Second half tries from Matt Smith, Tom Varndell and Man-of-the-Match Joe Simpson put the Saxons in front in the second half after a first half of errors.
In a physical encounter the two sides were at loggerheads in the first half which saw penalties occupying the scoreboard, one from Danny Cipriani and two from Martin Rodriguez sent the teams in at the interval at 3-6.

Saxons added a further penalty and two conversions in the second half from the boot of Cipriani and a drop goal from replacement fly half Stephen Myler.

Joe Simpson

---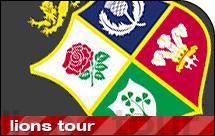 Backup fashion plan for Lions Supporters
For those supporters looking for an extra alternative bit of Lions kit for the next few weeks, Eye Heart Clothing comes to the rescue! Offering high-quality, affordable clothing in a variety of sizes for men, women and children, the site offers an extensive range of Lions branded kit for those looking for a backup plan to their shiny new replica shirt.
Eye Heart Clothing is a rugby-themed clothing website started by rugby supporters who couldn't find what they wanted to wear – clothing with a sense of humour.

As well as the brand new Lions collection, the current range includes sub-shops selling kit for Bath, Saracens and Saints supporters, as well as the four home unions; with much more promised in the near future. Eye Heart Clothing is always expanding, and takes customer feedback very seriously. Anything (decent and non-copyrighted) you'd like seen on a t-shirt, get your message across and it can be made within a week.
---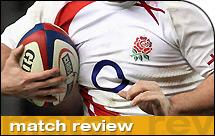 Argentina v England - Match Review
Matt Banahan's late try failed to prevent England from succumbing to a Juan Martin Hernandez-inspired Argentina at the Estadio Padre Ernesto Martearena, finishing the match 24-22 to the home side.
The win for Argentina came just a week after the Pumas slumped to a 37-15 defeat to Martin Johnson's team, who were missing several top players on duty with the British and Irish Lions, in Manchester.

England appeared to be heading for a heavy defeat when they entered half-time 14-3 behind, but they ate into the Pumas' lead after the interval.

Andy Goode, who amassed a 17-point haul, slotted four penalties and a conversion of Banahan's expertly-taken 79th minute try only for Argentina to survive a tense climax.
---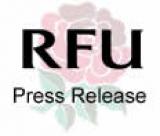 England Rugby - Changes to Autumn Schedule 2009
The Rugby Football Union today announced a change in England's Investec Challenge Autumn international series. A game against Australia has been confirmed for November 7 and the original match scheduled for November 28 against Fiji has been cancelled. Fiji will now play the USA in a ranking Test on the Pacific Coast [venue to be confirmed] on November 28, 2009 and will play Australia in a ranking Test in June 2010.

All these changes have been approved by the International Rugby Board (IRB) and are part of a package of global measures to offer enhanced financial support to the Fiji Rugby Union which has been faced with the loss of its major sponsor, Flour Mills of Fiji, and the recording of a F$770,000 loss in its last financial year. The changes also complement ongoing IRB support for Fiji including significant annual development and high performance investments and the awarding of the hosting rights for the IRB funded 2009 ANZ Pacific Nations Cup.

---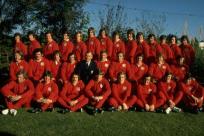 Lions 1974 Invincibles DVD - Review
This DVD is a must for all rugby fans and  would  make a wonderful Father's Day Gift.
In May 1974 the British & Irish Lions toured South Africa against all odds, in the spirit of sport and the Union of  Rugby.  
The Tour was set against a backdrop of politics to isolate South Africa because of their apartheid regime at that time.  However, the Lions defied political protocol and accepted the invitation to play the South Africans.  
The DVD evokes memories and captures the feelings of the players during the tour.  The running commentary from Captain Willie-John McBride, Gareth Edwards, JJ Williams, JPR Williams, Fran Cotton, Roger Uttley etc., brings the tour to life and throws you right back into the amateur era.  
---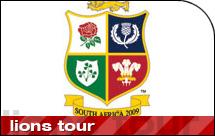 Lions Legends Preview the First Test - Video
As the British & Irish Lions prepare for their first test against South Africa in Durban on Saturday, this video features three Lions legends giving their thoughts on the match. Gareth Edwards, Gavin Hastings and Jason Robinson are all in Durban themselves as part of HSBC's grass roots TAG rugby programme, involving four thousand children around the country.
They cover topics ranging from the strengths and weaknesses of each team to their relative mental preparation and player selection choices.
---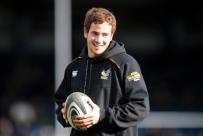 Danny Cipriani Video -Talks Lions, Wasps & Grass Roots Rugby
Video feature of Danny Cipriani including questions about his predictions for the British and Irish Lions' test in South Africa , starting on Saturday. He also answers questions about Wasps and the importance of grass roots rugby.
---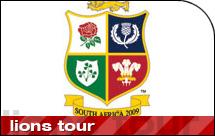 Legends discuss Lions prospects ahead of Second Test
Gareth Edwards and Gavin Hastings discuss the Lions prospects ahead of the second South African test
After the Lions' disappointing performance in the first test all eyes are on them to see if they can even the score. Few people have more combined experience of what they're going through than Lions legends Gareth Edwards and Gavin Hastings.
In this video they discuss the team's chances and what they will need to do to bring the test to 1-1.
---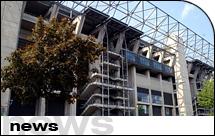 RFU Launch Twickenham Stadium Centenary Celebrations
AUGUST 2009 marks the start of a memorable rugby season when Twickenham Stadium will celebrate its centenary.

An historic and iconic world class rugby stadium and now also a top concert venue and a leading sport, leisure and business destination, Twickenham Stadium's 2009/2010 season will see the Rugby Football Union celebrate this significant milestone with a number of special events and activities.
To open the year of celebration, on Wednesday August 12, Twickenham Stadium will be hosting a 'Training Day' for all supporters, including the chance to see the Senior Elite Player Squad train on the Twickenham pitch from 2pm followed by an autograph session. There will also be an opportunity for fans to take part in a series of family fun events, which will be held in the West Car Park including skill demonstrations, rugby clinics and a number of fun rugby-related inflatable activities all the family can enjoy. The 'Training Day' will run from 11am - 5pm and is free entry for all. (Please refer to www.rfu.com/centenary for further details including entry and parking, which will be available two weeks before the event).
---
Unofficial England Rugby - Message Board