"Good to Great!" State of the Union 2012 - April 23rd 2012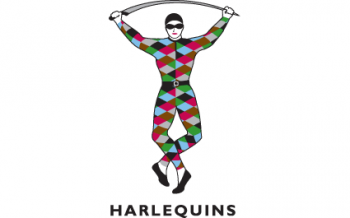 By Harley Quin
April 27 2012
Just hours before the last scheduled home game of the season, the vital clash with Leicester, Chief Executive David Ellis took the time to sit down and talk with Harley Quin about various things 'Harlequin'.
(Whilst we appreciate that this website is in the public domain, we would ask that anybody reproducing elements of this interview give ComeAllWithin.co.uk credit as the source. Thanks!)
HQ: Well David, the players certainly gave you a warm welcome on the field, reeling off 14 straight wins! I think that surprised even the most optimistic Harlequin observers. What else has surprised you since taking the job last summer?
DE: It's interesting going from being a supporter to coming inside the Club and being part of the machine that operates every day to get those fifteen players onto the field and seeing how much effort and work it takes to do that. The name of Harlequins is well known and far reaching and actually what is behind it is quite a small, very hard working group of people. The projection we have to the outside world, given the resources we have, has surprised me.
Then there is the surprise of what it is like to work in sport. You are always in the public eye. Coming in as an executive, not a player, the public interest in me was surprising!
Then as you begin working with other clubs you see that while we are all fiercely competitive on the field, when we come together as clubs we are very co-operative. We have to be, if we are not, then the collective group of us in the Premiership won't be successful. We have to be a community, more socialist in our thinking, because we have to share our revenues and all those things.
The final dynamic, which doesn't actually affect Harlequins - but I can see it affecting other rugby clubs, is being owned by somebody. The personalities and the drivers, the emphasis they put on the direction of travel of the club. It does create different dynamics when you are trying to work on a commercial level. Thankfully, our owners are very supportive and allow us to get on with the job.
HQ: People often talk about teams going 'to the next level'. As of today, what does that mean to you in terms of Harlequins?
DE: Mark and all the other good people who have gone before have left us with a wonderful, wonderful platform. We will celebrate150 years of history in 2016. What do I want for the Club going forward? Another 150 years. What does that look like? It means being the best we can possibly be both on the field and off the field.
When I first got here we had a Club get-together at Surrey Sports Park. The players stood up and said "We want to be the best team in Europe." It's the same for us off the field. It means taking the values we have as a club and keeping them and growing what we have had for the last 150 years, for the next 150 years. There is the balancing act between remembering who we are and always being true to ourselves, as well as making sure we are financially stable and as a commercial entity that we have enough money and resources to keep the club competitive and playing at the top level.
We need to be profitable and since the onset of the professionalism for the last 15 years we have struggled to do that consistently. There are only two clubs in the Premiership that have cracked that nut – Leicester and Northampton.
We are very lucky in that we are one of the few who have our own stadium. We have to keep investing in it. Once again, we have the top Academy in the country. We have to invest in our home grown talent because that is the sustainable way for us to get through another 150 years.
For the long term we will be working to differentiate between those who are able to attend home matches and those club followers who can't and cater for both so that we can grow our match day attendances and other revenues as much as we can.
How do we engage with all our supporters? How do we take our wonderful match day experience and let them be part of that? Our club is known globally and we need to start growing into that space. For me the next step is better communication, better use of technology, developing our support base, taking care of what we've got here at the Stoop and upgrading that so that everyone associated with the Club is looked after and will then, in turn, look after the Club.
HQ: You recently announced changes to the structure of the Club. Presumably, the new structure is part of achieving that next level as a club?
DE: Yes. My job is to look after this Club's future. At the moment we have a wonderful playing squad, that is performing well and looks like it will perform consistently well in the years to come. But that is now.
What I have to do is make sure that, irrespective of what is happening on the field, we have a financially sound business model, making the Club secure and with a future. So, given that, given the direction of travel we have to take, I had to make some hard decisions.
We believe that the time is right for Harlequins to become a more customer-focussed and consistently profitable business. Success in achieving that will mean that we will generate significant income to invest in strengthening our squad, our commercial capability and our stadium. It means that we have to strengthen our management team and ensure we have the skills and experience to achieve our objectives.
HQ: What will everybody notice as different under your leadership?
DE: What has been going on in the last nine months is a lot of behind the scenes stuff. You come in with a fresh pair of eyes, you gain an understanding of the infrastructure and you see what needs changing and strengthening. What does the outside world see at the moment, probably not a lot. What everybody will see in the future is an improvement to the stadium, to our technology infrastructure, the way we communicate and do business.
We worked long and hard on our season ticket packages this year. We added some new family packages to drive the fact that we are a family club. It's a tough economic environment, so we've reduced some pricing and looked at how we can increase concessions. We are personalising our approach to supporters and that is the route I want us to take.
What you will also see on the commercial side is us being a bit bolder. We have a great, well known club and we need to capitalise on that.
HQ: Can we just touch on your desire for Quins to be a 'Pillar' in its local community?
DE: Harlequins home has been in Twickenham for a long time. We are a rugby club, but I see us having a wider impact in our community. I see us engaging in community issues like health for young people and adult literacy. I see us taking a supportive role to achieve better things for the environment we are part of. We must do that. It's the right thing to do. I feel very strongly about us doing that.
HQ: I know you have not been here a long time yet, but do you have a clear vision yet of what you would like to be your legacy at Harlequins? What do you want people to associate with your time in charge?
DE: What's driving me more than anything else is a sense of going from good to great. That's very broad brush but examples would be if we can look and say we have got the best Academy, together with excellent career development for the players. What happens if their careers are ended or shortened? How do we help them? What happens with the young Academy scholars coming straight out of school? How do we supplement their education to make them more rounded, give them more life experience. That's going to the next stage. That's excellence.
For our supporters I want a world class venue. I want us all to be exceptionally proud of what we've got here. I want all our supporters to feel that they are part of a very special community. Even though we are commercially successful, we have real values and great respect for each other. We are still a rugby club in our soul and that hasn't changed. I want us to be competing with the best teams in Europe. Being able to do that because all the things we are doing means that we can. Consistently excellent - I'll be very, very happy if that is my legacy.
HQ: Bottom line, does it still all really boil down to getting a big crowd in your own stadium, using lots of home grown players and being financially self-sufficient?
DE: That would be a good start! (Laughs!) Do you want a job?!
HQ: The Big Game at Twickenham has become an annual event and a big success. Is that the only home game that will not be played at the Stoop next season?
DE: I said at the supporters meeting I attended, the Big Game is like Marmite – you either love it or you hate it! I think it's good and I believe in Mark Evan's vision, which is creating a platform for more people to come to experience rugby and I think that's right. Rugby should do more of that. For Harlequins, I don't see us taking many games 'on the road', I do see us trying to make our team as accessible to as many people as possible.
If you look at the Toulouse match, we could have probably sold the Stoop out twice. So, you start to ask yourself 'Well if I had taken the match to Twickenham, am I allowing more Harlequins supporters to see the match?' You have to balance it. I am never going to say that I am never going to take a game away, but in terms of a mindset – no. The Big Game is the one that goes across the road and the Stoop is our home.
That takes us on to our development plans for the Stoop. What we need is more sell-outs. We are on five this year, including Leicester today. If we can add another four or five next season with the way the players are performing, that gives us all the commercial imperatives to start increasing the capacity.
HQ: So that is on the agenda then – there is a tipping point where you say if we can sell out the Stoop often enough we must get on and rebuild a piece of it rather than say "OK, if we can get 30,000 people lets just go across the street."
DE: Sure. Yes. The Stoop is our home and we need to keep reacting to the number of supporters who want to come in the door. So, one of the objectives I've set commercially is that we need to be in the situation with our supporter base, that every time we open the gates and put on a game, there are more people trying to come in than we have seats for. That will drive us very quickly to increase capacity.
I've already had an architect come in and give us ideas because I am also very conscious that it's all very well to talk about the future, but look at what we've got now. I know that what we have needs looking at. The Debenture Lounge is not fit for purpose, it's not big enough. The Members' Bar has too many people trying to get in. The bar queues are too long. People put up with a lot because we are a rugby club but, actually, I've got to work out how to make things better, within the constraints we have.
HQ: Turning to the structure of the season in more detail, are you happy with the current format of the fixture list, both in terms of the 'rhythm' and the number of competitions Quins compete in?
DE: No. It can be confusing. We start with the Premiership, then we have the Heineken Cup or the Amlin, then we do some Premiership again, then some LV matches, then the Six Nations break etc. It's inconsistent. In terms of competitions, especially on the European level, I don't think it lends the English clubs the same chance to be successful as other countries, say the Irish provinces.
I would like to see it simplified. To me that means more groupings perhaps. Instead of spreading out the Heineken Cup matches throughout the season, let's play all the pool matches in six weeks, so we know where we stand. With the LV matches again, let's find a space in the calendar, perhaps during the Six Nations period.
There have been many people, with greater minds than myself, that have debated this but it feels like the first move should be how do we simplify our season structure so we can be as competitive as possible?
HQ: It seems it is impossible to have a conversation about professional rugby, without a discussion of money. In the light of Wasps much publicised financial difficulties and the endless debate of the relative merits of salary caps etc., what is your take on the key financial issues in rugby at the moment?
DE: First of all I am an advocate of the Salary Cap. We have to have a Salary Cap because we have to be sure that we have a competitively balanced league.
There is also another dynamic that's in here at the moment and that's the state of the global economy. There is a traditional belief that sport is recession proof because as a supporter you are always going to want to go and see your team no matter how hard it gets.
Well, actually, one of the big things about sport that keeps us all stable is that we have TV contracts that last for four or five years, so we know how much revenue they bring and we can plan around that. This recession is taking a long time to pass through and we are coming up for renewals on some of these contracts and it's a very difficult time. What's also difficult is that revenues from sponsors, advertising and corporate hospitality are under pressure.
When it comes to financial stability, the big thing is keeping your playing costs consistent as a percentage of your overall turnover. We need to make sure that our Salary Cap committees have enough teeth to be able to enforce these things and we can then build businesses. I believe this is something Harlequins have done incredibly well, building around home grown talent, not marquee players, because that is an unsustainable business.
HQ: The French or the Irish Caps are pretty irrelevant aren't they? That's just how it is.
DE: It is how it is, but we have to be aware of developments in France and Ireland as they impact on players' expectations in particular.
HQ: It goes back to living within your means doesn't it. You don't need 'sugar daddies', you don't need good fortune, you just build a business model that is sustainable.
DE: Couldn't agree with you more. A bit boring perhaps, but that's good.
HQ: Better to be boring than out of business.
DE: Exactly right.
HQ: Taking into account the significance of the TV revenues and both Sky and ESPN showing games, kicking off at 3pm on a Saturday is going to be very rare in the future isn't it?
DE: I'm a traditionalist at heart and 3 o'clock on a Saturday is when we play rugby. I can assure you that all of us here on the commercial side of the business fight to get that time. But you are right. The TV monies are pretty big and the TV schedules are pretty packed.
What we also need to do is prove to the TV companies that we are of more value - what I mean by that is long term growth for us will come through technology and content. As a group of Premiership clubs we need to have a better digital strategy. We are not advancing on enough media platforms. We are not doing all the things that will drive value for the TV companies around the slots. We are not giving them anything else to think about or talk about except the TV slot. Actually, the onus is on us to start proving we are a more valuable commodity.
Thanks to our main sponsor Etihad I have had the pleasure of meeting some of the Manchester City people and looked at their digital strategies and the way their online TV works. The content they are pushing out to their supporters through mobile, Internet etc., is very, very strong and is giving the supporter an insight into the Club that they want to have.
HQ: Would the digital strategy be influenced by the number of viewers for it or is the number is less relevant because the technology is there?
DE: I'd look at it slightly differently. I would go back to one of the principles I am trying to introduce here. What does our supporter want? When does our supporter want to hear from us? How do they want to hear from us? Traditionally, we have been a broadcast company. "Come to the game!" Big emails go out. "Come to the Dinner!"
We need to recognise that our supporters are more sophisticated than the technology we have. Once we know how people want us to communicate with them we can worry about the numbers and the revenues and everything else, but to me this about being better at communicating with people.
Then we can think about the people who don't come and see us because they are living in Singapore or America, but what they want to see is some wonderful content from the day or experience some of the things you and I experience when we walk around the Stoop. I need to take that match day experience and evolve it to give people want they want.
HQ: Given that many fans travel significant distances to the stadium and the problems of the M25 on a weekday tea time, is there anything that the Club can do to minimise Friday evening games?
DE: We do our very best and Premiership Rugby is lobbied on a regular basis to try and make sure we don't get a Friday night for the reasons you say.
HQ: It seems particularly difficult for European games.
DE: Yes, European nights give us a different experience. You've got different countries involved. For example, in France Saturday night is the preferred viewing time. For us, that's not good. There are all the different norms for all the different countries to take into account so it makes it much worse.
However, I can assure you we have very much stated our case with ERC who are the organisers for both the Heineken and the Amlin. We have told them that Thursday and Sunday nights are unacceptable to us. We need to remove those windows from the next round of broadcasting rights if we can.
Of course, I have given you a one sided argument. The broadcasters could come back and say Thursday night, for example, is a night when there are not many other sports on and from a broadcaster's perspective you can make it your own. In that case, we would need to understand where they are coming from rather than just saying we don't like this and work out the long term value of maybe making a Thursday night work. We need to see both sides of the equation but, from where I'm sitting right now; anything outside our normal window is not something I would be advocating at all.
HQ: Can you give us an update on our relationship with our Rugby league tenants. Given your points on finances, do you believe the Stoop needs at least two sports teams using the facilities to 'sweat the assets' sufficiently?
DE: There are two separate things there. Firstly, with rugby league we are expecting them to stay another year in terms of their contract and anything beyond that is a conversation we haven't had yet.
In terms of using the Stoop for other sports, I actually think that if we are going to have a world class venue then there is room for other sports. The big thing here is the state of the pitch. We have to make sure that the playing surface is as good as it can be, when the players run out to do what they need to do.
In our budgeting process we are looking at re-turfing, irrigation systems and everything else, but until I'm comfortable that we can keep the surface in the best possible condition then I am not comfortable with additional use.
In the future, I'd be OK with other people using the facility as long as it didn't hurt or infringe on what we do – which is play rugby.
HQ: Apart from money, are there any other major issues for Harlequins and Premiership Rugby in general to worry about at the moment? Is competitive balance a growing issue?
DE: The competition is only as strong as it's collective and we must do everything from a Premiership Rugby strategic point of view to work out how to make us collectively stronger. At the moment, it's pretty competitive. Teams like Gloucester and Sale are strengthening their squads and I think next season will be very competitive.
The bit we haven't talked about is the financial balance and one of the things we must do is recognise that if you have 12 rugby teams around the table as Premiership Rugby it's easier for those who are going well to talk about bigger, more strategic things. What we need to try and do is get us all in a conversation that talks about strengthening us all, which increases our central revenues and potentially cuts our operating costs by doing collective things.
HQ: David, thank you so much for taking the time to share your thoughts with ComeAllWithin, we really appreciate it. Good luck for the rest of the season!
DE: It's been an absolute pleasure. Thank you.