Leeds Pix 29-3-09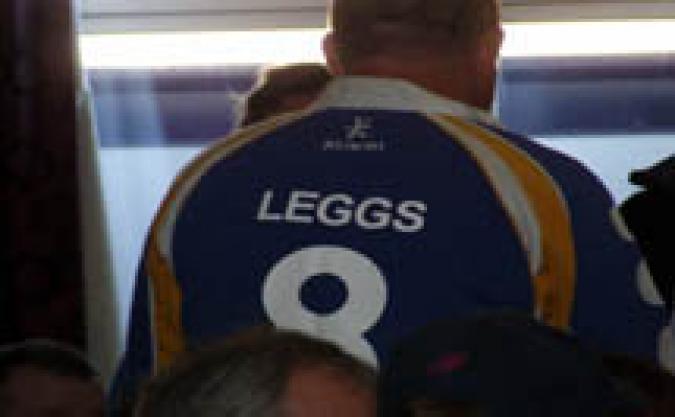 Leggs Elev...Eight
By woll
March 30 2009
Of course it all started going pear shaped when instead of snow, Headingley was bathed in sunshine! But the Pirates are an adaptable bunch and indulged in a little grass rustling as a distraction to more important matters....

Tom senses something is amiss, totally oblivious to the fact that Rhodders has nicked his ball

Meanwhile around the back the minibuses are being filled as quickly as possible with grass from a local cricket pitch for transportation back to Cornwall

Groundstaff react quickly upon discovery of the misssing turf and cordon off sections of the rugby pitch to deter further violation

Mr Roberts of Radio 2's Wogan Show fame (as per mention at just before 9am Monday 30th) is embarrassed to be reminded by Rainsey that the clocks went forward for BST this weekend after all

"Simple mistake Llyr, never mind. Now if you'd like to come this way and tell the nice policeman what you know about some missing grass..."

He has got to go...

Spotting a chance to endear themselves with local fans, the Pirates duly oblige

With that local 'difficulty' dealt with, some geezer who says he played for England once or twice supervises a quick fix for the neighbouring cricket field

"Oh thanks a bunch!", thinks the solitary work experience lad when he realises he has to do it all by himself.

Relentless questioning by a young local lass about supporting the Pirates since before Decimalisation finally gets to Stalwart as he ponders prodding the child with his stick to make her go away

The PA announcer accidently swallows his microphone as something from the Press Room catches his eye

The delivery of a batch of hot pork pies sparks a heated exchange between a couple of reproabate photographers leading to telephoto lens' at close quarters

Visiting 'Door Men' move in to break up the fracas

PA Man's supervisor shows little concern as the offending article is coughed back up as discreetly as possible; more concerned is she that this weeks Fancy Dress Comp passes off without the usual controversy

The signs aren't promising as Nora and her mates look a bit too sure of their chances as they strut in

The local mob urged on by the infectious beat of the drummer show their approval of the winners elect

Basking in their glory cuts little ice with ZZ Top's lead guitarist who cooly ignores all the attention behind his back

A steward looks on in awe as Jan sprints out before the contents of his leaky bag drain out leaving nothing for his charges to sip on.

Iva nearly forgets protocol but remembers in time to leave a seat for Jan. Passers by frown at such a faux pas

The main show begins and yet somehow this is a pale imitation of beach volleyball that the ladies play in the Olympics

Both sides quickly realise this and before long the finger pointing begins

Still shaken by his interview, Llyr decides the best thing to do is home in on the biggest guys but thinks twice about grabbing Ben's lapels when he realises he won't be able to lift him off the ground. The others mill around hoping he doesn't turn on them instead

Mikey; fear etched in his face, accepts his fate, and prepares to meet the Fancy Dress Comp winners for a slap up meal at Chippie

At half time and time to check that the roll up pitch is holding out OK as it is about to be really tested..

....Wensleydale RFC display their real allegiance towards Kernow before doing battle with those upstarts from Skipton

The Fuhrer looks on with a pensive Mr Key worried that their master plan could be undermined

As long as No 8 Oakley doesn't strike the ball they should be OK thinks Ed

It matters not as the Pirates crack Snatch Team go through one final practice session for the main objective

With Stevie pretending to unveil this Seasons' Must-Have gentlemans head wear, the ideal decoy has been achieved

A secondary diversion is also clinically executed as Penrose the Pasty appears to be being held hostage

With SAS-like precision, Ady and Rob grab Alberto and bundle him off before anyone notices

A Ball Boy is the first to realise the Fly Half's abduction and raises the alarm in the time honoured fashion by dropping his guts. Challenger can only bung up the nostrils after his earlier lynching

The Green Team though are on the ball and eye up suspects as they amble off the pitch

Happily Berti is found safe and well under a pile of turf in a van and thanks his rescuers live on air

Much to Mark C's relief in the bar afterwards who rather rashly offers drinks all round. Yorkshire born ears prick up on hearing this and before long the Government is being approached about Britain's latest toxic debt!