A Look Back in Time – Rugby in Cornwall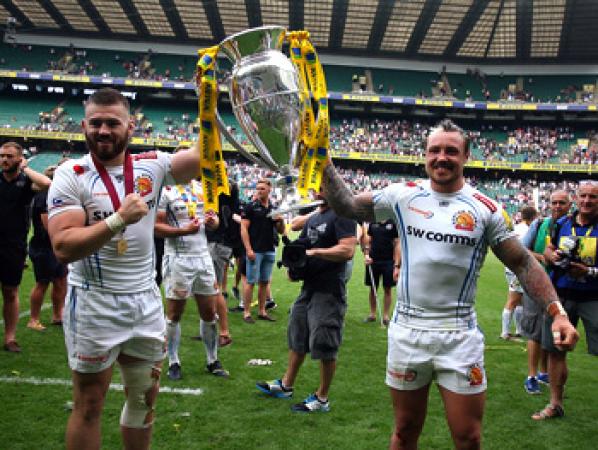 By Phil Westren
July 14 2017
Rugby first appeared in Cornwall circa 1870, with Bodmin claiming to be the first town in the county where the game was played, closely followed by Penzance, Redruth and Hayle.
The return home of Public Schoolboyshelped its development, which was certainly the case for the Penzance club.
Founded in 1876, Penzance RFC's strongest opponents back in those days were Hayle, Redruth and Lelant. Rugby was generally stronger and associated with the west of the county, but there were also teams at St. Blazey and Liskeard. Penryn, founded in 1872, is regarded as the being the most senior Cornish club.
This is early photograph is of Penzance RFC, taken in 1887-88. George Kistler is the captain and one of Cornwall's greatest stalwarts to be, Dennis Lawry (mentioned later) is standing back-row on the left.
The Cornwall RFU was actually formed at a meeting held in Truro midway through the 1883-84 season. Mr Bernard F. Edyvean (Bodmin) was elected Honorary Secretary and Treasurer, and the first President was Lord Robartes.
Cornwall's first official match was played against Devon at South Devon Place, Plymouth, on the 12th January, 1884. The match was lost 22-0, but when the teams next met at Redruth on the 2nd December, Cornwall gained revenge and won 11-3. Overall, however, it must be said that our 'derby' rivals generally got the better of us in the early years. Indeed, Cornwall's first 11 games were all against Devon, who emerged winners on nine occasions.
A look through a team list of one those first games provide an example of the clubs represented at the time. The Cornwall side that played Devon away in 1885-86 was as follows:-
J.B. Cornish (Penzance), White (Tregoney), E.P.P. Tyacke (Falmouth), George Kistler (Penzance), J.H. Genn (Falmouth - captain), Barlow (Truro), Vincent (Hayle), Pryor (Hayle), A. Hosking (Hayle), W.F. Woolf (Redruth), W. Rowe (Redruth), F.B. Lewman (Probus), Jenkin (Liskeard), Yeo (Truro), and Luke (Truro).
Re mention of the 'Tregoney' club, that is the place nowadays known as Tregony. Providing a little extra information the earliest known spelling for the place was Trefhrigoni, whilst in Cornish it is apparently Trerigoni!
As for the County Championship, Cornwall played its first game on the 23rd. November, 1892 – losing 19-0 away to Gloucestershire. Losing, in fact, became something of a habit, the team having to wait until its twenty-fifth game, played on the 10th November, 1900, before getting their first Championship win, 6-0 at home to Somerset. As for the winning the Championship, the 'great day' happened at Redruth on the 28th March, 1908, when Durham were beaten 17-3. Interestingly, Cornwall also reached the final a year later (not many people know that!), Durham getting their revenge with a 12-0 win at West Hartlepool. And their next win? 1991 at Twickenham - Yorkshire beaten 29-20 after extra-time, and then 1999 when the men in black and gold won 25-15 against their old enemy Gloucestershire. In recent years Cornwall emerged victorious again, winning 18-13 against Lancashire in 2015, and 35-13 against Cheshire in 2016.
Cornwall's legendary 1908 County Championship winning side – Back-row l-r: Dr. R.C. Lawry, J.H. Williams, C.F. Hopley, J. Quick, F.W. Thomas, Dr W. Hichens; Next Row Standing: Gil Evans, W. D. Lawry (Hon. Secretary), B. Bennetts, A.J. Wilson, F. Jackson, J.G. Milton, N. Tregurtha, A.J. Thomas, H. Skewes; Seated: A. Lory, R. Jackett, E.J. Jackett (captain), F. Dean, B. Solomon; Front: R. Davey, J. Jose, T.G. Wedge, J. Davey.
Besides important County Championship games, and there have been many over the years, matches have also been played against a wide range of international sides. In 1905 Cornwall played the first New Zealand 'All Blacks' at Camborne, and followed this with matches against South Africa at Redruth in 1906, and Australia at Camborne in 1908. Regular visits from such teams over the years (some for matches against combined Cornwall & Devon sides) were not unusual, whilst games have also been played against certain other international teams including Romania, the USA, Canada, the USSR, Korea, Japan (my brother Mike played for Cornwall on that occasion, with Bob Henderson also in the squad ).
Noting the above, this inevitably means that so many of the game's greatest players have displayed their talents in our county, including New Zealand's exceptional Maori full-back George Nepia, who played against Cornwall at Camborne in 1924.
George Nepia
Cornwall has also produced many international players, the first interestingly being J. Maxwell Batten, a Penzance man capped once in 1874, two years before the Penzance club was formed. He lived at Alverne Hall in the town, and also played for Cambridge University. A fairly concise list can be produced in a future column, but for the present it is noted that the two most recent capped players also have a direct Penzance (and Newlyn!) association – Jack Nowell and Luke-Cowan Dickie, now of Exeter Chiefs, both being products of the Pirates youth section.
Luke Cowan-Dickie & Jack Nowell – both products of the Pirates youth section
It is also important to remember that many of Cornwall's officials have given truly outstanding service over the years. The list is far too long to mention all of them, but contributions of certain individuals have been remarkable. To start with, I would highlight the Lawry brothers, Dennis and Dick (both Penzance), who both played outstanding roles. Dennis played nine times for Cornwall (1889-97), was the county's Secretary & Treasurer (1895-1902), Secretary (1902-19 and 1920-24), and Cornwall's representative on the RFU (1911-19). Dick, who also played for Guy's Hospital and Richmond, played 19 times for Cornwall (1896-1902), and was Cornwall RFU President (1923-45). Of others, Bill Bishop (Truro, Redruth) played three times for Cornwall (1953-63), was the county's Secretary (1976-86), RFU representative (1976-95), Cornwall's President (1987-90), and RFU President (1995-96). Finally, we must of course mention our own John MacG. K. Kendall-Carpenter, whose record includes having played 28 times for Cornwall (1947-55) and being capped 23 times for England (1949-54). Also, just to confirm that he is arguably the most influential and able rugby personality that Cornwall has ever produced, it should be noted that he was President of Cornwall RFU (1984-87), President of the England Schools RFU (1985-90), and England RFU President (1980-81). Chairman of the 1987 Rugby World Cup organising committee, he was also Chairman for the 1991 competition until his sudden passing in May, 1990.
Dennis Lawry and John Kendall-Carpenter – Two of Cornwall's finest rugby men
And so, that is it for this latest column, but with so much more that could be written. However, it is hoped readers will have found the information revealed to still have provided much - of worthy interest!
View a Printer Friendly version of this Story.
A Look Back in Time – Rugby in Cornwall
Discussion started by Unofficial Pirates , 14/07/2017 09:22
Unofficial Pirates
14/07/2017 09:22
What do you think? You can have your say by posting below.
If you do not already have an account
Click here to Register
.
Sorry, only registered users may post in this forum.