Photos of Middx v Devon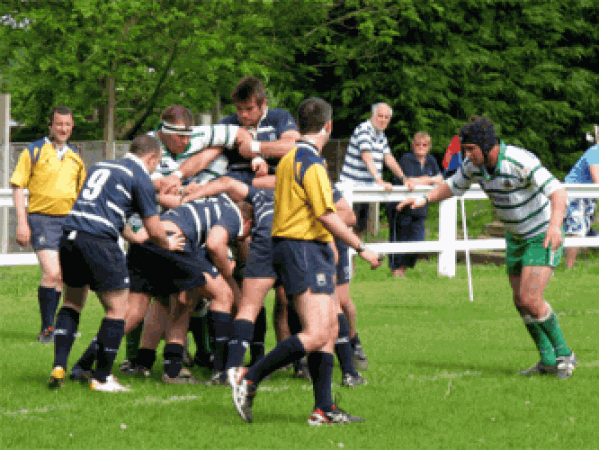 By Dave Wills
May 11 2008
Devon travel to Staines in Middlesex to play their second match of the series. A mixed match tha saw highs and lows in performance. The hosts take the game to uncontested for the last quarter for the second week running. Albion fly half collects a full house in the first half!
Photo slides
Middlesex 20 Devon 34
Please allow time for the images to download
Copyright images www.devonrugby.co.uk
View a Printer Friendly version of this Story.
Photos of Middx v Devon
Discussion started by Unofficial Plymouth Albion (IP Logged), 11/05/2008 10:10
Cider Drinker
11/05/2008 11:12
well done frank
Don't let anything get in the way of a good game of Rugby
stonehousealbion
11/05/2008 13:34
Bit worrying that we don't appear to have the cover up front. Glos. lost yesterday, but I can't see it getting any easier next Sat....

Wierd - I kept looking for the shaven head of Chris Lowrie in amongst all those scrum.... Still, can't imagine anyone at Sandhurst will be calling him "an 'orrible little man"!

Well done, Devon.
noibla
11/05/2008 14:04
Thanks for the photo's Frank, Paddy could have one with a couple of those to add to his report.

Stonehouse, Paddy Marsh says in the Indy that it was Middx that had the problems at prop.

Semper Sersum.
Balion
11/05/2008 17:16
Well done Frank, great win for Devon, only Gloucester to beat next Sarutday and then we are off again. One point of interest, were you the only one there, apart from yourself your photos only show about 3 dozen supporters there.
Cider Drinker
11/05/2008 19:30
theres another 'caption competition' in there - the one with the 3 officials and the guy with no shoes on...
Don't let anything get in the way of a good game of Rugby
laime
11/05/2008 20:17
Absolutely right about the forwards, Stonehouse.
Reed looks pat his best. Pearl struggled.The Middlesex hooker was a class act.
Good job the youngsters were playing. Surprised that Newman, King, Hawkes and Jenkins didnt get the congratulations and plaudits they deserved without these young men the game would of been very,very different.
Interesting to see England counties selectors talking to King & Newman afterwards.
Devon number 1 fan
12/05/2008 18:25
Have to remember guys it was a very hot day and unlike these young boys who spent the seson watching Albion play from the supoorters stands Pearl and Reed played just about every division one game that they were available for and the performance was built around Nick Burnett who out classed everyone else on the pitch by a long way and he's not that young! It has been a long season for some, and not so long for others, remember that. Nice to get the win, good team effort on a very hot day. Shame to here Brett hurt himself again and might not be back for the rest of the tournament.
juniep
12/05/2008 19:26
Some of the youngsters weren't playing Nat 1 rugby but they weren't sat in stands either. Who won the Canterbury Shield Division. Look at the representative teams. Do your research!!!
torpoint albi
12/05/2008 20:36
Oh Gawd,
We seem to have gotten over the snipping posts on the main site, which I suppose, is a bonus but have they jumped to here.
Devon number 1 fan
13/05/2008 07:58
Sorry that wasn't a snipe at the post or the young boys, I was just reminding you lot that some of the older guys have played in every National one game available to them. Whereas the younger guys have not played in the best part of 30 Nat one games. Well done on the Canterbury league but if you think that it is anywhere near Nat one standard of skill, pace or physicality you are well off the mark! Yes they did well on the weekend but don't disregard the elders effort. And as I said Burnett was far and away the best player on the pitch on saturday and he's old! Good to see the youngsters coming through though.