OUR FAVOURITE GAMES # 7 KINGS OF LYON 14.5.16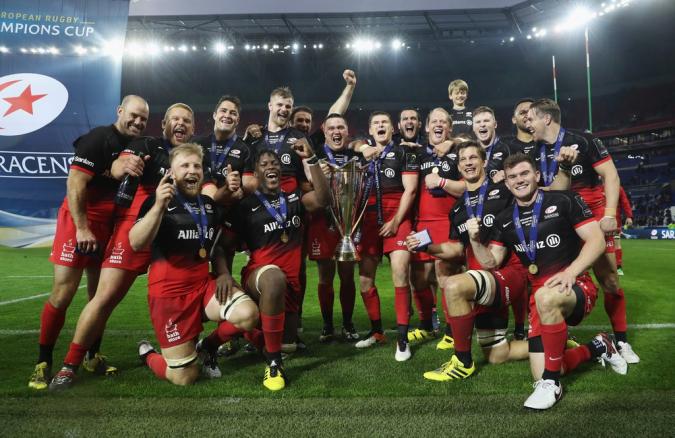 By TheSaracens.com
April 1 2020
Today Behind the Bench takes us back to that fabulous day in Lyon when Saracens finally became the best team in Europe. It wasn't the greatest game but it was an amazing weekend. The Lyonnaise were incredibly welcoming and gracious when the old enemy claimed victory on French soil. I remember fabulous food, little DG racing across France in her PE kit to be there with us, and a Racing supporter deciding she was the member of our party to be kissed (can't imagine why!) Enjoy!
How does it feel to be on top of the world (or Europe anyway)? Saracens are Champions of Europe after a typical performance of commitment in what wasn't a flowing game but one which was controlled by an immense tactical kicking display by Owen Farrell claiming seven from seven from the tee to boot. However, it was the whole side who kept cool heads to the extent that chances for Racing were sporadic even before both of their influential half back duo of scrum half Maxime Machenaud and fly half Dan Carter departed through injury, with Johannes Goosen sharing kicking duties with the scrum half. Saracens' lineout was solid, and, crucially, by and large they had the upper hand in the scrum.
Racing started with Brice Dulin at full back with Joe Rokocoko and Juan Imhoff on the wings outside a centre partnership of Johannes Goosen and Alexandre Dumoulin. Carter and Machenaud started in the half backs. Pack-wise, the front row consisted of Eddy Ben Arous, captain Dimitri Szarzewski and Ben Tameinfuna, whilst Luke Charteris and Francois van der Merwe combined in the second row, and Wencelas Lauret formed the back row with Bernard Le Roux and Chris Masoe.

The Saracens line up was largely as expected with Alex Goode at full back, Chris Ashton and Chris Wyles on the wings and a centre partnership of Duncan Taylor and captain Brad Barritt. Farrell teamed up with Richard Wigglesworth in the half backs. The front row featured Mako Vunipola, Schalk Brits and Petrus du Plessis, with the second row combination of Maro Itoje and George Kruis, and a back row trio of Michael Rhodes, Will Fraser and Billy Vunipola.

In a sea of blue and white, as Racing were giving out free flags, they had the first chance in the opening moments as an uncharacteristic knock on by George Kruis led to some early pressure as they forced a penalty for collapsing the scrum but Machenaud's attempt from halfway trickled wide. Six minutes in, Farrell set the tone for an inspired kicking display as his kick through forced Carter to concede a 20 metre lineout. The fly half caused more havoc as his grubber kick through nearly set up Ashton but gave Saracens a five metre scrum which Racing and up stepped Farrell to provide a tenth minute lead. As the rain began to fall again some fierce defence by his side saw Racing lose the ball on contact three times in quick succession but they drew level on 17 minutes when Saracens were adjudged to have collapsed their own scrum and Goosen made it 3-3.

A purposeful run from Goode was Sarries' response which culminated in a drop goal which trickled wide but the game continued to be as tight as expected. There was a blow for their Parisian opponents as their influential scrum half Machenaud didn't return from a HIA sub and was replaced by Mike Phillips. Territory continued to be the key factor as a powerful Saracens scrum on halfway provided a lineout on the edge of the Racing 22, and after they failed to release the tackled player, Farrell restored the lead with 23 minutes played. Saracens had a couple more half chances for a try but Racing made crucial interventions, but the lead was stretched to six points when a kick through by Farrell meant for Ashton just eluded him but caught the French side offside for 9-3. As the half drew to a close, Goosen was on the mark again with a scrum penalty, but Sarries had one of their own as Racing wheeled one on halfway and Farrell claimed his fourth from long distance.

The question at half-time was whether Racing would show more spark in attack, otherwise, Saracens were looking comfortable. Racing had some early pressure but this was blunted as they were pinged for holding on, and they then lost Carter to injury just two minutes in. The kicking game of Farrell and Wigglesworth continued to effectively pin their opponents back and they were caught offside from a close range lineout as Farrell made it 15-6 with 48 minutes. Shortly afterwards, Farrell was penalised for a high tackle after TMO intervention, although a few minutes later, a similar challenge on him went unpunished.

A new combination on the kicking theme on 56 minutes saw Wyles kick through for Taylor, but the centre was penalised for tackling Rokocoko without the ball. In the context of the game, Racing got a lifeline as a penalty gave them much needed territory and from the consequent play, a Sarries offence allowed Goosen to trim the lead to 15-9 with just over 20 minutes left. Despite that modest margin, the French side gained little ground and territory, and whilst Saracens didn't have more chances themselves, they looked well capable of protecting, if not augmenting, the advantage. Effectively, it was settled with six minutes left as a penalty set up a lineout for Sarries on the edge of the Racing 22 and when the resultant maul was collapsed, Farrell claimed the three points from wide on the right and garnished it further by adding three more in the shadow of the posts as the celebrations began in earnest.

So, Saracens' name is on the European Champions Cup (the badge was already there) as they make up for the near misses of recent seasons. Who's celebrating - make mine a double!

Line Ups
Racing 92
15 Brice Dulin: 14 Joe Rokocoko: 13 Johannes Goosen: 12 Alexandre Dumoulin (Henry Chavancy 56) 11 Juan Imhoff: 10 Dan Carter (Remi Tales 42): 9 Maxime Machenaud (Mike Phillips 21): 1 Eddy Ben Arous: 2 Dimitri Szarzewski (Virgile Lacombe 65): 3 Ben Tameifuna (Luc Dulcalcon 67): 4 Luke Charteris: 5 Francois van der Merwe (Manuel Carizza 65) 6 Wencelas Lauret: 7 Bernard Le Roux (Antonie Claassen 76): 8 Chris Masoe

Sub not used: 17 Khatchik Vartanov

Saracens
15 Alex Goode: 14 Chris Ashton: 13 Duncan Taylor: 12 Brad Barritt (c): 11 Chris Wyles: 10 Owen Farrell: 9 Richard Wigglesworth (Ben Spencer 79): 1 Mako Vunipola (Richard Barrington 76): 2 Schalk Brits (Jamie George 51): 3 Petrus du Plessis (Juan Figallo 67): 4 Maro Itoje (Charlie Hodgson 79): 5 George Kruis: 6 Michael Rhodes: 7 Will Fraser: 8 Billy Vunipola (Billy Vunipola 42)

Subs not used: 19 Jim Hamilton; 23 Marcelo Bosch

Attendance: 58017

Half Time 6-12
View a Printer Friendly version of this Story.
OUR FAVOURITE GAMES # 7 KINGS OF LYON 14.5.16
Discussion started by TheSaracens.com , 01/04/2020 07:40
TheSaracens.com
01/04/2020 07:40
Hopefully this will bring back happy memories of our first European Champions Cup Final win.

As always if there is a match that sticks in your memory (we can go back to 2002) please yet me know and I will do my best to find it



Edited 2 time(s). Last edit at 2020:04:09:07:52:12 by Darraghgirl.
MaroonTyke2
01/04/2020 15:32
Quote:

TheSaracens.com

As always if there is a match that sticks in your memory (we can go back to 2002) please yet me know and I will do my best to find it
When was the match at VR when we scored 20 pts to get a TBP?
myleftboot
01/04/2020 15:37
That match was exhausting! Remember sitting on the tram back, just ready for bed. Belle cuisine et vin rouge revived me far more efficiently than Cardiff cold burger and tinned beer admittedly!
Sorry, only registered users may post in this forum.