Haydn Meets John Hall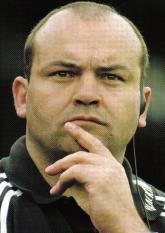 By Haydn Giles
June 12 2005

This interview was conducted by ERE's roving reporter, Haydn Giles, in 2001 and was first published in the magazine format of ERE. It now forms part of our "ERE Classic Interview" range.

There are physically big men and self-respecting big men, who are judged by their actions and deeds - John Hall is both. In his first interview with ERE for seven years, the Bath forwards coach recollects his feelings when the club with whom he had a seventeen year association, as a player and as Director of Rugby, sacked him. The ex-Beechen Cliff man known as "The Bear" also displays the memory of an elephant as he puts the ERE research team (that's me) to shame by trawling up rugby facts from as far back as 1974. Honest John also reveals his hatred of losing, the key to any sporting success and finally why Steven Redgrave should now keep an eye over his shoulder.

Haydn: How difficult a decision was it to return to Bath in light of events surrounding your departure as Director of Rugby in February 1997?

John: Not too difficult to be honest. A lot of water have flowed under the bridge since then and I had been in contact with people at the Club over that period.  When the suggestion came about for my return I was very pleased to get involved. Although I'd had a couple of years with Garryowen I will always consider myself to be a Bath person.

Haydn: Do you believe if you hadn't kept your hand in with rugby whilst coaching Garryowen you may have thought twice of getting re-involved with Bath?

John: When I left Bath I didn't really have any plans to stay in the game and I was concentrating on my business.  The success at Garryowen helped me to keep my hand in with the game.   I had no apprehensions about returning.   My only concern was that I was coming from a semi-professional club to Bath who were fully professional and I wasn't fully aware of the degree to which the playing side had moved on.   But any apprehension was quickly dismissed after I arrived and settled in and now I feel very comfortable.

Haydn: To what degree have you answered the doubters and your critics who thought selecting John Hall in a coaching capacity would be a step backwards?

John: I haven't had people come up to me and say anything to that effect. All the contact I have had with fans has been very positive.  The person I answer to is myself.   I have never doubted myself during the past four or five years.   In amateur times I was in charge of the playing side at Bath and in my first year we did the double. So I don't doubt my ability.

Haydn: Give an example of an aspect of play in the forwards you feel is working well?

John: There is a shared responsibility with John Moore; John is in charge of scrummaging.  Generally what we are not is a huge heavyweight pack and what I have done is to look at our strengths which are - speed, agility, pace to the breakdown, speed in the line out and moving the ball away from contact, keeping the ball off of the ground in contact and moving teams around the park.  That's not just a forward trait, it's the way we all try to play the game.  Essentially what we don't want to do is get into a brawling, grinding match with the opposition. Although we can compete, it's not what we aim for. What I didn't have the luxury of this season was a long pre-season because I arrived two weeks before it kicked-off.  I am really looking forward to a long pre-season this time around so I can really focus on how we want to play the game through the forwards.

 

Haydn: How happy are you at the form of the Bath captain Ben Clarke?

John: I have no concern whatsoever. What I will say is that it is so important for us that he is out there because he is a great leader as well as a great player.

Haydn: How disappointed were you when Ben Clarke decided to leave for Richmond?

John: I was very disappointed, but I understood his reasons and I was naturally delighted to see him back at Bath.  I know it's where his career really kicked off after getting his first England cap and he is a big influence with the players.

Haydn: How much of a setback was the defeat up at Newcastle?

John: It was very disappointing that we lost as we felt it was a game we should have won.  The two or three week lay-off between fixtures didn't help us with Bath contributing a lot of representatives at both 'A' and Senior international level.  That probably benefited Newcastle, who are on the face of it a good developing side.  It felt like we had to rediscover our game.  In terms of setback, before the Newcastle game I had said in order to secure first or second spot for the play-offs, we had to just keep winning games.  After this result as far as I am concerned nothing has changed.

Haydn: What is your assessment of the performance and result against Gloucester?

John: The result was fantastic.  If you'd have said to me before the game, "You're gonna beat Gloucester by 50 points to 16." I would have said," I'll have some of that!" In terms of how we played, there is still a hell of a lot to come.   I said to JC when we came off the pitch that we'd played 20 minutes of the thirty eight the ball had been in play, so there is still a lot to come.

Haydn: How did you take the defeats away at Bristol and at home in the Cup to Gloucester this season?

John: I have different feelings about those games. As to Bristol I was disappointed....no sorry.... disappointed is not the right word.  It was because of the huge history between us and the fact we didn't play well, I just felt "Oh my God I'm in Bristol and they've won, just get me out of here" in a "beam me up Scotty sort of way."  It was a big day for them and I remember seeing Malcom Pearce run on the pitch afterwards celebrating with Dean Ryan and some of the old Bath lads which was a bit of a

sickener. But I didn't dwell on it for too long. The Gloucester game was very different simply because the second half performance was so poor.   It was very disappointing to lose in that manner after being in control of the game.   Not because it was Gloucester and they hadn't won on the Rec for so long, but because it was down to us.  I am the worst loser in the world, I hate it.  Okay I'll put a brave face on it afterwards and I'm polite and gracious in defeat, but inside it really hurt.  To me rugby's all about winning.

Haydn: To what do you attribute the 'never say die' mentality of the team in your playing days?

John: I think it was a case of knowing even before we went out on to the field that we were going to win. We had supreme confidence in ourselves as a team. But you can't just assemble a side and cast a wand to make that happen. At times results become very tight and there is an element of don't give in.  I attribute it to there being 15 or 21 players that just hated losing so much it meant we were going to win.   It is difficult to put your finger on it but it's something that builds up and I have thought a lot about it over the years because it's not something you can bottle.  Firstly it's about building up a good team, getting them playing in the right way, winning and carrying on winning.  It's also about having key people as a backbone of the side.  Bath had that and I believe we are well on the way to getting it back again. Dare I say it, you look at Leicester and quickly realise the reason they have been so successful the last few seasons.  In each layer of the side from the front row to the back three they have key players who have built up their winning ways and feel confident when they take to the field.

Haydn: How different is the attitude of the players and the overall ethos of the club now compared to Jack Rowell's era?

John: The players are now in a working environment and it is very difficult to compare.  You can't say what Bath should be doing now is what we did then because things have moved on.  Training techniques have changed; attitudes towards training and individual responsibilities have all changed. Jack and the Club had a particular style in that time which wouldn't be suited to these days.  Attitudes and approaches are much more thought out now because everyone else is doing the same.   If we get all of the training right, the skills and the physical side plus the game technique and build our winning ways I am supremely confident trophies will return to Bath.

Haydn: How much more could a fully fit John Hall have achieved in his playing days?

John: Injury probably lost me a lot of caps and possibly a Lions tour.   I originally lost my place in the England side due to injury, got myself fit again and back into the side and then received my knee injury literally two weeks before the first game of the Grand Slam season in 1991. So I was unfortunate I didn't get 60 or 70 caps but feel lucky to get the ones I did and to be involved in the most successful club side of all time.   I have no regrets whatsoever and don't believe in if onlys.

Haydn: In issue 14 of ERE, way back in 1994,1 asked if you

had ever thought about playing Rugby League and you hinted

you had once had an offer but chose not to elaborate. Who

approached you and can you recall the terms?

John: (John chuckles and proceeds to be cagey) It was an offer

from a northern, club!!

Haydn: You can do better than that! - (The big H has the big bear cornered - Ed)

John: It was an offer from Leeds and I can't remember what they offered me.   It wasn't huge amounts, something like £ 15-20,000 a year, which was quite a lot of money at the time. It made me feel good to have the offer but it wasn't something that I ever seriously considered.

Haydn: Tell us about the book on the Club your father Peter is writing?

John: He is putting together a complete history of the Club since its founding in 1865 right through both World Wars up to the present day, which is proving to be a mammoth task.  The amount of research he is doing is proving to be unbelievable. There are various people throughout the years like the late Clive Howard, who kept records of who played.   He's having to track these people down which isn't so easy when most of them have passed away. He's phoning Mrs Smith (for want of a name) whose grandfather has records of the 1930's.  She'll recall having some book and a few photos, which leads on to another party. What he thought would be a challenging task is proving to be monumental in terms of the amount of information that's out there like photos, reports and film etc.   It's born out of my father being an absolute perfectionist in terms of: getting the right information and digging deep into Bath results; what players were doing at the time; the state of the Rec; local politics; everything.

Haydn: Do you share a similar interest in the history of the club?

John: It's a frightening thought but I've had an involvement with the Club since I first came to watch when I was 6 or 7 years old. That's thirty plus years and my mother met my father here and my grandparents were heavily involved with the Club so you could say I feel quite attached.

Haydn: How did the pressure of the cameras affect you when the documentary was being made of the Club in the first year of professionalism?

John: There were a couple of occasions when it did make me feel very awkward. The classic instance was when we went to have a meeting in Andrew Browsword's house in Dorset during which I was very conscious of the cameras.  On other occasions I felt very relaxed which gave opportunity for the true me to come out.  The simple thing was it was a mistake to have the cameras around.  The programme was not a good idea and didn't do anybody any favours.   I probably bore the brunt of it because most of it revolved around my position.   I guess if you'd gone to any other first division club at the time you would have got the same sort of programme.

Haydn: How big was your contribution towards keeping Mike Catt at Bath when the game turned professional and how did you persuade him?

John; I don't think Mike would be at Bath if I hadn't been involved. We had a day of negotiations that started at 9.00am and ended at 11.00pm.   Mike wanted to stay at Bath but he was being tempted from outside.   He wanted the reassurance and understanding there was a future at Bath, which involved a lot of things other than just the financial aspect.

It's at this point that I produce the Bath match magazine for the last league game of the season against Sale dated 29 April 1995. I point out to John the tribute to him contained within to commemorate his last game at the Rec entitled "Bath's 'Mr

Grumpy'rides into a golden sunset."

Haydn: What do you remember of what turned out to be you last game for Bath.

John: I was gutted. Not only was it my last game, but I came off with a shoulder injury which also caused me to miss the Pilkington Cup Final win against Wasps a week later and to add to that we to lost to Sale on the day.  But it was all put right a week later.

Haydn: How mixed were your emotions when Bath won the European Cup just 12 months after your departure as Director of Rugby?

John: They were positive.  I watched the game at home with the in-laws and felt genuinely pleased for the guys. The whole thing about the day was that it was against the odds and the guys came through which had me jumping around.

Haydn: Did you feel a bit removed from it all - no longer being involved with the Club?

John: The Club is very close to my heart and something which is in my blood and it felt like not being allowed to see a family member.   I had to go away and rebuild the way I lived my life, develop new relationships and interests and start my business.  Going to Ireland helped me no end, but it was a big pull being cut from the Club.

Haydn: How did you measure the success of signing Jason Robinson?

John: I think Jason was a tremendous success for the club because he delivered. What didn't work was when pitches turned heavier and he wasn't as able to turn on a sixpence. That led to defences getting wise by developing ways to close him down.  There is no doubt in my view that he will be successful at Rugby Union but it will take time for him to bed in.

Haydn: How has Pezza responded to Jason's inclusion with England at his own expense?

John: I personally think that Pezza has been hard done by.  I don't know the reason why he has been excluded by my guess would be to do with the perception being banded around that he is not an attacking full-back.  What you have to look at is how many trys he scores, creates and prevents.    He responded against Gloucester with a try and I have no doubt he is an outstanding attacking force backed up by statistics.

Haydn: What message does it suggest to you about the number of high quality union backs in England? Do we really need Jason Robinson and will he be a success?

John: No we don't necessarily need him, but he undoubtedly will be a success because he is an exceptional talent.   He has shown that and I can recall some extraordinary performances at the Rec. (Queue Elephant John) We beat Bristol by 70 points and Swansea 76-0 and he was outstanding, creating and scoring some incredible tries.  The same went for the win against London Irish and he set up two or three up at Gloucester. People tend to forget this and when we lost at home to Wasps he scored a great try.

Haydn: What do you think of Neil Back?

John: He's a fantastic player and silenced a lot of critics. It just goes to show you can be 5ft one and you don't have to join the circus!!!

Haydn: Name your British & Irish Lions starting XV?

John: I think it will go something like this: Tom Smith; Keith Wood; Jason Leonard; Martin Johnson; Danny Grewcock; Lawrence Dallaglio; Colin Charvis; Neil Back; Robert Howley; Jonny Wilkinson; Mike Catt; Brian O'Driscoll; Ben Cohen; Ian Balshaw; Matt Perry.

I know there are lots of England boys in there but you have to ask, who else is there to take the place of these inform players? Someone who I was involved with at Garryowen who is becoming a very strong contender is David Wallace.   He's been outstanding for Munster and Ireland so far this season.  I wouldn't be surprised if he featured on the tour.  I'd also like to think that Gareth Cooper would get a slot especially if he has a good end of season.   He's going to be big and is already in my book a phenomenal player

Haydn: What is your reaction to Graham Henry's announcement of 18 Welshman in the initial squad?

John: I don't think you can read too much into that and it will change over the coming weeks. (Down to two or three we hope! - Ed)

Haydn: How equipped are England to win the next World Cup?

John: I think it's a premature question because as far as I am concerned the jury is still out on England being a world entity. They had three very good results in the autumn but I don't know how much you should read into them.   Historically England have done pretty well in recent years in those autumn fixtures.   It's very difficult for teams to come over here at the back end of a long season.  England have the basis of a world class side but need to keep beating Southern Hemisphere teams on a regular basis.

Haydn: What memories will you retain of Addey's playing days?

John: (John chuckles) I retain a lot of memories of Addey on and off the pitch.   He's been a phenomenal servant to Bath and would be the first to admit he was never an out and out pace man, but you can't question his finishing ability.  He's a real character who has been respected throughout his career by young and old players, so I can't speak highly enough of him.  I remember when he first came to the Club from Swansea

University and one night at training I thought I'd show him a few lessons.  We were having a contact session and I went in to tackle him and give him the John Hall treatment just to let him know I was there.  As I flew at him he just stepped inside me and I went flying on whilst he showed me a clean set of heals.   I also remember his huge tackle on Rob Andrew at Wasps when he filled in at centre.  Addey got him to spill the ball and we scored from it, which changed the game.   I also remember the day because I was playing against Francis Emorua and all he did was punch me all day.

Haydn: What do you like to do in your spare time?

John: (John's tone turns unerringly soft like that of a wildlife presenter stalking a tiger) Spending time with my daughter. Sundays are the only time I get to spend quality time with her and I look forward to it every week.

Haydn: Are you doing any sport at the moment outside of coaching?

John: Yes I am taking up indoor-rowing. I am going to challenge myself by entering the British Championships at 2,000 metres for my age group - but unfortunately I am the same age as Steven Redgrave! (Both of us spontaneously combust in a fit of laughter)  When I stopped playing and training I put on a bit of weight and although I have lost some of it I need a challenge to train for.   Unfortunately I can't run because my knee is knackered, so 1 decided to do something that doesn't involve supporting my weight.   It also means I can train with the lads and I can almost compete with some of them.

Haydn: Name three things you would like to do outside your normal routine?

John: Firstly I would love to go into space, because it would be amazing to look back on earth and think of all those people down there and be so removed from everything.   1 watched a programme on Apollo astronauts and just thought it incredible when they reflected on home being 150,000 miles away.   I would also like to do what Victor is doing, which is to walk the Inca Trail.  Thirdly I would also like to take a skidoo and do an expedition across the polar circle.   I like solitude and to challenge myself.

Thanks a lot John not only for a full and frank interview, but also for coming back home to Bath Rugby.