ERE Meet David Barnes In January 2001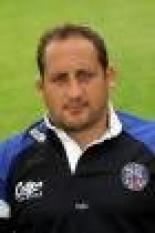 By Haydn Giles
June 12 2005
This interview was conducted by Haydn in January 2001 and was a great insight in to the views of the(then)new boy at Bath. It now forms part of our "ERE Classic Interview" range.
As one of only three major signings made by Bath Rugby last summer, David Barnes tells ERE readers of his respect and gratitude towards his old team mate, the international record breaking prop Jason Leonard. The ex-Harlequin relives the pain of the London side's humiliating record defeat on the Rec last year and gives an insight into why it occurred.
Discover what Barnsey thinks of the decision to ban Martin Johnson for only 5 weeks, even after appeal, and how ineffectively citings are being used. The 24-year-old loose-head prop from Leicester also offers some frank views on the treatment of players from today's referees and declares his undying love for Megan.
Haydn: Having been born in Leicester - have you ever felt the desire to turn out for the Tigers?
Dave: I did when I was young and remember playing at Welford Road when I was ten in the minis and thinking that I would want to play there as an adult. But since I went professional it is the last place I wanted to go to, especially since joining Bath. Also, from knowing the set up there, I don't think it would be the club for me. You hear stories about the way things are up at Leicester and although I have a lot of respect for Dean Richards, who has always been a big hero of mine, I don't think it is a club I would like to play for.
Haydn: Why did you only play for Harlequins for a couple of years and what led you to sign for Bath?
Dave: I signed for Quins during the summer of 1998 and I left because my contract was up at the end of last season which meant I was a free agent and looking for a new club. At one stage I thought I might stay at Quins as I was offered a new contract. I heard Bath were interested after the Andrew Lewis deal fell through and so was down here within two days to meet Jon Callard and Andy Robinson and the deal was all done and dusted within a week.
It wasn't a hard decision for me when I knew Bath were interested. If you ask the average guy in the street to name a Rugby Union club in Britain he will either name Leicester or Bath. To me that is a big thing and with all its traditions here it is still a massive club. Although there have been a couple of lean years they have only been classed as lean because of the clubs' own high standards. When I came down for the interviews a lot of emphasis was placed on developing players as individuals rather than "we want you for our team and we want to develop a team." Nearly every player I know who isn't at Bath would love to come to here and many have said how lucky I am.
Haydn: Describe your time at Durham University and what led to you acquiring caps for England Students?
Dave: I was playing for Kendal and Durham University and was seen by West Hartlepool who were in the First Division at the time. Coach Mark Ring got me down to play for a second team game just before Christmas that year. As a consequence I secured a regular first team slot and it was from there that I got selected for England Students.
Haydn: You say you were just a student when you turned out for West Hartlepool - what can you recall of those playing days which must have been a huge jump in standards?
Dave: I absolutely loved playing for West Hartlepool. At the time I was only 20 years old and nobody knew about me. I had been given the chance to play against people I'd seen on TV Every week I went out with a point to prove and remember playing against Jason Leonard in the knowledge that he didn't know who the hell I was, but I was going to make damned sure he knew me by the end of the game. So every time I took to the field I felt the need to knock someone off their perch which I felt an awesome challenge. I felt very little pressure because I was a young guy and not that much was expected of me so I could go out and enjoy myself, which I did and loved every minute of it. In the game against Bath I propped against Horse (Chris Horsman) on his debut and remember Hilts coming on later in the game.
Haydn: Whilst playing for Newcastle Falcons you won the Premiership Championship in the 1997/8 season -what was your contribution to the success of the Club?
Dave: I spent a lot of time on the bench that year as I was signed as a stand-in prop and was told after a short time that I was too young and had a development role to play. I benched a ridiculous amount of games without actually getting on to the field, so even though I was in the squad, at the time I didn't feel part of the team. I got a photo one Christmas of us in the changing room after winning the league from one of my team-mates. Looking back at events I feel more part of that side today than I did then. Nick Popplewell was playing in my position at the time and playing well in the way Dean Ryan wanted, which was to have big props utilised for just their scrummaging abilities.
Haydn: What was the key to the Falcons' success that year and why have they failed to emulate that success since?
Dave: I think Newcastle then were ahead of their time. They had come up from the Second Division and things like their fitness training off of the field was miles ahead of anyone else. Dean Ryan chose a big forward-dominated approach that caught everyone by surprise then, but wouldn't work today - as you can see by some of Bristol's results. They were the right tactics at the right time and I learned a lot from those players in my first professional year. Although they had bought a set of forwards at the time to dominate play, they were all heading towards the end of their careers. Then they lost Alan Tait to Edinburgh, which was a massive loss as he organised their back line. The younger players didn't have the experience to carry on the success. Dean Ryan left and they have had to find a whole new structure of playing.
Haydn: What experience and advice did you gain from Jason Leonard in your time at Quins?
Dave: He's made a massive impression on me. Jason taught me a lot on and off the field regarding diet, training and technical ability. We'd always have a chat before a game about scrummaging, how to approach individual players and their strengths and weaknesses. So I had tips, from arguably the best English prop ever, exactly how to play against my opposite front row each week. Each prop is different and you learn about certain angles working better on different people and how different arm binds unsettle some props. So after you have played against them you learn what to expect from the next encounter. For instance I played Garforth up at Welford Road this year having had a hard time from him in the past. But this year although I was only on for 15 or 20 minutes I stuffed him out of sight, (That's what we like to hear - Ed) because I know how to play him now.
Haydn: What is the key to Jason's tremendous longevity as a a prop at international level?
Dave: His professionalism and dedication. After an international game the England boys at Quins would be given 5 days or a week off, but Jason would be in on the Monday, sometimes even training with the lads. He just loves playing, which I think is a massive part of his character and an aspect you don't see in a lot of senior players. After a bad injury a few years ago he came back and had an indifferent season and looked is though he was coming to the end of his career. Since then he's revitalised himself and has played some of his best rugby ever.
Haydn: You played in both Harlequins defeats last season against Bath including the 77 -19 utter humiliation here at the Rec. What do you remember of that experience?
Dave: I was absolutely devastated. It was at a time in Quins' season when a lot of players had been told their contracts had gone. But there were still a few of us who had places to fight for. Before the game I wanted to play well because I wanted to interest Bath. (Dave huffs in utter despair) Some of those players had left the field after 20 minutes and their heads had gone with an attitude of, "we don't want to be here." There were still a few of us fighting our hearts out but couldn't do anything about it. I remember avoiding the changing rooms after the game and staying on the field, sitting on the ground with a few others and just feeling absolutely devastated. It was the biggest defeat I have ever experienced at this level. Even at West Hartlepool we never experienced a defeat like that and we had a much worse side. I know Bath should take a lot of credit for their performance but we allowed them to play well. Certain things paid off for Bath but Quins' desire just wasn't there.
Haydn: Ex-All Black Zinzan Brooke resigned as coach at Harlequins on New Year's Eve, justifying his decision by saying he questioned the commitment of some of the club's players -how surprising do you find his comments?
Dave: He spoke about it a lot when I was there, but he didn't understand the Quins mentality, which was a very strange thing. Overall he didn't understand the English mentality because in New Zealand Super 12 is a three-month season and over here it's about nine months, which means a totally different ball game. Players have to be treated differently because the season is so long and it's something he really struggled with, trying to train guys is tough it is a three-month season. He also thought players should be up to his standards and do the basics like being able to pass off of both hands and sadly you still get players who can't. To Zinny he couldn't understand that which affected the way he coached.
Haydn: After such a powerful and purposeful performance against London Irish and controlled and commanding first half on Boxing Day at home to Leicester, why did Bath fail to turn up for the second half?
Dave: It's quite hard for me because I wasn't part of that first half and I don't know why we went back into our shells. We felt we were in a really good position to win that game and we knew we had to keep playing, but for some reason we sat back and let them come at us. If we'd have carried on as we did in the first half we would have been in good shape. That game was definitely there for the winning but I can't explain why we didn't. We've spoken about it a lot since and consciously changed our approach to the second half of matches, concentrating more on starting the second half as though it were the start of the whole game.
Haydn: In total contrast, describe the scenes in the dressing room after the match at Vicarage Road after defeating Saracens 31-11 and at the Rec after stuffing Northampton?
Dave: That was a huge result for us, as we had to go away and win against a side who were playing quite well at the time. The scenes in our changing room were of a very happy side and one of the best experiences of my career so far. Everyone realised what a massive result it was. The scenes after the Saints game were still good but not like at Saracens. With all due respect to Saints, we probably had more control over their game and to win away at Vicarage Road, where not many teams have done so this season, made things that more special.
Haydn: How difficult was it far you to spend most of both of those games on the bench?
Dave: I hate it! I guess I'm like any player who never agrees with the selection when I'm not in the side. The way I viewed both of those games was to do what I could when I got on and try and prove the selectors wrong. I've got confidence in my own abilities and just have to show the coaches what I can do when I get on.
Haydn: What are your recollections of the Saints match and what was the game plan before hand?
Dave: We knew Northampton were going to try and play us like they did up at Franklins Gardens, which was to attack us up front and beat us up in the forwards with big men like Pagel running at us. Their intention was also to intimidate us around the fringes of the ruck. Because their back line isn't the best in the world and ours has so much more pace, we knew if we could control their forwards, who are arguably the best in the League, we had a good chance of winning the game. The first half wasn't he best game to watch but was more a case of both sides trying to wear the other down and as a consequence we scored three tries in the last ten , minutes simply because their forwards were tired.
Haydn: Citings seem to be all of the rage at the moment. a Does an independent body need to be brought in to offer some additional objectivity regarding length of bans?
Dave: Definitely. I think citings are a good thing and the events with Martin Johnson have been a joke. I don't honestly know how he felt he could appeal against the decision to ban him for five weeks. You should be able to cite a player for dangerous play, especially off the ball because the referee and touch-judges aren't going to see everything.
I agree that Leicester had a point that Saints' Keith Barwell was on the committee when Johnson first got banned and they argued it was unfair because they thought he would want Johnson to miss as much of the 6 Nations as possible. But it has to be an independent panel as citings are a good thing which need administrating properly. As a professional you want protecting because you don't want to miss out on earnings and win bonuses. Players should be banned for as long as their victims take to recover.
Haydn: The RFU decided to ban Martin Johnson for only 5 weeks, making him available for the 6 Nations opener against Wales and upheld their decision even after his appeal, which would normally constitute an increase of a maximum of 13 weeks. To what degree do you believe this sort of conclusion regarding the England Captain reeks of favoritism?
Dave: I think the length of the ban definitely reflects his standing as England captain and of course after they had considered his exemplary disciplinary record, the meaning of which I don't understand. I think he was lucky to only get five weeks especially after an appeal for dropping a knee on a player on the floor. McRae is going to be out for some eight weeks and maybe he should get the same.
Haydn: We have already seen an example of tit-for-tat citing when Swansea examined the match video to cite Chris Wyatt of Llanelli because the Scarlets had cited Arwel Thomas for punching. Do you think we will see escalation of such events when clubs are so desperate for points and player's health and careers are threatened?
Dave: It's interesting you say that because in light of the Johnson five week ban, the Welsh Union dropped those two citings to allow both players to be available for Wales during the 6 Nations. But I think it will settle down now after the profile of the Johnson case. Although citing has always been there no one has really used it and I think it will return back to those times. The Johnson citing was fair as was the citing of Healey for stamping a couple of seasons ago.
I think clubs will only cite if they lose their players for a period of weeks. On the Monday following the Saints game Dawson was talking about citing one of our players, but there will be no case.
Haydn: Have you kept to your New Year's resolution?
Dave: My New Years resolution is to get back into the Bath side and any England representation should come from that. At the moment I'm struggling to keep my resolution because I missed starting in the Northampton game. It's a goal of mine this year to re-establish myself and play every week. They announce the squad for England A tomorrow and although I made the Development Squad before Christmas, which leads to England A selection, I think I'll miss out because I've been on the bench. If I get back into the Bath side the rest will look after itself.
Haydn: Do you have any pre-match rituals or superstitions?
Dave: Not so much rituals as routines. My preparation for a match starts on the Friday when I ensure I don't eat meat and have the same pasta meal in the evening and the same breakfast every Saturday morning. It can get very boring but I've done it for so long it's become part of my match day routine which helps me focus on 2.15pm on match day. Players have different routines, Maggsy still eats his pancakes and maple syrup for breakfast on match days and Rory Jenkins of Quins used to take a couple of trout with him to the hotel on the eve of a game and have them cooked for breakfast.
Haydn: Do you have a particular favourite film and book?
Dave: I like most of Scorsese's films especially Goodfellas, but I like anything with De Niro in it.
Haydn: Do you watch films together when you travel to away games?
Dave: We have a video on the bus but I don't know who chooses the films because they are dreadful. We usually have the latest releases and some of them are real shockers. (Sort it out Bath Rugby, you should have Living With Lions on every time to get these guys motivated at away games. Must have shown My Favourite Launderette or Priscilla Queen Of The Desert for the game at Bris! Ed.)
Book wise I usually read John Grisham, but I'll pick anything up a with guns on the cover such as Bravo Two Zero.
Haydn: What sparked your interest in ERE?
Dave: I've always been on the Internet and I think it's good to find out what supporters are thinking. The club should use their site more effectively because they have no message board. Harlequins use it very well as their main forum of communication with their fans. You have to look after your supporters and very often they ask about kick-off times and travel arrangements. The day of the Castres game was switched from the Sunday to the Saturday and the Club should have been there to inform fans every step of the way, because you guys spend a lot of money and it's the easiest way to communicate with a mass audience. (It is interesting to note that the Bath website still announced the kick off against Castres as being 7.30 in the evening after the match had kicked off at 4.15pm! - Ed.)
Haydn: What hobbies do you have outside of rugby?
A shout of "eating!" bellows across the Clubhouse from a woollen hatted Tindall who is giving Bath Chronicle reporter Stuart Collier a hard time. (And remember there are still a few tickets left to see Stuart in an adaptation of Ben Elton's Popcorn at the Rondo Theatre at the end of the month - how's that for a bathplug! Ed.)
Dave: I spend a lot of my time with Megan, my black Labrador. I've had her just over a year for the specific reason that because rugby gives you a lot of down time; it's good to focus on something or someone else. So I'm either out with her or on my computer. I play a little golf but not during the season. When the rugby season is up and running it's too tiring to do other sports. So I train and watch TV a lot. I have a Playstation but I hate using it, I find it destroys your mind. I read about David James when he was in goal for Liverpool, who said he played too much and attributed it to his dip in form. I can relate to that because when you come off a Playstation you can't focus on anything else because your mind is still racing.
Haydn: With the laws of the game changing every season and the format swinging towards rugby league, is there anything you would wish to change?
Dave: If I could change anything it would be the refereeing of the game. I feel that, without upsetting too many of the refs, there simply aren't enough good ones in this country. There are a few and Brian Campsall had a brilliant game when we played London Irish here in December. Steve Lander is usually very good but had a strange game at the weekend (v Saints). The refs and the touch-judges all need to stop treating the players like schoolboys. They need to treat us with a bit of respect and listen more to what we have to say. Some talk down to you and others won't talk to you and in the end they are the ones who turn games into a string of penalties. You guys come to watch the game and don't want to see a referee dictating everything. I love it when the game flows and remember the best ref I ever had was Didier Mene when Quins won in Cardiff in the Heineken Cup last year. He played so much advantage and to me that makes a good referee. (He also did well in Glaws' recent home win over Llanelli)
Haydn: Do you have any pet hates?
Dave: The usual - not playing. I don't play for money, I play because I love to and hate sitting on the bench watching others do it for me.
Haydn: Who is the most accident-prone member of the squad?
Dave: I'd have to say Tom Barlow, (the 19-year-old Truro born flanker) he's a shocker. I think he injures more people in training that we get in games. He's just a bit clumsy is Tom. I'll get killed for saying that now!
Haydn: Who will be the British and Irish Lions representatives from Bath for the summer Tour of Australia?
Dave: I think Catty will definitely go as a utility back. Balsh will go because he has so much skill and flair. As an outside bet I think Steve Brothwick has quite a good chance, because they (Lions selectors) have said they won't necessarily pick first choice players for their countries and Steve offers something a lot of the others don't in the lineout. I'd also have to say Matt Perry is in with a good shout. I know Graham Henry likes Shane Howarth (the Kiwi) but it's hard to know what sort of influence the Lions Coach will have on selection. He may take Jenkins but not as cover at fullback.
It's at this point that Ronnie walks over to evesdrop.
Haydn: How well do you usually do watching Who Wants To Be A Millionaire?
Dave: Good, I usually get past the £16,000 questions and had a stormer at FILOS pub quiz the other night.
Haydn: WWTBAM Question: How many time has your team mate John Mallett taken to the field for Bath in his career to date and you can ask the audience now Ronnie has joined us?
A.75 
B.228
C. 152 
D.196
The chaos that followed went something like this:
Ronnie calls out " 152!" directly after the C choice is read out.
Dave turns to Ronnie: It's either C or D isn't it? He's been here years!
Ronnie: He's been injured man!
Dave: Yeah I know. Is this league games or any?
Haydn: Full Bath career to date.
Ronnie: Is that just for Bath first team?
Haydn: (I start to pray for a commercial break) Yeah!
Ronnie: 158.
Haydn: It's 152 or 196 you're looking at Ronnie.
Ronnie: Well it's one of those two.
Dave: 152
Haydn: Final answer?
Dave: Yeah
Haydn: You got it
Ronnie: I was right yeah?
Haydn: Yes Ronnie you were spot on.
Thanks a lot Dave and good luck in your attempts to regain the loosehead spot.