Doncaster Knights Away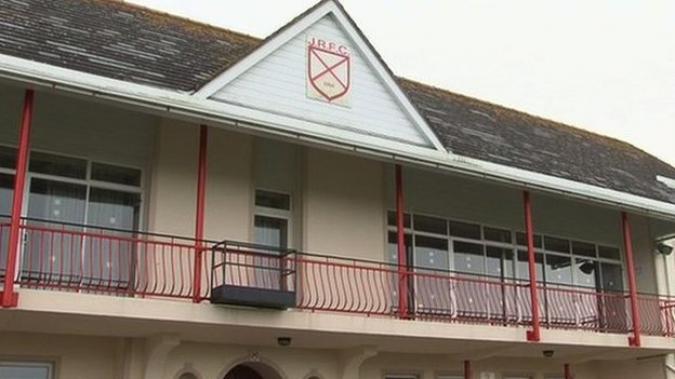 By Corporalcarrot
January 19 2015
We Won! I have only said that once after an away trip this year and it was a wonderful, ugly win on a day when the weather threw everything at us and Jersey played brilliantly at times and like five year olds at other times but I'm not in the least bothered. We won! I hope the Monkey is firmly on someone else's back.
A delayed red eye Flybe shuttle which should have been in Leeds by 9.30am got me there by 11.15am but thanks to brother in law Chris who lives in "God's own County" and drives a Volvo like a Ferrari I was at Castle Park by 1pm. Listener's who tuned into Tim at Radio Jersey to catch the commentary can thank Chris for getting him to the ground on time despite a huge detour to avoid traffic in Donny.
There was a decent following from Jersey already in the ground but I was ravenous and declined the offer of beer from a load of mates and homed in on the famous Cow Pie.
I was told they never sell out but I wasn't falling for that one and had the Cow Pie Dinner which was the bargain of the century.
Ok foreplay over onto the match. Donny started well and dominated the first 10 minutes. Defence was brilliant and Jersey then had probably as good a 30 minutes as I've seen them play this season. The forwards were incredible for the rest of the half and if Campbell, Phillips, Lockwood. Buckle and Williams can get the video of that spell their agents will get snapped them up by Toulon. Donny have some great forwards in particular Quigley, Challinor and the young D/R Hooker from Tiggers but seriously our forwards blew them away for the last 30 minutes of the first half.
We scored a monster forward drive finished off by Williams and a kick and chase finished off by Locke and were two foull scores ahead.
Our driving maul play was awesome and we really should have killed the game off in that first half when Donny had Challinor in the bin and we kicked a penalty in front of the posts instead of taking 5 metre scrum or lineout drive. We don't like doing it easy however and Donny in fairness defended brilliantly when down to 14.
Billy the Fish - the new Tongan scrum half is HUGE I MEAN REALLY BIG. He got the Rugby Paper Man of the Match Award but I think and hope there is a lot more to come. His tactical kicking was in a different league to anything I have seen in three seasons of Championship rugby. This bloke kicks a ball miles and his accuracy is amazing! Given his size I hope to see the base of the scrum drives that Nicky Griffiths used to add to our game but that will surely follow. On a horrible day he had a really good game.
At fly half Bentley had a cracking first half and was faultless from the kicking tee but his kicking from hand to the left hand touchline IS A LIABILITY. Sort it out lads with Pemberthy and Robling on the pitch when we get a penalty on the left hand side can we not switch the brain on and use a right footed kicker? PLEASE.
Donny played really well in the second half and were helped by a couple of lazy yellow cards which brought us into squeaky orifice territory. Donny brought Latu on who added loads of go forward but we held out and instead of capitulating WE WON. I know I'm repeating myself but in case someone in outer Mongolia hasn't heard WE WON.
Donny have draught Tetley on hand pump at the left hand side of the longest bar in Yorkshire and after the game is over they serve it in proper glasses. Sean it can be done mate.
Thanks to Steve Boden's advice I had a wonderful Curry at Elachi in the next village about a mile from the ground and next day came back from East Midlands Airport. The team were there looking a bit jaded after a rare win and as usual with the prospect of a tiny Flybe plane I have my fingers crossed hoping to end up sitting next to someone as skinny as Kate Moss but fearing ending up next to a huge forward like Campbell, Williams or Selway who will fill both seats. for those who follow such things I am pleased to report I avoided the tight five forwards but ended up next to Billy the Fish who is a smashing bloke but is surely destined to play Tight Head and definitely fills two seats!
View a Printer Friendly version of this Story.
Doncaster Knights Away
Discussion started by Jersey Rugby , 19/01/2015 14:16
Jersey Rugby
19/01/2015 14:16
What do you think? You can have your say by posting below.
If you do not already have an account
Click here to Register
.
jerseynick
20/01/2015 11:36
Good read CC! Agree with most of what you reported although the cow pie was not as good as my mum's!
Sami Fish is going to be a huge asset IMO. Loved his dinks into the corners....if only we had the pace to take advantage. It will come.
Bring on Nottingham...
Sorry, only registered users may post in this forum.