Jersey Reds Overrun a Staunch OE's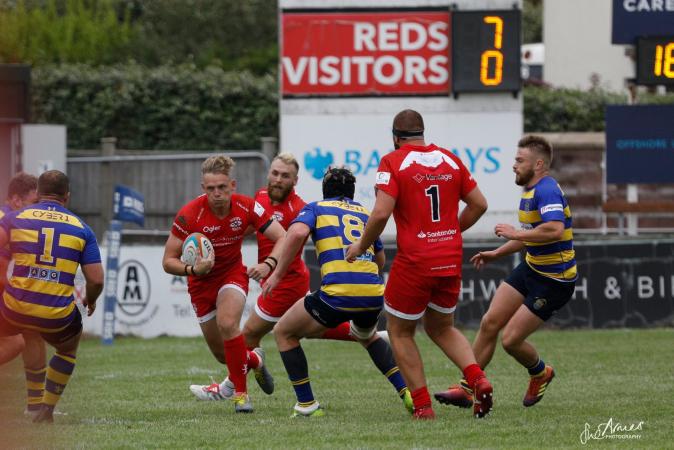 (C) Sue Armes
By Teddy
August 20 2019
Jersey Reds racked up six tries to start their pre-season games with a comfortable win over Nat 1 Old Elthamians. However, the scoreline didnt refelct the effort and work rate of the nat 1 side. The Reds made a very strong start, winning a penalty from the kick-off, kicking to the corner and labringing out the ol' faithful rolling maul from which hooker Jack Macfarlane rumbled over. The second try was pretty much a carbon copy of the first, with the Hooker dropping over after another powerful maul. The scoreboard didn't move again until Jersey back row man Conor Joyce went over in the 31st minute.
Lead Photograph (C) Sue Armes: https://www.suearmesphotography.com/
OE's had the final points in the first half, with Rhys Morgan going over after some powerful OE's mauling.
14 points in the opening five minutes of the second half for the reds pretty much sealed the game result, with Conor Joyce stretching over the line for hos Try, and the Reds Hooker Macfarlane completed a hat-trick..
Jersey director of rugby Harvey Biljon: "There were some promising signs, both up-front and in the endeavour shown by our back-line, It was a typical pre-season game, with quite a few errors, bit overall a really good hit-out. There were stages in the second half where we couldn't get hold of the ball, and also had 10 changes, so that explains the fact that we couldn't get on the scoreboard for quite a while. There's plenty of competition for places, and I think the players know they have to take their opportunities when they get them," he said.
Elthamians director of rugby Gavin Lach: "I was genuinely very, very pleased and thought we were outstanding. National 1 will be an absolute dogfight this season, with possibly eight teams in contention, but if we play like we did today we'll be in the mix."
Referee: Fergus Kirby
Attendance: 768
Man-of-the-match (as chosen by match sponsor Geomarine): Alex Thompson (Jersey Reds)
Scorers
Jersey Reds
Tries: Macfarlane 2, 19, 45, Joyce 31, Slowik 42, Williams 74
Conversions: Penberthy 2, 42, 45
Old Elthamians
Try: Morgan 40
Conversion: Landray 40

For more photos: https://www.facebook.com/pg/JerseyRFC/photos/?tab=album&album_id=2480771955295445&__xts__%5B0%5D=68.ARCFqfeZZFKs1O4WVmss3gGyLEJjABFcLfk4Is1JGSeb0KwwxBgzPRWLuFkoSXH63tnV9e72ZE2L2sRC-f327dRc8bQ_bYmLtNc17bh7Ivv3jXFvENVnUqBUiPNQb5uq__KEL69BDBQxj-sIrn_ZqERnV8hFYumEVmtvfG0BvgHJ2bqEoDLM7Q5aNTnXINJLmBjWjRLYmJRbWo9oPk1JAq4jsjmd4X9tTmO-Nob4uTMq1IOZtMMYrc6uhlccmZ5rOX6lTtnxm7fjJ0ddkI-KHEW1s22YDOgAi5NreJgAXwRHRgXJelKzXZUGlMLsXMAwx56-f2P-f4piNZn-qWw220EjpmZTilDVkkCebLfUEPi-9Pr2euK3OdXKVo8sAbeTm3J4kw2uQ3SGX-GDsKBwJofNtyUUqAtryyxhKzLRXrCzISZ5dpH9TdalGj5fTxzk1kh8k33PHZXSUrDoF64zqPGpCoMtv4Y1bai3KgsZDa_XAn02l2z8jAm19vPAg57HEvDKPOJVib1WmADsUOSZhER0FHUUqJP0elH7VPR4Kg&__tn__=-UC-R