THE SEASON RESUMES: WHO WILL TRIUMPH?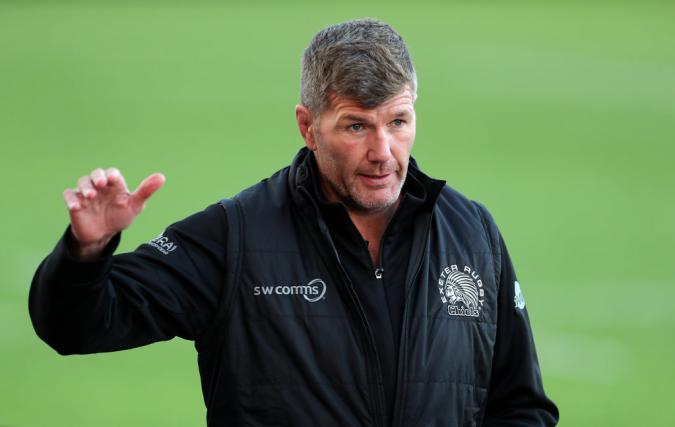 Baxter: surprises?
By P G Tips
July 21 2020
The Premiership season restarts next month with preparations and the fixture list disrupted by the Corona pandemic. Squad makeups have been affected too- some radically, by clubs reducing wage bills and the early implementation of close season transfers. The runners and riders could either be stronger for the season run-in or weaker as a result. The current top 4 seem to be the obvious play off candidates, but who of these will win through, and what of Bath's prospects of a top 6 finish? Let's take a look.
Exeter Chiefs

At first glance Chiefs have not strengthened as comprehensively as some of their rivals, with more leavers than joiners, including the departure of dynamo scrum half Nick White and veterans like Steenson and Kvesic. That view though overlooks the patient long-term squad building that Rob Baxter favours. The signings may not be many but are significant, Sam Hidalgo-Clyne in for White, Jonny Gray beefing up an already formidable pack, promising Argentine Facundo Cordero to strengthen the backs and Josh Hodge as back up to Stuart Hogg. With a 5 point lead and 9 rounds to go, few would bet against Exeter holding their play -off place, or topping the table. They will have been working on their relentless keep-ball driving game and, with Slade, Nowell and Hogg to call on for flashes of magic, Baxter is likely to have some sharp surprises up his sleeve. Look a good bet to go all the way.
Sale Sharks

Perhaps the surprise package of the season, Sharks currently sit 2nd, with Bristol breathing down their necks. Theirs has been among the most eye-catching recruitment with Manu Tuilagi adding to an already physical midfield (backed up by Exeter's Sam Hill for good measure) and Cobus Wiese adding further Springbok heft to an uncompromising pack. The prospect of Tuilagi partnering Rohan Jense van Rensburg, (described by one COML poster as "a pair of super tankers") behind Oosthuizen, De Jager and the Currys will delight all who like their rugby raw and powerful. They will certainly be a handful and strengthened as they are should comfortably make the play-offs. Whether Steve Diamond can coax out of his squad those little moments of class to turn the tightest of games is yet to be seen. Will leave many opponents bruised, but can they replicate the class of '06 and take the title? To be proven.
Bristol Bears
Surely the big winners in the late season transfer merry-go-round. Sinckler and Earl add star names to an already fast and furious pack. Behind them Malins and Radrada boost the power and guile of the backs. Bristol have played with admirable (some would say at times foolhardy) ambition this season and the newcomers can only enhance their quest for big eye-catching wins and plenty of bonus points. Ashton Gate has become an intimidating stadium where even Saracens and Chiefs will have to work hard for a win. The Bears have few tough away ties to go. If they resume as they left off should be very strong challengers at the play-off stage.
Northampton Saints
Saints began the season brightly, notching 6 wins in their first 8 games. Their form since early January though has slumped, home defeats to London Irish and Bristol paving the way for a thumping at Exeter. Although 4th in the table they are only just in positive territory- 7 wins from 13 fixtures. Of the incomers, Nick Isiekwe on a season loan is the only noteworthy name, while Cobus Reinach, the engine of so much of their attacking play has departed for France. On top of that, they have lost talismanic flanker Tom Wood to injury for at least 3 months. With Exeter and Bristol on their away ties roster they will need to work hard to stay in 4th place. Should have enough to see off the challenge of Wasps, but could be vulnerable if Bath or Harlequins hit their stride.
Bath
Bath, in 6th, have the same win-loss ratio as Northampton, but lag in the table for dearth of bonus points. Recruitment has been sparing, although Ben Spencer can add dimensions to the attack, both with a swift and long pass and a potent running threat. Will Spencer and Juan Schoeman add depth up front, but there is no news of a 10 to aid, or contrast Rhys Priestland, despite Stuart Hooper revealing in early June that Bath were looking for a ball playing back who could play 10 but not exclusively. The "interesting options' he mentioned have not led to an announcement, so any addition there may have to wait until the 2021 season. With a 5 point gap to make up and 5 of the remaining 9 fixtures away, Bath look unlikely to break into the top 4. They do though have a few advantages to build on. Of the opening 4 fixtures: London Irish, Leicester, Northampton and Wasps, 3 at least look highly winnable. A good start to the resumption could give the flying speed needed for a tilt at the top. With the inevitable fixture congestion caused by a 5 month delay, clubs will have to trust their strength in depth. Bath claim a lot of faith in the young players coming through from the academy. They may get their chance to shine, against the opposition's youngsters. Now would be a good time to show their mettle. Hope springs eternal and Bath have a habit of putting on a late season sunshine surge. Will it be enough? What will be the effect of empty grounds? I believe Bath will find their parlous bonus point position a handicap and will miss out on the play-offs, but I'll stick my neck out and predict they will sneak 5th place.
The Winner?
Looking at the run-in, squads and their enhancements and respective form before the break, I think the current leading 4 will be there at the play-off stage. I expect the order to change slightly, with a reinforced Bristol overtaking Sale into 2nd place. They should win their home semi, then meet Chiefs in the Final. That will be the limit of their exploits though as I expect Exeter's experience, their pack strength and a little flash of flair from one of their Lions' backs to be too much.
Exeter to win the title, with Bristol runner up. Exeter, Bristol, Sale, Northampton, Bath and Harlequins to qualify for the Champions Cup.
View a Printer Friendly version of this Story.
THE SEASON RESUMES: WHO WILL TRIUMPH?
Discussion started by Comeonmylovers.co.uk (IP Logged), 21/07/2020 13:36
Comeonmylovers.co.uk
21/07/2020 13:36
What do you think? You can have your say by posting below.
If you do not already have an account
Click here to Register
.
BathMatt53
21/07/2020 13:58
Thanks PG.

(btw Steenson extended to the end of the extended season and will retire after that).

[Adoptee 19 / 20: The High ball and counter attack meister, Tom Homer]
OldMarovian
21/07/2020 15:03
Very interesting post and a great summary of the current situation.

It would be a good return for Bath to finish top 6 and I think the mid-table will be less conjested after the break (in comparrison to last season) as I think half the clubs are basically trying to manage their resources till next season as they have little or nothing to play for so gaps may open up meaning the odd off-day or two won't result in a dropping points that would have made the difference between 4th and 7th.

Chiefs are surely favourites but there are three big issues for them. in terms of playing style if the NH referees follow the SH referees in clearing up the breakdown then Chiefs will have to find a new way to play. As importantly two of their closest rivals; Bristol and Sale have both strengthened their packs and arguably have greater flair and better backs than Chiefs. Sale had to work very hard to throw away two likely wins against them before the virus break, butchering a quite spectacular number of opportunities. Bristol have won at Sandy Park.
Second issue is how far they progress in the European Cup. Of the current top four Northampton struggled against Chiefs last season and have done little to bolster their forwards so I see an easy progression to the European SFs for Chiefs. Beyond that though they will have to pick their best team which will almost certainly mean compromising the team they field in teh Premiership.
Third is whether International call-ups conflict with Premiership games as seems likely. Will Rowe force a club vs Country decision on his Internationals if the top 2 seeding in the Premiership is in doubt?

I'm hugely excited about both Bristol and Sale. As above I beleive both have the packs to get parity or close to with Chiefs at set-piece and arguably superior in the loose. Manu is wasted at Tigers he is exactly they sort of player who if fit and available could make the difference in a final. Sale have choked a few to many times against Chiefs whereas Bristol beat them at Sandy Park this past season. I feel these two will end up playing each other in one SF with Bristol progressing.

Lots to like about Saints team including the numerous Academy players and the open style of rugby they play but Boyd still hasn't quite worked out that this isn't SR and if you pack don't at least front up the best teams will beat you quite easily. I think they're good enough to get 4th but will be steam-rollered in both their European QF and the Premierhsip SF against Chiefs.

I'd love to see Bristol beat Chiefs in the final but feel it may be a season too soon for them.
Bathovalballer
21/07/2020 23:41
Excellent revue PGT and one I concur with mostly. However, I have a sneaking feeling that Sale's power across the park both upfront and behind, could prove to be the winner of the tight, physical games and prevail against Exeter who have their ambitions on two fronts which is likely to take a toll on their stars. If Sale make the playoff final, they will win, just.

Adopted player 2019/20 Jonathan 'JJ' Joseph.

The Jink Joseph.

Adopted player 2018/19 Adopted player 2018/19 Semesa 'The Rock' Rokoduguni
woodpecker
22/07/2020 10:03
This has probably been discussed at length somewhere else, so please just point me there, but I checked the Gallagher website and it only goes up to round 17 before the semi, on 9th/10th October, how does that work?
warrenball
22/07/2020 10:36
Bath don't seem to be mentioned very much, the discussions seems to revolve around the prospects of other teams, are we really that negative about a sudden upsurge in Bath's performances? The coaches have been lucky to have an extended break to refine the coaching set up after their experiences in the first half of the season, so we should now see the full power of a revitalised Bath.
hasta
22/07/2020 11:24
I'm quietly optimistic. We haven't had too much turnover turmoil (although saying goodbye to Francois is a blow). We've got JoCo back plus Watson/JJ not with England, additional distribution options in Matavesi/Redpath, plus a significant improvement at 9. Our pack was good all season and Stuart/Ewels/Underhill/Faletau won't be away. We have three very winnable games in the first set of four. Should really be targeting 14/15 points in August.
TomReagan
22/07/2020 23:36
Quote:

warrenball
Bath don't seem to be mentioned very much, the discussions seems to revolve around the prospects of other teams, are we really that negative about a sudden upsurge in Bath's performances? The coaches have been lucky to have an extended break to refine the coaching set up after their experiences in the first half of the season, so we should now see the full power of a revitalised Bath.
I like the optimism, but of course every club can say the same thing of its coaches. Looking at the Prem football some sides came back from lockdown revitalised, others were, to use that cliche loved of sports commentators about now, 'Mentally on the beach'. Fitness, commitment and desire were very different depending on the club. It's a unique situation and the football teams weren't dealing with changes of personnel, unlike with rugby. I don't know what to expect, but dare I say it, I'm not that interested. I know they have to play behind closed doors, but sport without fans struggles to excite me, and judging by the football I've watched on Pick (A rare chance to watch live football for me) many of the players seem to be feeling the same, as many games were like training sessions (tonight's Liverpool v Chelsea game a welcome exception). Hopefully the rugby will excite and my pessimism will be unwarranted...
Satchmo
23/07/2020 17:16
I am quietly optimistic about the restart of the season. Personally I like the focus on youth and give the youngsters a go. The onus is now on SH, Hatley, Dempsey and co to prove themselves. I think they will given time and on paper (at least) it is an exciting opportunity for all. Clean slate,drop the ego's and be bold and play positive rugby. Lets hold thumbs for the start of a new era.
warrenball
23/07/2020 18:07
Tom, I think I said the we 'should' see a revitalised Bath, not that we 'would' see that happening - it is part of how we judge the success of our coaching team now they have had plenty of time to put their master plan into action and with a full squad. As for the rugby I have a very low expectation, so should be pleasantly surprised.
Boldangrey
03/08/2020 20:45
Excellent review, PG, but one important point you donít seem to have mentioned is the strength of the squad.
Two matches in a week will put huge pressure on the players. A high attrition rate will make things very difficult to predict.
Sorry, only registered users may post in this forum.