History of ERE Part 1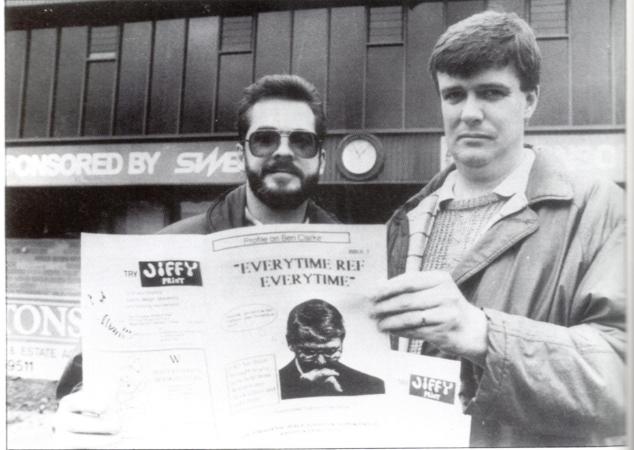 By Glen Leat
July 30 2006
Once upon a time long ago...well 1991 actually, Clive Banks and I developed "ERE" and I thought it would be interesting to look back at the history of something that has taken on cult status in the minds of many dedicated fans of Bath Rugby.
This is the first of a (potentially long) series of articles remembering our fanzine when it could only be accessed by the turn of a paper page.
"Cult Status"? Is that a bit presumptuous on my part? Perhaps but judging by the comments I have received over the last 12 years ERE holds a small but important place in the hearts of many of us who regularly wear the blue, black and white with pride. So where did it all start and why did it stay the course when so many other fan based magazines folded(sic) after just a few issues? Hopefully this and subsequent articles will give you an insight into these questions.
Back in the early 90's Clive Banks and I not only watched rugby together but we worked together and car shared between Bath and Bristol. Not surprisingly much of our conversations focused on Bath Rugby. At the time the amateur era was drawing to a close on the field but it was in full swing in the committee rooms and the increasing number of loyal supporters were starting to expect more for their money when visiting the Rec every other Saturday. We were no different and one area of frustration was the poorly prepared matchday programme.
The content was thin and the design was basic and we believed we could do better given half a chance. So what did we do? We produced a fanzine where the content was thin and the design was even more basic than the matchday programme! However we're both great believers in the mantra "If you think you can do better then do it!" so we persevered and over the years both content and design improved dramatically. There were times when when we were actually quite funny, even if I say so myself, but this in itself proved to be a burden because as any gag writer will tell you, "It's bloody hard to be funny to order!"
Issue 1 was just six pages of A4 paper and contained some embarrassingly sad little articles which, at the time, we clearly thought were good. On reflection they look more like Third Form standard material including a piece about the ballboy who used to collect balls kicked over the West Stand with a fishing net. Then there was something called "The Carlsberg Effect" in which we wrote "The RECorder front page asserts that Bath Football Club is "Probably the world's greatest rugby club". ERE suggests that a change to "Probably the world's greatest rugby TEAM" may be more appropriate. A number of behind the scenes improvements (hinted at by Stuart Barnes and Andy Robinson at the AGM) need to be made before the RECorder's proud boast is correct." Do you get a feeling of de ja vu?
We even confused ourselves in this edition by referring to ETR in one article. Just think some of you could now be wearing ETR logos on your cars and tee-shirts!
Clive was a master of the list and his first one in Issue 1 focused on "Not so well known rugby TV programmes", including:
* One man and his dog - the crowd at Quins, Wasps and other London sides when Bath aren't the visiting side
* Survival - continuing the everlasting struggle against the odds or the story of Bristol RFC - see it was like it back then
* Rugby Special - a programme dedicated to any game featuring Harlequins.
As I research these articles I am referring back to the original master copies that have gathered dust in my study. These contain all the cut and pasted pictures (we didn't worry about publishing rights in those days), sno-pake and hand drawn cartoons. How times have changed as we are used to various computer software packages and access to images which make the production of a newsletter (or even on-line magazine) so much easier today.
Neither Clive nor I are born salesman and it was with some trepidation that we carried our bundle of 100 issues to the Rec. We were not asking for money (back then) and just hoped we could dish them out without someone chucking us out of the ground. It never occurred to us that, as we handed them out, many people might just chuck them on the floor like we all do with most flyers these days. All that hard work with no readership? Nah, couldn't happen.
It didn't happen. Amazingly that first run of 100 issues found it's way in to the hands of some great people who immediately supported what we were trying to do and gave a lot of encouragement. This included the then Club Secretary, the late Clive Howard, who was very friendly towards us and of course that old rogue Ken Johnstone, the then Honorary Press Officer. Ken is a lovely man who has lived a life so full it should belong to five men! He once invited my (then) young son and myself to his house for a lovely evening of chat about all the famous people he's met during his life - sheer joy.
This encouragement meant that we were keen to move on to a second edition and I'll cover this and a few more issues in the next article.
Do you have a copy of the first edition of ERE? If so how did you manage to be one of the 100?