HOME THOUGHTS FROM ABROAD: FOLLOWING BATHíS LATE SEASON FORT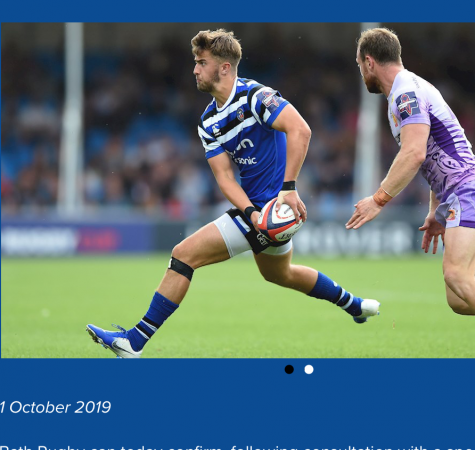 TdG: potential
By PG Tips
October 13 2020
Following your club's fortunes from a distance can be frustrating, but Bath's late season resurgence has been exhilarating. For me, tracking results, performance and selection debate from Spain, the thrill of Bath's late dash for the playoffs was given added spice as I gleaned most of my information from this community. The roller coaster of speculation, anticipation, rising hope and expectation seems to have enlivened the board, brought new contributors, lurkers from the shadows and new friends.
The strongest flavour has been hope. Where in October to March the atmosphere was gloom or frustration, since August the mood has been the most cheerful I can recall since mid 2015. That is not to say this is a board of Pollyanna's, nor that the optimism has been naïve. Far from it: the cheer has mostly been tinged with a sense of realism, but an overall feeling that things are not only much better now but moving in the right direction is palpable.
Another key change is growing acceptance of and respect for Project Hooper. The appointment of Neal Hatley as Head Coach has much to do with this, bringing in a highly respected figure from our most successful season since 1998 and also offering fans a readily understandable coaching structure. Stuart himself has also been gaining more support, his role in planning and directing the Rugby Department's efforts now more widely acknowledged. Of course, he still has his detractors, but if Bath can sustain this improvement through next season, they will find themselves very much in the minority.
Many have commented on the emergence of an identifiable style: one that Hooper announced before this season started. He has begun with forward strength, which since the season's renewal has been the cornerstone of Bath's successes. Commentators beyond COML have taken notice- on other boards and in the national press. Of course, many would like to see a more expansive style, but at least we now have one. In three years of Blackadder coaching the style seemed to change from month to month, succumbing eventually to a muddle. The expansive side can be bolted on in time ( as Saracens did post 2017 and as Exeter proved by adopting a confrontational driving forward game before re -introducing their original sweeping backs moves). Recruitment has already started to add fluency to midfield attack, and we await news of an additional fly half with growing hope.
Selection debate in the past two months has been great to read. Happily, there is now real competition in most positions and the need to rotate for squad freshness no longer rings alarm bells. The tone of debate is more balanced as a result. The overall improvement seems to have brought the best out of players like Rhys Priestland, who have divided opinion, while the recruitment of the Spencers, Redpath and Matavesi plus the surge in form of Walker, Bayliss, Reid and particularly De Glanville shows the potential of this squad.
The lingering aftertaste to this most enjoyable feast is respect. Not just between members of the COML community, but from visitors to the board (many most complimentary on our performance and approach), DORs and players of rival clubs and commentators in the media. Long may it remain so.
It is too early to make predictions for next season, but the green shoots of hope are definitely there, for both Bath Rugby and COML. From a personal point of view it has been fascinating to follow Bath's ups and downs through the eyes of posters on here. Many thanks to Mr Frivolous and Shipwrecked for standing in as match previewers and to my fellow mods CoochieCoo and hasta.