England Rugby September 2007 in Review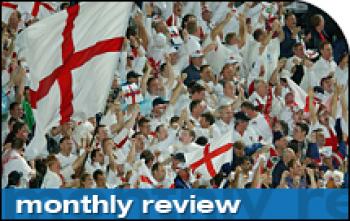 By KATH
September 28 2007
England Rugby September 2007 In Review. We have had a roller coaster ride this month with Rugby World Cup match results. We introduced our latest Free to enter Prize Competition, plus our Rugby World Cup Fans Photo Gallery and we expand and welcome back Claire.
England Rugby September 2007 In Review
England Rugby in September 2007. Well this was the month that the Rugby World Cup 2007 kicked off and England fans looked forward to a good showing by the players. However, what came first and second was just downright abysmal!
Here at Unofficial England Rugby we kicked off with our latest FREE to enter Prediction League Competition with prizes - Oooeer I hear you all say!
Unofficial England Rugby is proud to launch our new Prediction League competition just in time for the 2007 World Cup. Just click on the Prediction League link in the left hand navigation bar where you'll be able to enter your predictions for every game of the upcoming tournament.
We're offering Jonny Wilkinson: My World (hardback) as a prize for whoever tops the league after the Final, as well as a runner up prize: Jonny Wilkinson: Lions & Falcons. FREE to enter Prediction League Competition information here.....
We had various players talking the talk but would the eventually walk the walk? England's Jason Robinson pledged we wont' let the fans down and.... Sheridan and Sackey - we will let others judge us but as it turned out the fans were embarrassed at England's first two performances and felt let down.
We had Jamie Noon injured sustaining a Grade 2 tear of his left medial collateral knee ligament, reflecting on his World Cup Jamie looks back on his RWC
We even had the Elite Director of Rugby Rob Andrew's Thoughts on England and then on Samoa and Tonga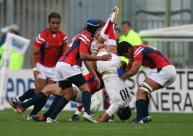 First match up was against the USA England v USA RWC 07 Poole A Match Preview and boy did we look awful Boring, Slow, Clueless, No Shape, Pedestrian, Ball Handling skills non existent. Absolute rubbish and embarrassing to watch England v USA Match Review not for the faint hearted
Then one of our regular posters Poynton Shark took up the challenge to preview the next match. It has finally arrived. The time for excuses is over England v South Africa and bless him Ed Budge took on the review - The last time England failed to score a point in an International match was against Australia in 1998, but the sad truth is that England's attacking game has not looked as inept, as toothless, as sterile as it did last night for some time longer continued here........England v South Africa Pool A RWC 2007
What a drubbing - England NIL points, now if this had been the Eurovision Song Contest, I might have thought it funny!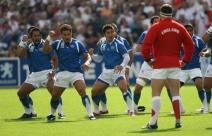 And then the all or nothing match or at least the first one! England v Samoa Match Preview by Ed Budge
Well at the risk of sounding like an advert for 'Direct Line' I have to say... That's Better, Much Better! At last England have put points on the board playing some good rugby and getting four tries plus the bonus point into the bargain. England v Samoa RWC 2007 Pool A Match Review
and the BIG ONE, the do or die match England v Tonga Match Preview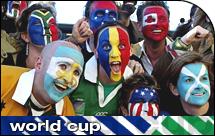 On a much brighter note we had our Rugby World Cup Photo Gallery launch - Unofficial England Rugby has launched the Rugby World Cup Fans Photo Gallery. If any of you have travelled (or will be travelling) to a World Cup game and would like to get your photos online, then please feel free to send them through to us and we'll get them uploaded on this page! Photos can be of anything from match pictures, to pre or post match atmosphere shots! Rugby World Cup Fans Photo Gallery - check it out here..
England's Matt Hampson NEW website went live this month. The new updated and improved website is now up and running Thanks to Creative Link and Fastant, two local Leicester based companies. The site is full of information, merchandise and Matt's very own Blog - Unofficial England Rugby wish Matt and the team the very best of luck with the new site. Full Article here
As the Rugby World Cup tournament moved along we looked at other cities bars this time it was Nantes Nantes Bars & Cafes Webb Ellis (and Co) café bA rugby stronghold located two streets west of Place du Commerce, owned by Ludovic Mocard. The bar is decorated with flags, souvenirs and relics from around the world
And we had another look at the latest game to hit cyberspace?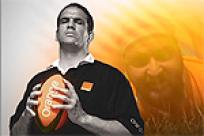 Martin Johnson Extreme Rugby Training School Game sponsored by Orange - Official Tournament Sponsors of the Rugby World Cup 2007. Test your skill levels against the master a sumo (what you say)? - Yes a Sumo wrestler, Robot and some dear couple's caravan? Martin Johnson Rugby Training School Game
Unofficial England Rugby is delighted to advise that Claire will be re-joining our team again having completed her work assignments abroad. Claire will be looking at all things rugby from National Division 1 and beyond, she is intending to have a mid-monthly feature column, check it all out here Welcome Back Claire
and we have more folks
Unofficial England Rugby - Expanding. We are excited to announce that as of the 1st October 2007 we will be expanding the remit of the site to cover all things to do with English Rugby. We will have a new section on the Menu Bar called - Oval News Around England with new features. Read all About it........
Unofficial England Rugby - Message Board