21st September - Nottingham Away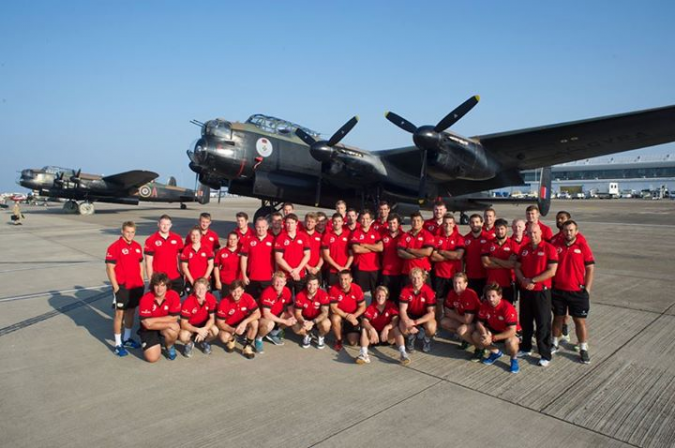 By Corporalcarrot
September 22 2014
Nottingham I saw Tim from Radio Jersey after the match but he couldn't accommodate this but it has to be done. Thomas Cranmer Kenneth Clarke Martin Haag Brent Wilson Maid Marion Robin Hood Can you hear me Robin Hood? Your lads just took one heck of a beating!
The fair minded Nottingham supporters I met after the match were gracious enough to shake hands with a grinning carrot and say well done. There is always one however who makes me look far sighted and bellowed abuse at the ref from the top of the players tunnel and claimed the officials robbed his team of victory. All I can say to you mate is if you genuinely believe that you should get a guide dog and a white stick. On Sunday Jersey were the better team but the table doesn't lie and this season so far Nottingham deserve to be above Jersey.
It was a day when everything Jersey tried came off and Nottingham were way below par. A key point in the game was the early loss of the Nottingham scrum half who is a cracking player and given the huge number of penalties and free kicks Jersey conceded - I counted 10 in the first half hour- we were lucky to only get only one yellow card but the midfield defence was awesome all day whereas Nottingham's looked in need of a plumber. Jersey's back row were excellent and although the plaudits in the backline will go to Tommy Bell for his tries the score of the day was surely Locke's which was top draw. Did Foster really rip that ball out of a 5 metre breakdown and take have the Nottingham pack over the line to score or was I dreaming that one?
The real credit for the day should go to Harvey & Steve who are gaining experience all the time as coaches and have worked out when to use plan B - moving Robbling to fly half and strengthening the defence with that fine St Ouen's lad McCrea. Against the top teams I favour starting with that format and using Bentley as the impact player but doing it the other way around closes a game out and we can learn from this. The 4-3 forwards-backs split on the bench gives huge options to change a game. The second row were excellent and Rae gave a captain's performance. We lost nothing at all when Markham replaced Pierce and I can only feel for Nick Campbell who is also a cracking player but can't get game time at the moment due to his non EQP status.
I met up with the Crew branch of the Jersey supporters group in the Trent Navigation and as you can see we bagged another mascot for the collection. Many thanks to the Ed Dawson's folks for the great banter and the scotch in the sports bar.
Thanks to everyone at Nottingham who I met in the Trent Navigation before the game and the Sports bar afterwards you fully tick the box in terms of hospitality. Jersey have got 4 try bonus points in the Championship and amazingly they were all away from home. I've been lucky enough to see them all and although Bedford was probably more important Nottingham was more emphatic and it's a privilege to say I WAS THERE.
View a Printer Friendly version of this Story.
21st September - Nottingham Away
Discussion started by Jersey Rugby , 22/09/2014 10:47
Jersey Rugby
22/09/2014 10:47
What do you think? You can have your say by posting below.
If you do not already have an account
Click here to Register
.
Teddy1981
22/09/2014 12:57
NRFC's Dan Montagu reflects on the match:



#Jeeersey



Edited 2 time(s). Last edit at 2014:09:23:10:14:58 by Teddy1981.
Sorry, only registered users may post in this forum.