Pirates away 2015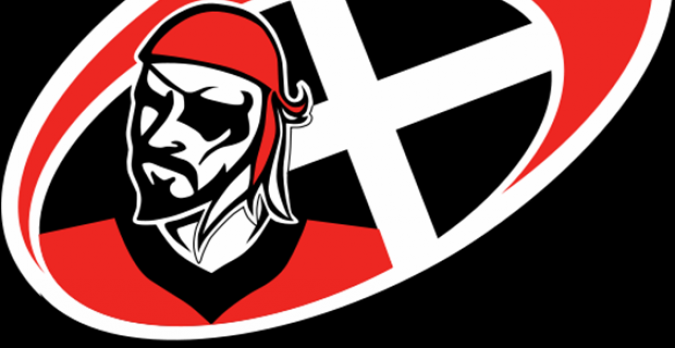 By Corporalcarrot
January 5 2015
For those interested in travel arrangements I got back from a New Year trip to Amsterdam late on Friday and Saturday morning got a lift to the airport from Mark McCrea (sadly still injured) and caught the 8.50 flight to Exeter which nicely connected with a train just after 10am which got me into Penzance just after 1.15pm and I was in the Dock Inn enjoying a pint of Doom Bar by 1.30pm.
I will probably regret broadcasting this as it only has three rooms but the Dock is an absolute gem which I could recommend to anyone as long as they let me book my room first! Lewis Robling's family were staying in the Dock as well and I thoroughly enjoyed their banter and company for a beer or two throughout the day:
The match itself was a classic game of two halves and we lost - again. The conditions at the Mennaye were a typical very strong south westerly coming from the Newlyn End and the wind advantage should have been worth 10 points in favour of the team kicking down wind. Jersey played into the wind first half and in the conditions they were outstanding in that first period. Bentley faultlessly kicked four from four penalties and controlled the play really well. If he had kicked that well from the tee against Yorkies we would have won that match. The forwards grafted really well and in particular Joe Buckle playing out of position didn't put a foot or a throw out of place. The lineout was good and the scrum functioned well - I think we had our lowest scrum penalties conceded count of the season. The midfield defence was strong and Bishop in particular had a brilliant game. In attack the three quarters should really have had two tries on the board in the first half as we had clear overlaps but failed to convert them.
Pirates used the wind to finish the half strongly but the forward's 5 metre scrum defence held out and we amazingly turned around with a 12-9 lead and the wind in our favour second half. What could go wrong? Surely a record losing run was going to be closed out in Penzance.
The second half was like watching a car crash in slow motion and in my opinion the players and the coaches got most things wrong after the break. I take nothing away from the Pirates second half performance and dismiss the theory that the half time oranges were laced with diazepam but in the second half everything that could go wrong did go wrong. A smart move at half time would have been to switch Penberthy to fly half in place of Bentley who kicked poorly out of hand as Penberthy's tactical kicking game was exactly what was needed playing with the wind on our backs. Hindsight is a wonderful thing however and we stuck with Bentley until far too late. We started the second half badly with a knock on from the kick off by PK who had a strangely below par day but has been great this season. A string of errors followed which gave the Pirates field position from which they scored a well worked try. No problem I thought only 4 points down at this stage so play for field position and the forwards who were playing well will grind a result out.
It got increasingly worse as a Yellow card followed almost immediately for Sam Lockwood and then the coaches bizarrely took off Bishop who had been playing out of his skin instead of a back row player to allow a replacement prop on the field. Pirates almost immediately scored in the resulting hole in the midfield which had previously been rock solid. We made the same error of replacing Bishop too early at Llandovery and leaked tries immediately afterwards on that day. This second converted try really killed the game off although Jersey then pressed hard to try and get back in it. The final straw was with a two on one overlap five metres out we passed the ball to the sole defender who thinking Christmas has come around again ran the length of the field to score and mean that in a half with the conditions in our favour we conceded 21 unanswered points. Groan I needed a beer!
I always look for positives in a match and the forwards in particular Rae, Campbell, Williams and Buckle were brilliant. They are more than a decent group of lads who never gave up and were fully committed throughout. The game plan needed to be adapted to the conditions and inexperience meant we didn't manage it. Second half we needed Penberthy on from the start and if we could only have had Nicky Griffiths back for those 40 minutes the conditions were perfect for his game .......... perhaps we wouldn't need the much rumoured new scrum half. Experience comes with time and Harvey and Steve have my full support as they are great blokes who deeply feel every defeat far more than me if such a thing is possible. Someone's got to beat Briz so perhaps we are up for it next week.
I had a great time at the Newlyn End first half (thanks Captain) and opposite corner with the Robling clan second half. The marquee at the Mennaye is brilliant and the banter and hospitality in the Dock is first class. If we manage to stay up this season I'll be back next year. Let's keep the faith and support the team - its more than a game.
View a Printer Friendly version of this Story.
Pirates away 2015
Discussion started by Jersey Rugby , 05/01/2015 10:22
Jersey Rugby
05/01/2015 10:22
What do you think? You can have your say by posting below.
If you do not already have an account
Click here to Register
.
jerseynick
05/01/2015 11:27
Thanks CC, nice report which puts the performance in context. Shame about the Robling dropped ball in the first half, a try at that stage might have made a big difference to the outcome. I still think we are close to a good victory and agree we miss Griff badly. And oh for a speed merchant in the backs.
Accuracy is the kee driver in the next few weeks. The matches with Donny and Nottingham now vital.
All the best for 2015.
corporalcarrot
05/01/2015 12:12
Cheers JN Robling was gutted he dropped that one. I made sure I saw him as he came off at half time to lift his spirits and saw him and his folks after the match. Frankly he is a great player who we are lucky to have in the club and I would start him at fly half against Briz. All the best cc

Don't kick it pick it up and GO FORWARD
Sorry, only registered users may post in this forum.