An appeal to Wasps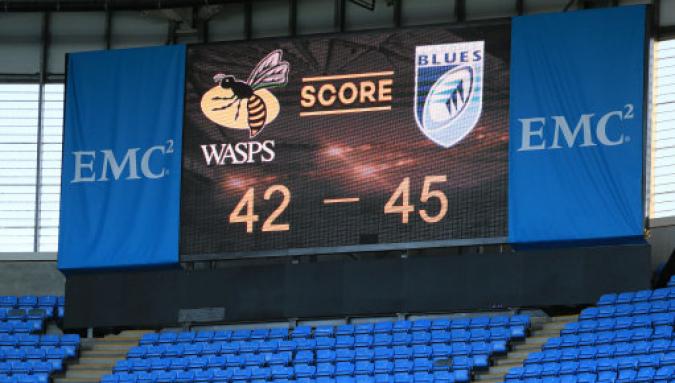 Empty Seats at the Ricoh
By Greenwood
February 18 2015
This is a copy of a letter sent to Jeremy Wilton at Wasps in order to try to organise travel to Home games for perviously loyal fans. It is published here to try to raisde awareness with fans in the South East who would benefit from organised travel to the Ricoh Arena.
Sir
Your contact name has been given to me by the main Wasps office and I hope you'll allow me to crave an indulgence.
My name is Ian Edmed ​, I am a Kent RFU Society Referee, Level II RFU coach and I have been solely responsible for the organis​ation​ of about 30 or so coach trips from Old Gravesendians RFC and friends from the surrounding area to watch ​ and support​ Wasps both at home (Sudbury, Loftus Road and Adams Park) and away, at Harlequins, London Irish and Saracens​,​​ along with trips to the 2 European Cup triumphs at HQ, the Championship wins and the Anglo Welsh success. Numerous London D/Hs​, The Help for Heroes games​ and the knock-out cup final wins at HQ​ etc.​;​ all these being over the last 20 years..
We have filled ​as many as 3 coaches (150+) to a couple of games, but usually 2 (100+) and always obtained our home tickets through The Community Team and have been well looked after by them, and on two occasions ​ have been invited to ​form the guard of honour at the Help for Heroes games​ as the players entered the field​.
Some of the youth players who came along in those early years are now old enough to bring along their own children on the excursions nowadays.​
I now come to my main point. The move to Coventry has been a severe blow to somebody like myself, impeding on my ability to encourage enough people to make it worthwhile to travel by coach from our area,​​ with their cost and time​ being relevant (£650 for a 52 seated coach). People are fickle I know.
I had advertised my intention to have at least 2 trips to Coventry during the remainder of this season on the Waspies.Net site under my pen name of greenwwod, but I cannot, much to my chagrin, get enough support from SE London and Kent based supporters to supplement my numbers......Result No trip (The first was the Harlequins home game in Feb)
I have been met with so much disappointment from that small amount of interested people that I am determined to try again in the near future with the intent to attend a later game.(Leicester ​ perhaps​?) Ultimately I do not want to admit defeat on this situation.
Is there any way that the Club can help me by posting an advertisement or my number and contact details on the mail web site for these ventures?
As I've said to others who have shown interest, if my contact and details were published, I'd be more than willing and able to arrange, as was done in the past, coach trips at some point for away games next season at ​ venues such as​ Northampton, Leicester or perhaps​ London Irish for all London​ and Kent​ based Wasps fans who'd like to travel with a like-minded set of people. (Don Fowler, now deceased, arranged these trips many ​yearsago and an absolute success they were and certainly gave people like m​yself​ a wonderful chance to watch top class rugby at places I'd never have dreamt of​. These consisted of both coach and train parties)
All it needs is 35-40 people ​ to break even and for them​to turn up at a certain place at a certain time and off we go!
​Without this break-even number, all I am creating is disappointing supporters who cannot go.​
All ​that is required is ​for me ​to be able to contact unknown Wasps fans in my surrounding area. I would do all the donkey work, I'm well used to it and even though I say it myself, an accomplished hand. I'd arrange any required tickets through the host club​,​ be it Wasps or the opposition.
The way the team is playing and shaping up, I just feel by taking 40 or 50 extra persons to some home and away games would be a real bonus, not only for us, but the team and players as well.
​I'm sure there are still a number of people in this area who would travel for the odd game in Coventry, but my problem is finding them and tooffer them the​ service that I'm prepared to give​.​
I am also sending a copy of this to Steve Henderson at the Fans Forum.
I'd appreciate any help or ​pointers​ the club can give me.
Regards
Ian Edmed