Some Advice For New Wasps Supporters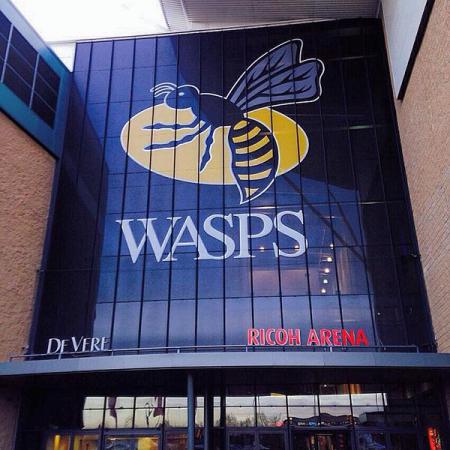 Our New Home
By Vespula Vulgaris
September 6 2015
I for one have been amazed at the attendance figures since the move to Coventry. I know it is a much more densely populated area than High Wycombe, but for pre-season friendlies to have more in attendance than the biggest and best games at Adams Park still takes a bit of getting your head round. It an amazing thing to see so many people wearing Wasps tops, hats and scarves, waving Wasps flags, and to know the club is now financially secure is a huge relief.
A lot of the new supporters are new to supporting rugby, and it's a real joy to bring a love of the best game out there to so many more people, but if you're new to watching Rugby live there are a few things you should know.
1) It's a family event. Going to a match isn't a thing just adults do. You'll see whole families there with children from teenagers down to babes in arms. Because of that the language people use is important. Please try not to swear. We all do it sometimes, but it's only going to cause bad feeling if people are repeatedly using bad language in front of children. It's f***ing rude.
2) Rugby comes before the team. We're all passionate about our team, but first and foremost we're fans of the game. That tends to mean that there is little antagonism between supporters of different teams. There is no segregation, and fans of opposing teams mingle and sit together throughout the ground. You'll even see people applauding when the other team does something well. Try to respect the other team, even if it is Tigers.
3) Trying to put the kicker off is very much frowned upon. Lets be honest, it isn't going to make a blind bit of difference to them, they are a professional and are fully used to blanking out the noise from the crowd when they are concentrating, but if you're busy shouting and screaming you might not see when he slices it wildly into the stands, and you don't want that.
4) We all know the referee is half blind and completely biased towards the other team, but even so, in rugby there is a tradition of utmost respect towards him. Players refer to him as "Sir" and only the Captain is supposed to talk directly to him without being spoken to first. If you want to shout ans scream about how ridiculous the ref is, then that is what this forum is for.
5) We all drink. Well not all of us, but having a few pints is part of the experience. Just remember that you have to drink real ale and not lager, and it will either be too warm, or too cold. You get to pick.
6) Rugby is famous for it's lewd songs, but as a rule they're supposed to be sung by the players on the team bus. Try not to sing them in front of children or nuns.
7) Racism is completely unacceptable. It doesn't matter what colour someone's skin is or where they are from. Racist behaviour is never acceptable. Unless you're from one of the other Home Nations and insulting the English. Then it's just fine.
The most important thing to remember is to have fun. Thanks for choosing to come along and support Wasps, the team has a long and proud heritage, and with any luck that will continue in our new home.