Wasps are dead, Long Live WASPS!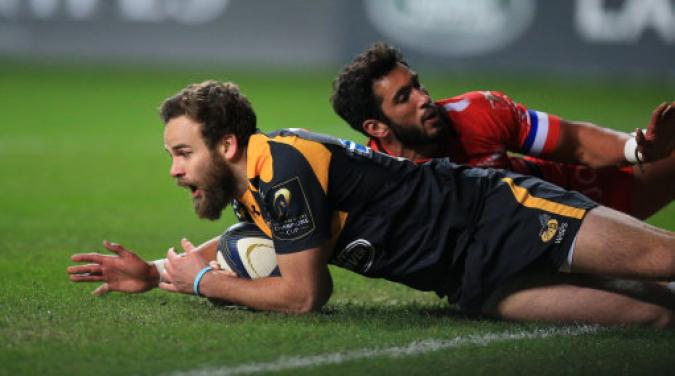 2 of 4
By Vespula Vulgaris
November 23 2015
Yesterday saw Wasps take on Toulon at the Ricoh Arena in the group stages of the European Champions Cup. It was a special game for a number of reasons. Firstly, it was coming off the back of an amazing win against Irish Giants Leinster away from home in Dublin, and we were looking to break the 20,000 barrier for attendance. It's almost as incredible that we are playing teams like Leinster and winning as it is that we are getting more than 20,000 people coming to home games in our own ground.
What made it even more incredible was that we dominated every area of the game. Kept them tryless throughout, and managed to get the try bonus point.

For me on a personal level it was special because it was my first game at The Ricoh.
It was a last minute decision to go. I was going to be spending the weekend only a few miles from Coventry, and instead of rushing off home on Sunday afternoon I decided to get a ticket for the game and make the long journey home later at night. Hoepfully the traffic would be better when I got to the M25…
Buying the tickets (I took a local friend who is a long term Tigers fan with me) was a doddle. The official parking was all sold out, but justpark.com got me a nice space just round the corner for a few pounds. All very easy indeed.

First impressions.

It's BIG.

Seriously big.
If you haven't been then you are going to be surprised at how big this place is.
I didn't spend a lot of money on tickets, so I was about two thirds of the way up the seating, but I don't think I have ever watched them play live from so far away. Not being able to recognise individual players was a bit odd. And not having a scoreboard visible was even odder. In the end I resorted to checking the website when I wasn't sure.

It was a surprisingly vibrant atmosphere, with lots of noise from around the ground. One end hadn't been opened for sale, and was home to the drummers (do they really add anything?) and bizarrely the giant lettering reading "Sky Blues". But that concentrated the crowd in the rest of the seats. Wasps, scarves, shirts and general Wasps were everywhere, and while the majority of them were new it was both gratifying to see so many youngsters wearing black and gold, and a surprising number of old shirts.

It is clearly an amazingly successful move on behalf of the club, more fans, more security, more space, more opportunities to make money, and much much more prestige.

But for me it was tinged with sadness. Despite the incredible win it didn't really feel like Wasps. Or rather it did, it just felt like Wasps had moved on and left me behind.

Adams Park was far from ideal as venues go. But there was almost a camaraderie between those fans who bothered to turn up. You felt closer to the action, closer to the players, and closer to the other fans. It felt like we werer all brothers and sisters together. But at the Ricoh it felt like I was part of an audience for whom the team was putting on a show. I was an anonymous face in a huge crowd, a bum on a seat and a potential beer and hotdog sale.

Don't get me wrong I'm not saying I didn't enjoy it. I did. How could I watch the team I have supported for years playing that way and not enjoy it? But it's different, and it's going to take some getting used to.

It felt a little like going back to the town I grew up in and finding that everyone had moved on, and the shops had changed. It was familiar, but unfamiliar at the same time.

Joyful, but also sad.

For me it's the end of an era. But if we can also put an end to the era of underperforming, financial troubles, and relegation worries then I think I can live with the new stadium. I'd like it to look and feel more like it was actually ours. And I'd like to be able to see a clock, a screen, and a scoreboard. I don't think that's asking too much is it?

Anyway, roll on London Irish, let's see if our form will continue into the Premiership.