The Case for Ruaridh Jackson as Wasps' First Choice Fly Half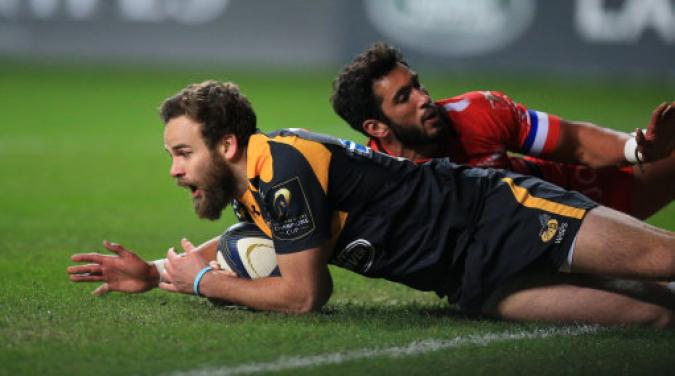 Ruaridh Jackson Scores
By Vespula Vulgaris
December 6 2015
Jimmy Gopperth is clearly the first choice at 10 for Wasps, I'd like to show why that is a mistake. Firstly lets just look at the basic statistics of the season so far.
Game 1 – Harlequins away. Gopperth starts, Wasps lose (1Bonus point).
Game 2 – Bath at home. Gopperth starts, Wasps win.
Game 3 – Leicester away. Gopperth starts, Wasps lose.
Game 4 – Gloucester at home. Jackson starts, Wasps win.
Game 5 – Leinster away. Jackson starts, Wasps win.
Game 6 – Toulon at home. Jackson starts, Wasps win (Try bonus point).
Game 7 – London Irish away. Jackson starts, Wasps win (Try bonus point).
Game 8 – Exeter at home. Gopperth starts, Wasps lose.
So even when not looking at style of play, skill level, or anything other than base figures both 10s have started 4 games. Jackson has a 100% win rate with two bonus points, Gopperth has a 25% win rate with one losing bonus point. You can't even say that Jackson had the easiest games, as he led the team to wins against both Leinster and Toulon.
Rather than try to explain why Gopperth is not right for Wasps I'd like to explain in detail why it is that Jackson is a diamond in the rough. Why it is that he has all the attributes that Wasps need if they are going to carry on improving and claim the play-off spot they haven't had for so many years.
We'll start with Simpson's try against Leinster. There's a ruck and Simpson gets fast ball and immediately passes to Jackson. Jackson glances up, and immediately sees that nothing on on for him, but that Wade and Halai are both in the same line spreading the defense wide and so he passes it down the line to Jacobs who finds the space to squeeze through and offloads to Halai, who in turn shifts it on to Simpson who sprints in to get the score. This shows two separate things, firstly that he is communicating with his 9. Simpson knows where he is going to pass the ball before he lifts it. This not only lets the whole team play fast ball, but makes Simpson look even better than he is. It also shows that Jackson is reading the game and dictating what happens. He knows that there is no overlap, but the threat from Halai running hard is there, and that Wade is at the end raring to go. The defence can't be complacent and any mistake is going to open a gap. He glances up, see's there is no gap for him, and passes the ball down the line. The rest is history.
The first try against Toulon shows a similar vision. There was a clear overlap at the far end of the line, Jackson spots it and he throws a huge looping miss-pass as far as he could to get the ball to the threatening players as quickly as possible. This was pretty obvious, but a 10 who likes to run or kick for territory might not have seen it. There are plenty of players who wouldn't have been able to throw a pass that distance with the accuracy of Jackson.
The second try against Toulon, the one scored by Jackson himself is an even better example of the sort of play we need to get our backline firing. The Toulon defence was holding firm, but their full back had drifted out of position. Simpson saw this and called for a chip over from Jackson, he didn't look and check for himself that Simpson was right, he simply executed it, and the ball landed perfectly in Simpson's hand, he offloaded instantly to beat the tackle, and two passes later Jackson, who was running a beautiful support line touched down under the posts.
What does this show? Two things. Firstly that Jackson is not selfish. He's not going to take the ball into contact, or kick for territory if there is a better option. He is happy to create opportunities for others. When he took the kick he had no idea it would come back to him for the score, it didn't matter. And secondly that he trusts Simpson, and acts on his advice without hesitation. The communication between the two of them is good, clear, and effective and doesn't just go in one direction. Simpson listens to him and trusts him, and it shows. But the reverse is also true, Jackson is willing to ignore his intincts if his fellow playmaker makes the call. He did exactly that and between them (not forgetting the amazingly deft hands of James Gaskell linking it all together) they scored one of the most impressive tries of the year so far.

Jackson has shown an ability to read the game at every opportunity, he has shown he is willing to provide glory for other players, he communicates well with his fellow players, and slots beautifully into the attacking line. He is no defensive slouch either. His hit on McFadden against Leinster prevented an almost guaranteed try, and his kicking from the tee is good too. Before the unpredictable winds of Twickenham where everyone missed more than they hit he was 15 from 16 . That's 94%, 20% higher than Jonny Wilkinson's career average.

It's clear that with Gopperth, Jackson, and Lozowski Wasps have an embarrassment of riches at Fly Half, but it would be very easy to pick the wrong one based on their experience, or their supposed solidity in high pressure games. With Jackson injured we needed someone to come in at a high level in case Jackson wasn't able to recover enough to find the form he previously had. But it is clear that he has. He is a former first choice International Fly half from a top tier nation, who had a terrible injury and took almost an entire season to recover. But recover he has, and if anything he is better now than he was before.

With Jackson at the helm Wasps stand every chance of adding to their collection of Silverware. He has shown his ability against the very best in the world, and if that doesn't win him the number ten jersey then nothing will. If we are ambitious, we need a ten who is ambitious. And thankfully we have one in Jackson.

We have several world class players, Jackson may not be there yet, but with enough game time, and enough exposure to top level opponents and teammates there is every possibility he will be soon.