The Robin-Sowden Taylor Interview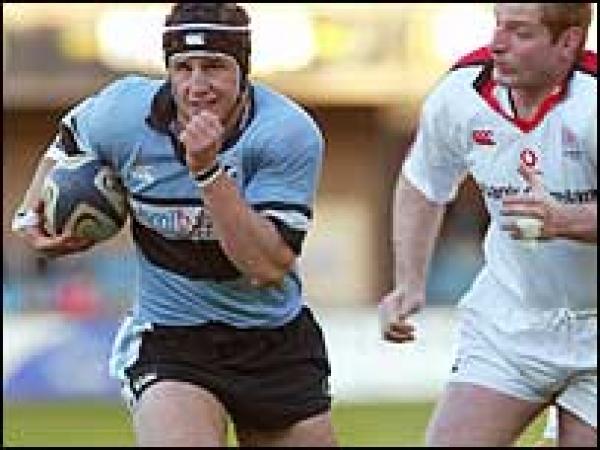 By Craig Muncey
June 4 2019
I am really pleased to be able to publish the recent interview I had with Robin Sowden-Taylor. Robin for those who do not know is the Strength and Conditioning Coach at Cardiff Blues and has been in that role for a few years now. I initially interviewed Robin a few years ago when he was in his first year in the role and the interview content was more around his excellent playing career, this interview was more about his role with Cardiff Blues and his hopes for the new season. I hope you enjoy and massive thanks to Robin for finding the time to go through this.
Interview with Robin Sowden-Taylor
Q1/ How did you go from a professional rugby player to becoming a strength and conditioning coach?
Answer - As a professional rugby player, your working life is governed by short, fixed-length playing contracts, that at times can create a lot of uncertainty for your future. This dilemma occurs every couple of years when it is time to renew your playing contract again. You then go through the same process of not knowing whether you will remain in the same club or move to another. As a result, I was eager to have more control and stability is in my life after professional rugby.
When I retired from rugby, a career in Strength and Conditioning was my main objective as I knew this is where my passion lied and I wanted to pursue a career in the industry.
I was keen to work for myself and I knew running my own business would give me the same desire to succeed, as professional rugby had. This has certainly been the case and I have developed my business, ION Strength & Conditioning, in Llanishen over the years and built it to a point that I'm proud of.
The first few years away from the pitch were very tough, working long unsociable hours. I had the ideas but lacked the experience, from a coaching perspective. During those years my objectives were to gain the necessary strength and conditioning qualifications and to develop my core skills as a Strength and Conditioning Coach. Working with the general public rather than professional athletes was a great learning experience and I believe not enough coaches do this to develop their trade.
During these years in late 2011, I also spent time as a coach for a rugby team in the USA called the Frisco Griffins, based in Dallas, Texas. This was a great learning experience for me as a coach and during my stay in Texas, I spent time at a couple of the leading gyms in the U.S, 'EXOS & Central Athlete'. Having time in both facilities enabled me to gain further insight into coaching and running a high-end training facility.
After a few years of developing my technical coaching skills, I started building my facility, ION. I was keen to find a pathway to return back to professional sport, and in particular, rugby. In 2013 I was offered my first S&C role with Neath RFC. The experiences I gained were incredibly valuable and it was a great learning curve for me, as a coach. After a couple of seasons with Neath RFC, an opportunity arose at the Cardiff Blues and I was appointed as the assistant S&C coach for the senior team. I spent a couple of years in this position before moving into my current role as head of the department.
Q2 / You started as a strength and conditioning coach at Neath RFC before moving to the Cardiff Blues. In terms of the strength and conditioning from a Welsh Premiership club to regional level was there/is there a big difference in fitness of the two groups of players?
Answer - Premiership players are part-time and regional players are full time. There is a clear difference in the overall 'fitness' levels between the two groups as you can imagine.
However, there are players in the premiership who are extremely well conditioned, mainly through their own personal dedication. I love nothing more than seeing individuals who haven't come through an academy structure, being offered regional contracts, as a consequence of their consistent performances in the premiership. I would like to see this happening more often, as it sends a great message to all the rest of the premiership players.
Q3/ In your years in rugby as a coach who is the strongest and fittest players you have trained?
Answer - Strongest - Fao Filise is the standout - The King of Tonga was an impressive athlete throughout his entire career. Deadlifting over 300+kg is as impressive a feat of strength as you'll see within professional rugby. One of the reasons strength training is so important for rugby players is to improve their robustness and reduce the risk of injury. Fao was a player who was rarely injured in his career – that is no coincidence.
Besides Fao, we have current players like Dmitri and Rhys Carre (soon to be leaving), that is standouts amongst the current squad with the rest of the front row army hot on their heels - Brad, Ethan, Belcher, Corey and Azza.
Fittest - When it comes to conditioning from a running perspective, some of the players in our current squad who stand out - Nipper, Lloyd & Jim Botham have put up some very impressive scores on testing days. From the older days, I'd love to have seen how they would have compared to scrum-half Andy Moore "aka Diesel"....he was impressive!
All Rounders - Certainly some of the back row boys - Ellis, Navs, Josh Turnbull and Shane Lewis-Hughes, who are all very well rounded as athletes - strong, powerful, fast and have incredible repeatability.
If I'm honest though, I feel the squad, as a whole, work hard in this area and it's hats off to them as individuals. Strength and conditioning are down to hard work, dedication and desire - It is about personal attitude and I take no credit for that. My role as an S&C coach is about putting a structure into place that allows players to perform to the best of their ability on the field.
Q4/ This season was there a noticeable difference in terms of strength and conditioning sessions between what Danny Wilson wanted and John Mulvihill?
Answer - As we have had very few changes within the playing squad over the past few seasons this has certainly allowed us consistency in the style of rugby we play. Mulvers certainly believes the expansive style of rugby suits the squad and in order to continue to play this way, we have continued to focus our efforts on developing players in such a way that allows us to play in the style that suits the makeup of our Cardiff Blues squad.
Q5/ Does the training programmes differ largely from pre-season to the sessions through a rugby season?
Answer- Put simply - Yes. We do a lot more work on developing the players' physical qualities during pre-season as we aren't preparing for match day. This is a time where adaptation takes priority over recovery. During pre-season we reduce the recovery methods as this is the time we want the players to be sore and to allow their bodies to recover naturally to encourage the biggest adaptations, in season the players will use a variety of protocols to speed up recovery, that at times can reduce the number of adaptations the players will experience as it then becomes about the players being as fresh as possible for game day - As this is the priority.
During the season our roles as S&C coaches is about applying the minimum dose required within our S&C program to continue to develop physical qualities whilst making sure it's adding to game day performance and not hindering it.
Q6/ Can you talk us through what a routine day looks like for you during a rugby season?
Answer - Usually, I'm in work for 5.30am in order to get a training session in myself - a few of the coaches like to start the day this way - Hodgey, Melon, Crags, Dan Jones and Will Cusack. It's a good way to start to the day!
The Academy players are usually in the gym then with Will Cusack from 7 till 8am and it's good seeing those boys train.
We then start the day with a Medical and S&C management meeting at 7.30am to discuss the status of the squad for the training day ahead.
Players will arrive at around 7.45am for daily monitoring, looking at their readiness to train - This consists of weighing in and a number of screening protocols - It takes 5 mins to complete.
Breakfast is at 8am. Nutrition has been a big focus for us over the past couple of years and this season the Blues appointed Tony Knocker as the team full-time chef. Tony has been an excellent addition to our squad environment, and he has provided the players with the highest standard of nutrition available.
After breakfast, the mornings consist of individual and team meetings and also with gym sessions split between forwards and backs. The afternoons are when the main on-field rugby session takes place.
At the end of the training day, the players go through a variety of different recovery protocols - Such as sports massage and the use of the cold water tank (they all love this!). Recovery is a key part of the training day during the season and ensures that players can optimise their performance for the next training day, as well as performing to the best of their ability on actual game days.
For the coaches, once the players training day is over, the coaches meet to review the training day, players performances and discuss any necessary issues.
Q7/ Going by what you see within the Cardiff RFC and Cardiff Blues squads who might be a surprise package for next season at a regional level?
Answer - It's been great to see Cardiff RFC performing so well this season and winning the Cup. Seeing that our three regional premiership teams all competing for the title right up until the end of the season is awesome as well with Merthyr winning it.
Cardiff RFC has had a great season - They have a strong squad and the coaching staff of Spot, Llyr, Melon and Trt have certainly had a massive impact on the field.
The players in the senior squad who played a lot for Cardiff RFC last season - Ben Thomas, Callum Bradbury and Max Llewelyn all look like they have bright futures ahead of them. All three have put in good, consistent performances throughout the season and hopefully may have opportunities, next season, at a regional level. Joey Tomlinson has been outstanding as both captain and player for a number of seasons now. It would be great to see him rewarded for all his efforts as well.
Q8/ Finally, Robin what are your ambitions as a coach within rugby and how is your business, ION Strength & Conditioning Gym currently going in Llanishen?
Answer - ION is going well and I'm lucky to have a great team their driving things forward with plans of expansion on the horizon.
My ultimate goal when I started my strength & conditioning career was to become the Head S&C Coach at the Cardiff Blues, obtaining the position happened far sooner than I anticipated and I'm grateful to Danny Wilson who had the confidence in me, during his time with the Cardiff Blues, to elevate me into the lead role.
Our S&C Department consists of Dan Akenhead and Ryan Campbell in the senior program - Dan is an excellent coach and Ryan's experience within rugby is invaluable. Our Senior Academy S&C Coach Will Cusack and Age Grade Academy S&C Cai Jenkins have come through our S&C internship programs and it's been great to see how they have developed and now play a vital role within the Cardiff Blues S&C Department.
My own long-term ambitions as a coach? I want us to win a Pro 14 League - Simple as that. Consistency in performance is the ultimate aim.
I have recently returned from spending some time with the Brisbane Broncos in Australia. Ryan Whitley, our former Cardiff Blues Head S&C Coach is now with the Broncos and Ryan has had a big influence on my own coaching development. Having seen the work that he is doing in the NRL - It really appeals to me and would love an opportunity to work in such an environment but seeing success at the Cardiff Blues is my ultimate ambition.
Thanks again Robin for the interview, I hopefully have a few more in the pipeline and I hope you enjoy reading them as much as I do putting them together.
View a Printer Friendly version of this Story.
The Robin-Sowden Taylor Interview
Discussion started by 1876 Cardiff Rugby , 04/06/2019 11:53
1876 Cardiff Rugby
04/06/2019 11:53
What do you think? You can have your say by posting below.
If you do not already have an account
Click here to Register
.