Interview With Hemi Taylor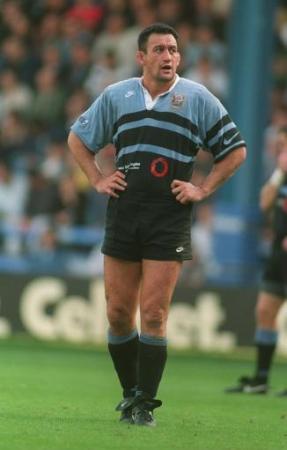 By Craig Muncey
July 6 2018
Pleased to publish the recent interview that was held with Hemi Taylor.
Hemi is as he was on a rugby pitch, a no-nonsense person, whose answers were straight and to the point. I have tried wherever possible not to amend any of his responses to the questions put to him, and I hope his character comes across in his answers. Hemi and his family now own a 200-acre farm near New Quay, where they farm and beef and lamb in a sustainable manner, where they raise nearly 200 calves a year, so they certainly keep themselves busy.
They are also involved in the holiday let business and have converted a disused barn as a holiday let. It is called Cwm Hyfryd if you want to take a look, the property is online. A holiday with Hemi on your doorstep, what could be better! It was a great interview to complete and many thanks to Hemi for agreeing to it.
Interview With Hemi Taylor
Thanks to Hemi for agreeing to this interview. We asked the fans for questions to put to Hemi and selected the best fifteen, and here they are with Hemi's responses.
1/ What was your childhood like in New Zealand and how did you first get into rugby?
Answer - Like all Kiwi kids, we were brought up loving the outdoor lifestyle rugby started at primary school.
2/ You came through the New Zealand rugby system and also had a trial for New Zealand Colts, so how did your move to Newbridge in 1986 come about?
Answer - Ex international referee Bob Francis arranged a player exchange with Newbridge and I took a player back to New Zealand for a season.
3/ Newbridge had some fine players including yourself at the club whilst you were there such as Paul Turner, Ken Waters, Andy Allen, Terry Shaw and David Manley. What are your memories of playing for them?
Answer- Great memories playing for Newbridge. The players and supporters were fantastic. Was a great introduction to Welsh rugby as valleys rugby was tough in the day and you always knew someone had your back if the game went Pete Tong.
4/ You moved to Cardiff in 1992, how did the move come about and why Cardiff?
Answer - I got talking to Terry Holmes at touch rugby one night and it all happened from there. He said Cardiff was bringing in an Aussie Coach in Alex Evans and that he was looking out for some rugged back rowers.
5/ You won the Swalec Cup with Cardiff and played in many big games including The Heineken Cup final against Toulouse, does one club game for either Newbridge or Cardiff particularly stand out for you?
Answer – Yes, Newbridge played Cardiff one Christmas time. Cardiff had all the stars, so Newbridge went commando and we won the match. I remember the whole team sitting in the communal tub singing Christmas carols. How can I also forget the St Peters match and the Heineken Cup Final match.
6/ You made your debut for Wales in 1994 against Portugal. Was playing for Wales always an aim once you started playing rugby in the country?
Answer - Not at all. I was enjoying playing for Newbridge and intended to return to New Zealand, seems like the next minute, six years had flown by and the WRU approached me to say I meet international qualifying rules and would I be interested in playing for Wales. Interestingly after I'd played my first match the IRB changed the residential rules to three years.
7/ You were known rightly for being a tough player, who was the toughest player you played with or against?
Answer- Greg Kacala who joined Cardiff from Brive was one tough mother as was Dan Baugh, these guys where benching 150kgs as a warm-up.
8/ You played in the 1995 World Cup for Wales and played 24 international games. What is your favourite moment in a Welsh shirt?
Answer - Every moment was special when I pulled on the Welsh shirt. Winning my first cap and also playing the All Blacks at the 1995 World Cup and facing the Haka stand out if I had to pick two. When we played New Zealand the then Welsh manager said we were meant to be bigger stronger and faster. Needless to say we were well beaten.
9/ You played right across the back row in your career. What was your favourite position?
Answer- 8 position was great to attack from but 6 was more my game.
10/ As mentioned earlier, you were known for being a tough player and one story goes that you had four teeth from an opposition player embedded in your hand, is this true and can you give us the full story?
Answer- Yes all true, but I only gave two back and put the other two under my pillow for the fairies!.
11/ Who would win a fight between you and another hard man, Dan Baugh?
Answer- I can say I beat Dan playing chess and I've also seen Dan go full beast mode when angry and it wasn't pretty. He is an ex-wrestling champ so if it was MMA no chance, however, in a boxing ring game on, so let's get it on maybe a boxing night at the club.
12/ Who was the best player you played with or against?
Answer - Playing against The Chief was always a tough one I enjoyed winding him up on the field saying to him, is that all you got big boy. Jonathan Davies was class as was Jeremy Guscott.
13/ Best stadium you played at?
Answer- The old Arms Park was a special stadium to play, I remember the Newbridge lads took me to my first Five Nations match never knowing that I'd be playing there one day.
14/ Who was the best coach you ever worked under?
Answer- There have been many good coaches from Newbridge days with Paul Evans, Chris Padfield and Cardiff's Alex Evans stands out, he brought Southern Hemisphere training methods to us. The other coach who stands out for me was Kevin Bowring who introduced us to player analysis and individual coaching programs, I don't think the WRU were ready for this type of coaching which is now the norm today and he is still used now in looking at sports strategies for coaches across the UK.
15/ Can you please tell us your best fifteen by position you have played with or against?
Answer- There were many players good, bad, and ugly. I've played with in the late 80s into the 90s and to be safe I'll not answer my best fifteen. I will say that I've enjoyed my playing career in Wales and look forward to watching Wales in the future but dread the day they beat the All Blacks.
So there you have it, I am sure you agree with some great memories. And if anyone is reading this and wants to look into organising a boxing bout between Hemi and Dan Baugh, then I want a front row seat!
Thanks again to Hemi for agreeing to this interview. He was a great player and is still admired greatly by Cardiff RFC fans. Thanks for the memories.
View a Printer Friendly version of this Story.
Interview With Hemi Taylor
Discussion started by 1876 Cardiff Rugby , 06/07/2018 17:51
1876 Cardiff Rugby
06/07/2018 17:51
What do you think? You can have your say by posting below.
If you do not already have an account
Click here to Register
.