Exclusive Interview - Manoa Vosawai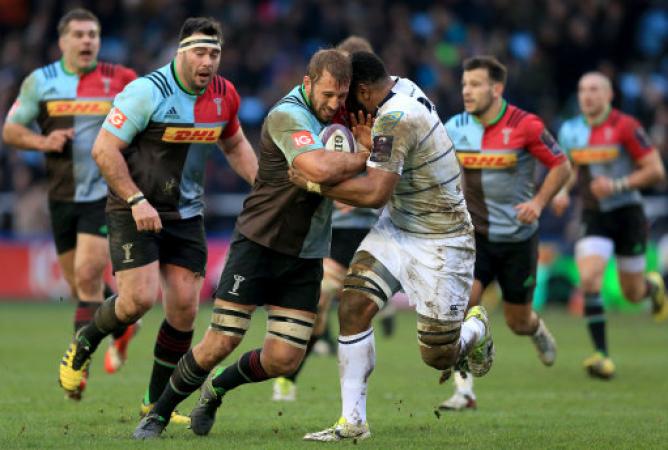 By Craig Muncey
June 5 2016
For all rugby fans please read the latest in the series of interviews for this site. This interview was with Manoa Vosawai. Manoa leaves Cardiff Blues at the end of this month, and throughout the interview, his genuine fondness for the club, the fans and the city itself shines through. A very genuine man, who gave his time for this interview without any fuss and nothing was too much trouble. I wish him well on his future pursuits, and to a long rugby career.
Exclusive Interview - Manoa Vosawai
Thank you to Manoa for agreeing to this interview. This interview in particular has been very popular with the fans, which shows the impact you had on the fans in your time at the Cardiff Blues.
Fifteen questions have been chosen, so let's get started.
Question 1
Why are you leaving the Cardiff Blues when your performance levels are at such a high level?
Answer
As I was coming out of my contract, and Nick Williams coming into an already fiercely competitive position, meant it was difficult for me to be kept. I have all the respect in the world for Nick as a player and I am certain he will have a huge impact within the team. I am disapppointed to be leaving but it is time for me to move onto the next chapter.
Question 2
Are you likely to remain in Wales next season, or another club in the Pro 12?
Answer
No unfortunately not, I will be moving abroad.
Question 3
What is your favourite match during your time at the Cardiff Blues, and also if different to your favourite match, what is your best moment at the club?
Answer
This is a tough question to answer as there were so many memorable matches with the Cardiff Blues, I can't single out just one.
Personally, my best moment was playing my first game for the Cardiff Blues against Glasgow Warriors in 2014. It was a special moment running out of the tunnel with the Cardiff Blues jersey on and hearing the Cardiff Blues fans for the first time at the Cardiff Arms Park.
Question 4
How has Danny Wilson changed things at the Cardiff Blues, and what is so different to last season?
Answer
Danny Wilson has made a tremendous impact at the Cardiff Blues. He has unleashed a fighting spirit and mentailty within the team. Thiis season the training has been more specific and intense. Technically, we are more precise to certain elements of the game. Danny brings out the best in each individual player and finds ways to harness their strengths, giving us the new identity which we have now.
Question 5
Who was your hardest opposite number in the Pro 12?
Answer
I would say Jamie Heaslip and Leone Nakawara. Both are world class, skilful players that exploit all areas of the game.
Question 6
Who in your opinion is the best number 8 currently in world rugby
Answer
Kieran Read. He is just a phenomonal all round player.
Question 7
Which two players either past or present, would you like to play alongside you in a dream back row?
Answer
My dream back row would be to play alongside Sam Warburton and Sergio Parisse.
Question 8
Who was the toughest team you played in the Pro 12?
Answer
Glasgow Warriors
Question 9
Do you target playing for Italy again?
Answer
If the opportunity arises then I would take it.
Question 10
You played for Italy in the 2007 World Cup, can you describe the experience?
Answer
It is the experience of a lifetime, there are not enough words to describe it.
Question 11
Who is the funniest player you have played with?
Answer
Lou Reed. There is never a dull moment when he is around... You have to expect the unexpected, on and off the field.
Question 12
Who is the best coach you have ever worked with?
Answer
I would say Danny Wilson and Franco Smith. They both have a similar style of coaching.
Question 13
Who is the best rugby player you have ever played with?
Answer
Sergio Parisse and Sam Warburton. Not only are they exceptional rugby players and great leaders on the field, they are both humble with great personalities.
Question 14
Who is the best rugby player you have played against?
Answer
Shane Williams. Too difficult to tackle, because tackle at a normal height you risk being penalised, and you can't go in for the island kill tackle because he had a great side step, and of course he was very quick. Just a great player.
Question 15
Can you please name the greatest 15 you have ever played with by position?
1/ Gethin Jenkins
2/ Matthew Rees
3/ Fao Filise
4/ Leone Nakawara
5/ Jarrad Hoeata
6/ Alessandro Zanni
7/ Sam Warburton
8/ Sergio Parisse
9/ Niko Matawalu
10/ Nicky Little
11/ Sireli Bobo
12/ Rey Leelo
13/ Seru Rabeni
14/ Vereniki Goneva
15/ Rhys Patchell
I would like to say a big thank you to the Cardiff Blues fans for all the support during the past two seasons that I have been here. I feel blessed that I have been able to spend some time in such a beautiful city and be part of a great rugby club, so rich in culture and tradition.
You have made it a memorable and special time here in Cardiff, and although I won't be wearing the jersey, I will always be part of the Cardiff Blues family. Thank you.
View a Printer Friendly version of this Story.
Exclusive Interview - Manoa Vosawai
Discussion started by 1876 Cardiff Rugby , 05/06/2016 10:18
1876 Cardiff Rugby
05/06/2016 10:18
What do you think? You can have your say by posting below.
If you do not already have an account
Click here to Register
.
Craig Muncey
05/06/2016 19:25
Quote:

Blues92
Great interview.
Manoa is a top man
Thank you, glad you enjoyed it.
southcoast5
05/06/2016 20:41
What a top bloke. He never did the club anything but credit either on the pitch or off.
Craig Muncey
05/06/2016 20:43
Is gutted to be leaving. His family love it here and he loves Cardiff. But as he himself said time for the next chapter in his career.
swinging the lead
08/06/2016 12:25
disappointed that Vas is on his way ....I would love to have seen Nick Williams giving 40 minutes flat out ...and once opposition battered and bruised vas given the other 40 mins flat out......

scary no 8 team....that would punch holes and carry ball all game long.


but thats not whats in Danny's plans ...I wish him well and thank him for some great rugby memories