Interview With John Tait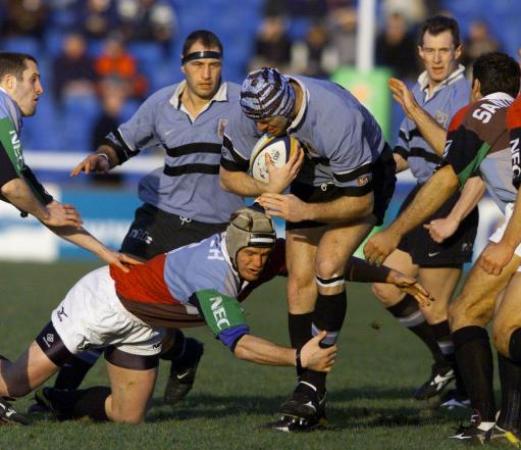 By Craig Muncey
March 15 2016
Pleased to able to publish the recent interview held with ex Cardiff and Canadian international, John Tait. Thanks to John for taking the time to conduct the interview in his busy schedule, and answering all questions put to him, in an open and honest manner. I hope all rugby fans enjoy reading his thoughts.
Exclusive Interview - John Tait
1876 Cardiff Rugby are delighted that John has agreed to this interview. John was an outstanding lock for Cardiff RFC and Canada and one of the best athletes I have seen at Cardiff Arms Park.
Have 15 questions that the fans would like you to answer, so without further delay here are the questions.
1/ The first time I saw Canada play was in 1987 in the Rugby World Cup, and even now it is not as popular as other sports in North America, such as American Football, Basketball, Baseball and Ice Hockey etc, so how did you get into Rugby Union and at what age?
Answer - I played a lot of sports but American football and basketball were the two I was pursuing scholarships and working towards playing professionally. Friends in High School convinced me to try 7's and I loved it. I played about a dozen 15's games in school as well but I was scouted for Canada programming while playing club rugby in the summer to stay in shape for basketball and be with my friends.
2/ How did your move to Cardiff RFC come about?
Answer - In the summer of 97 I had just started 7 straight tests for Canada, the last one against Wales in Toronto. It was a good game with lots of future team mates on the opposition, Leigh Davies, Rob Appleyard, Steve Williams…Jonathan Humphries was commenting back in Wales on the game and said that after he saw me chase down Wayne Proctor the length of the pitch that he recommended to Alec Evans that Cardiff should take a closer look at me. The club flew me over a few weeks after that to meet and I signed a one year deal.
3/ You made your debut for Cardiff RFC in 1997 against Newbridge. What do you remember about your debut?
Answer - Not a lot really, believe it was a midweek game and I was nervous and excited to prove that I belonged in professional rugby. I do remember that I guessed at a few lineout and other calls as I was still adjusting to the various Welsh accents! Not sure I ever figured out what Justin Thomas or Emyr Lewis were saying half the time!
4/ You played 6 years for Cardiff RFC, what was your most memorable match?
Answer - Beating AS Montferrand 26-20 at home in 2002 to keep us in contention for Heineken Cup quarters, it was a fierce match, they were a stacked physical side and the game went down to the wire. Both Craig Quinnell and I were sin binned, him justly me not so much! Stuffing Llanelli down at Stradey Park that year was a big result and pleasing for the travelling Cardiff supporters to be apart of.
5/ You played 37 tests for Canada including playing in the 1999 Rugby World Cup, what was your most memorable match?
Answer - Drawing a top Ireland team in Toronto 2000, ref called a late dubious scrum penalty to let them draw. 1999 World Cup we knew we had to beat Namibia by a lot to go through to quarters, we won 72-11 but when Wales were upset by Samoa we didn't get through.
6/ Who was the best player you ever played against?
Answer - Positional, Ian Jones, the ex-All Black lock playing for Gloucester. Big man with great skills.
7/ Who was the best player you ever played with on your team?
Answer - For Canada, would have to be Al Charron, in his prime would start on any team in the world in his era. Great leader, athlete, humble and always puts his team first. For Cardiff, Rob Howley's skill sets blew me away, watching him and Neil Jenkins do extras after training helped me understand that the best also work the hardest.
8/ Who was the best coach you ever played for?
Answer - I learned a lot from every coach I played for, good and bad. Alec Evans taught me a great deal about becoming a professional, as did my Canadian coach David Clark. The one coach I wished I could have experienced longer was Terry Holmes. Hombre was so honest and direct about what everyone needed to do to make us successful. He along with Hemi and rest of staff really built a team that wanted to represent Cardiff and play for one another. Shame politics after that 'Rebel' year caused him to be replaced, as I really believed he would have been successful long term as the Head Coach.
9/ You joined Cardiff RFC, one season after the team were losing finalists in the European Cup, did you and the group feel that with you and a few other additions, that you could take that one last vital step to become European Champions?
Answer - I think the senior players who were apart of that final believed we could but although the club had added some it also lost some big pieces to retirement and injuries.
10/ Do you have any regrets in your rugby career?.
Answer - I really loved playing for Cardiff but with the constant coaching turnover, I doubed they had a long term plan or leadership with the know how to get the club back to the early successes they achieved in Europe. Saying that I think I should have left when the club let Terry and his staff go because that showed the team's interest wasn't being put first.
Also, I wish I had done a better job with managing rehab of some of the injuries I took over the years so I could have continued to play longer
11/ Cardiff RFC had a few Canadian players who joined shortly after yourself, players such as Bobby Ross and Dan Baugh, did you have any influence in them coming to the club?
Answer - I was asked just after I arrived about Bob's character, which I vouched for. Dan is one of my closest friends and we had just played together in the Canadian development program, after my first season there I asked the management to have a look at him because his toughness and edge were rare and I wanted him on my team, didn't want to have to play against him!
12/ You were a fantastic lock forward, and playing in Europe against top sides, you must of attracted some offers to leave Cardiff RFC. Were you ever tempted by any such offers?
Answer - I did have a few, mostly from French clubs but felt a loyalty to Cardiff and the team's potential to achieve success. When I finally did accept an offer from Brive it was close to double the money and Cardiff weren't able to match that for a non-Welsh qualified player and having a young family I had to do what was best for them and go.
13/ When you played for Cardiff RFC it was prior to the game going regional/pro teams, which away ground did you enjoy playing at the most?
Answer - I loved the banter from Sardis Road and Rodney Parade were always fun to be apart of. The close proximity of those rivalries created a great atmosphere to play in front of.
14/ Who in your opinion is currently the best player in the world in your old position of lock forward?
Answer - Brodie Retallick has developed his skill set so much in the last five years under the tutelage of Mick Byrne the former Abs skill coach. Him and Eben Etzebeth are massive locks and are at the top of their games.
15/ Can you name your greatest players you played with by position please.
John Tait Greatest XV
1- Andrew Lewis- smaller prop but behind him never a struggle in the scrum.
2- Jonathan Humphries- great leader and always put his body on the line. (and often the wrong side of ruck!)
3- Jon Thiel
4- Al Charron
5- Mike James
6- Dan Baugh
7- Martyn Williams
8- Emyr Lewis
9- Rob Howley
10- Neil Jenkins
11- Gareth Thomas
12- Leigh Davies
13- Peter Muller
14- Rod Snow (know he is a prop but this is where he hung out the most!)
15- Mike 'Fatty' Rayer amazing vision and skillset. Saw him dummy to the crowd going down sideline once, defender bought it.
Thank you John for being so accommodating to do this interview. You were a fantastic player for both Cardiff and Canada, and thanks for the memories.
Answer - Thanks, loved my time there and wish the club and its supporters every success!
View a Printer Friendly version of this Story.
Interview With John Tait
Discussion started by 1876 Cardiff Rugby , 15/03/2016 15:12
1876 Cardiff Rugby
15/03/2016 15:12
What do you think? You can have your say by posting below.
If you do not already have an account
Click here to Register
.
Good interview, cracking player. Loved the Mike Rayer comment
Craig Muncey
15/03/2016 16:55
Quote:

Yup
Good interview, cracking player. Loved the Mike Rayer comment
Glad you enjoyed Yup.
His comments about Terry Holmes and the direction the club were taking was interesting as well I thought.
cardiff_steve
15/03/2016 18:12
I've always thought Holmes was treated poorly. He absolutely should have been kept on.
Craig Muncey
15/03/2016 19:00
Looks like John Tait rated Bobby Ross more than I did as a player!