Gatlandís Law is a farce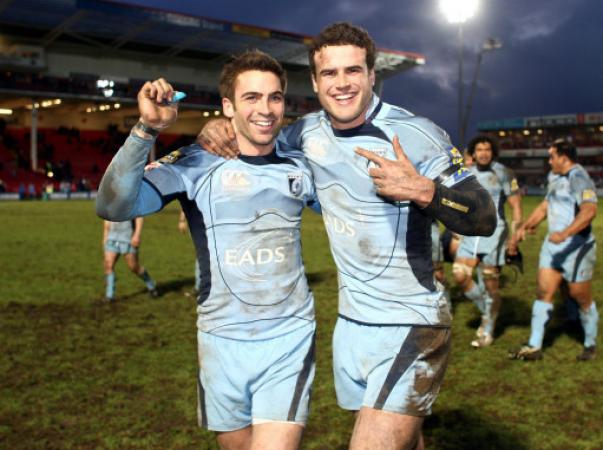 Jamie and Nicky
By Andrew Collins
May 7 2015
The term 'law' is misleading. It implies some sort of authority and rule. Perhaps a better name would be Gatland's Flexible Ideal, or Gatland's Empty Threat.
So, the news we all expected has been confirmed; even before Roberts has officially announced his move to Harlequins, Gatland has come out publically and said that the former Cardiff centre will not lose his Welsh place.
What a surprise.
The idea - whereby any player playing outside of Wales will not be picked for Wales - was first mooted in 2008 during the early stages of the Kiwi's tenure. At the time it was suggested that all home-based players would get preferential treatment in regard to Welsh international places.
It was largely supported by fans, who were starting to become aware of the money available to French clubs, and it was hoped this would be a way of keeping home-grown players in Wales where the fans can see them on a weekly basis. However, it was never implemented.
It was mentioned every time a new player headed abroad - James Hook seemed to become a victim of it as he fell of the radar a little during his time with Perpignan, as too did Lee Bryne - however the exact details of the 'law' were never clearly set out and it all felt abit muddled.
As the French exodus continued, pressure mounted on gatland and the WRU to install a clear rule.
Phillips, Hook, Charteris, Bryne, Lydiate, North, Roberts, Lydiate, Evans, Hibbard, Halfpenny and many more left the Wales in search of new experience, higher standard of rugby and inflated salaries. The regions were losing their best players every season, but Gatland still refused to draw a clear line in the sand which the 4 Welsh pro teams could use to tempt players to stay at home.
Then last year, after months of brutal negotiations, Gatland's Law was written into the new Participation Agreement, signed by the WRU and Pro Rugby Wales.
It stipulated that, following the 6th centrally contracted player signing to the WRU's books, any player who opts to move abroad or not return home from outside of Wales (assuming an offer is in place) will not be part of Gatland's national team.
It was a big statement to our international stars. Stay in Wales, sign a central/club contract or sacrifice your international career.
And at first, the signs were encouraging. Rhys Priestland admitted that his move to bath was putting his Wales career in serious doubt. Just last month he said,
"I sort of knew that when I signed for Bath I would not be doing myself any favours internationally, but I felt as if I needed a different challenge.I can't see into the future and what it will mean to me internationally, but I want to play for Wales. I made the decision and I have to live with that now."
But following Gatland's comments today, it's clear that no such rule exists. It's a sham. It's saying one thing and doing another.
"There's not a hard and fast rule as there is with England. There are exceptions where players have been playing outside of Wales and there are one or two wildcards we could pick.
Talk of 'wildcards' and 'no hard or fast rule' means there may as well not be a rule in the first place! Can we please just scrap this whole notion, as it clearly holds no water in practise and is frankly embarrassing.
Speaking with a friend the other day, I think the fairest way to manage this situation, for both player and club, is to say that if you want to play for Wales, you must play in Wales until you turn 28 years old. At 28, it's likely that your club have had around 6-8 good years service in return for their investment. It means that the player can put everything into the club game knowing they will have the chance to move abroad when they're old enough and have earnt the right to do so. It means Wales can develop players to their prime, knowing they have international quality players abroad to call up, while having fewer 33+ year olds blocking youth players coming through the ranks. It gives the player about 4-6 years to earn big money and gain new experiences, as they should be allowed.
Unfortunately, that would be a bit too straightforward for Warren.
View a Printer Friendly version of this Story.
Gatlandís Law is a farce
Discussion started by theArmsPark.co.uk , 07/05/2015 20:24
theArmsPark.co.uk
07/05/2015 20:24
What do you think? You can have your say by posting below.
If you do not already have an account
Click here to Register
.
Big Gazzer 50
07/05/2015 20:47
After hearing Gatland speak on Radio Wales this evening, he mentioned "2 Wildcard places" and that Jamie would take one of these places to enable him to play for Wales. This is the first that I have heard about these Wildcard places. Is this a new thing or is the WRU making it all up.....
cardiff_steve
07/05/2015 21:08
I sort of lean toward the view that one of two things should happen:

1)"Gatland's law" must be an actual law with no bleedin' wildcards or arbitrary "Yeah but welllll its a law but not for him... or him or him either" faffing about.

2) Everybody please stop talking about Gatland's @#$%& law.
southcoast5
07/05/2015 21:38
I just don't see why we ever thought it could work. The Welsh pro set up has no money and can't compete with England or France. its completely unfair to tell top Welsh players that if they don't play for the Weldh regions they can't play for Wales. Aviva clubs are allowed to pay up to £1m for marquee players eg Roberts. Under the RSA that would mean the WRU forking out £600k from a limited pot every time they wanted to keep a world class player. It's bonkers to think that it could work.

The simple fact is that commercially Wales is small and poor. We have punched way above our weight for years and Gatland is keeping us there.

GL works at some level but not for the likes of Roberts (and probably Halfpenny and North). We are currently blessed with some of the best players in the world but it's madness to expect them to play for the regions in their current condition.
Cardifflose
08/05/2015 07:38
I thought the new "Gatland Law" on the new RSA was all players who are currently not in Wales are not effected, but anyone who is offered a deal in Wales and turns it down falls under this bulls*it law but he can overrule 2 players (Roberts, Toby) so Priestland is rubber-ducked!
The law generally works well in NZ, SA and Oz. No reason why we can't put a fair system in place to support the regions in keeping hold of their best players.
Admin of theArmsPark.co.uk,
Make Noise and You Will Be Heard!
More Cardiff Blues headlines