Exclusive Interview - Mike Rayer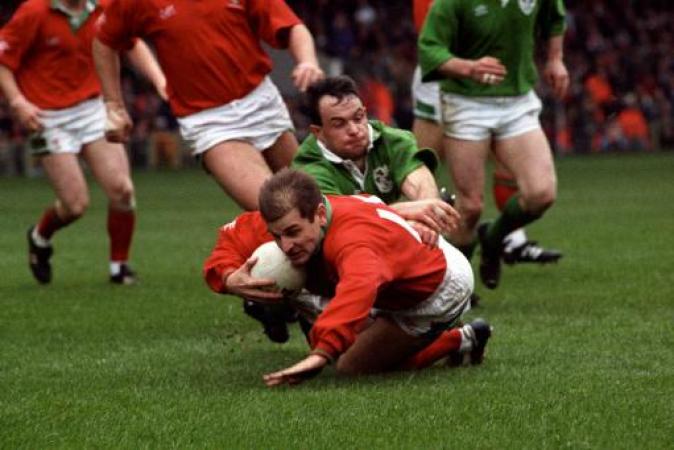 By Craig Muncey
February 11 2016
1876 Cardiff Rugby are pleased to publish the recently held interview with Cardiff RFC great, and Welsh International Mike Rayer. Was an honour and a privilege as a Cardiff rugby fan to be able to do this interview, and thanks to Mike for being so open and honest with me.
Mike Rayer Interview
All fans I have spoken to about this interview all said you were one of their favourite players of all time so is a major coup for me. Fans have put forward their questions and have selected the best 15 questions to put to you. Without further delay here are the questions.
1/ You made your debut in 1985 for Cardiff RFC, what do you remember about your debut and were you a Cardiff fan as a boy?
Answer - I made my debut for the 1st team together with Steve Ford against South Wales Police and still remember it well. The Police side at that time were a pretty aggressive bunch so you needed to have your wits about you.
Whisper it but as Phil Bennett was my childhood hero I did have a penchant for Llanelli. I did grow out of it though through my teens and having played for Cardiff Schools right through the age groups, Blue & Black started to course through the veins.
2/ In your early days at Cardiff you had some great players in the team, who if any, had the greatest influence on your career in the early days?
Answer - Alan Phillips looked after me really well in the early days and was always willing to offer strong words of advice in his own inimitable way. However it was Ringo who had the most profound effect and the one I could relate to as much as any of the backline at the time. Alun Donovan, Adrian Hadley, Gareth Davies, Gerald Cordle and of course Terry Holmes were also players I learnt so much off, who wouldn't or couldn't!
Prior to my 1st Team debut however playing for the 'Rags' was a fantastic experience, and a big part of my rugby education began playing with guys like Dave Barry, Julian O'Brien and Chris Webber a massive part of that.
3/ What was your most memorable match for Cardiff?
Answer - This is a tough one..My debut & cup finals all come into the mix but I guess it has to be playing the All Blacks in 1989 and a game that we could and arguably should have won...if only I hadn't missed two straight forward penalty shots at goal!
4/ Which Cardiff team throughout the years you played for them, was the best team?
Answer - The best team on their day was probably the 85/86 team, where on top of the stellar back line I've mentioned we had an unbelievable pack of forwards. However for consistency and camaraderie the Alex Evans era was definitely the most enjoyable and where I was probably at my peak as a player.
5/ In 1994 whilst playing for Cardiff away to Treorchy you suffered a double compound fracture of your leg, a very nasty injury, did you fear for your rugby career ending?
Answer - It never crossed my mind that I wouldn't play again. My main thoughts at that time were of missing the '95 RWC in South Africa and although the upside was I got to see more of my young family, the road back was a long, dark and arduous one. When I look back I feel forever in the debt to the team of medics and in particular John Fairclough, who had done such an incredible job of getting me back on the field some 51 weeks later.
6/ In 1996 you moved from Cardiff to Bedford, how did this move come about? Also you moved back to Cardiff in 1998, again how did this come about?
Answer - My move to Bedford really came about as a result of two things. Firstly, psychologically my leg break had had a profound effect on me, which, at the time I couldn't put a finger on why or what it was. And secondly the game had recently gone professional and suddenly there was an opportunity to safeguard my family's immediate future with such a lucrative offer on the table.
The irony of 'safeguarding' my family was somewhat dispelled after some well documented financial problems that Bedford encountered in '98, coupled with the opportunity to work with Terry Holmes again made my decision to return a relatively straight forward one.
7/ You made your debut for Wales in 1991 in the infamous match against Western Samoa in the Rugby World Cup, what do you recall of making your debut for your country (apart from the loss)?
Answer - Plenty really. The Samoans were smashing everyone (with or without the ball) so I always felt there was I good chance I'd get on! I was fortunate to have a few good moments on the ball during the game but ultimately it was a bittersweet feeling post game as we knew deep down that our World Cup was over.
8/ You played 21 times for Wales in your rugby career, which in my opinion was far too small a number. Tony Clement was your main rival for the 15 shirt, which I felt you were a better full back than. Did the coaches ever discuss reasons why you were missing out, and what they wanted you to improve on?
Answer - There wasn't as much feedback given then as there is now but I always felt that the coaches, not just at that time, but before and after my rivalry with Clem was at its peak, would feel I lacked pace. It never bothered me too much, myself and Clem were great friends and would respect each other in regards to selection and knew we both offered different options to the team. Selection, as I've found out over the years, can be very subjective!
9/ You have played, coached and been a director of rugby at Bedford for a number of years, no disrespect to Bedford but have you ever had offers to move into other coaching positions at more established sides? And if so what stopped you?
Answer - I have had a few offers, but much like my playing days, it's all about ti..........ming!
Seriously, I wouldn't have stayed here in Bedford if I didn't enjoy it and have such a good rapport with the supporters and such a great relationship with the Chairman. I know it won't be forever so I'll keep taking it year on year.
10/ Who was the best player you played with in your rugby career?
Answer - Terry Holmes/Ringo can't decide.
11/ Who was the best player you played against in your rugby career?
Answer - Paul Turner, could (and still can) kick with both feet, a nightmare for a Full Back
12/ In your opinion, who is the best player in the world currently in the position you played at full back?
Answer - Don't hate me..Mike Brown, outstanding in all the key areas needed and a real handful in attack.
13/ Do you have any regrets in your rugby career?
Answer - Nope, none at all. I would of course liked to have gone on a Lions tour, but like I said selection is very subjective and I've not been one to look back too much, there are too many bitter and twisted ex players around already.
14/ Who was the best coach you ever worked under?
Answer - Alex Evans full stop!
15/ Final question that we always ask, can you name your greatest 15 players you played with by position please?
Answer - This is the hardest of the lot!!
Mike Rayer Greatest XV
15 Rhys Williams
14 Ieuan Evans
13 Mike Hall
12 Mark Ring
11 Adrian Hadley
10 Paul Turner
9 Terry Holmes
8 John Scott
7 Junior Paramore
6 Howard Stone
5 Bob Norster
4 Scott Murray
3 Dai Young
2 Alan Phillips/Jonathan Humphries
1 Jeff Whitefoot
Thank you very much Mike for your time and allowing me to have this interview. You have a massive fan base in rugby for your playing style and I still consider you the best Welsh full back I have seen in my lifetime. Thanks for the memories.
View a Printer Friendly version of this Story.
Exclusive Interview - Mike Rayer
Discussion started by 1876 Cardiff Rugby , 11/02/2016 19:08
1876 Cardiff Rugby
11/02/2016 19:08
What do you think? You can have your say by posting below.
If you do not already have an account
Click here to Register
.
Rayerker
16/02/2016 20:00
Thanks for that. My favorite player ever. I prize my Mikey rayer grogg
Craig Muncey
16/02/2016 21:05
Quote:

Rayerker

Thanks for that. My favorite player ever. I prize my Mikey rayer grogg
My pleasure