Exclusive Interview with Rhys Williams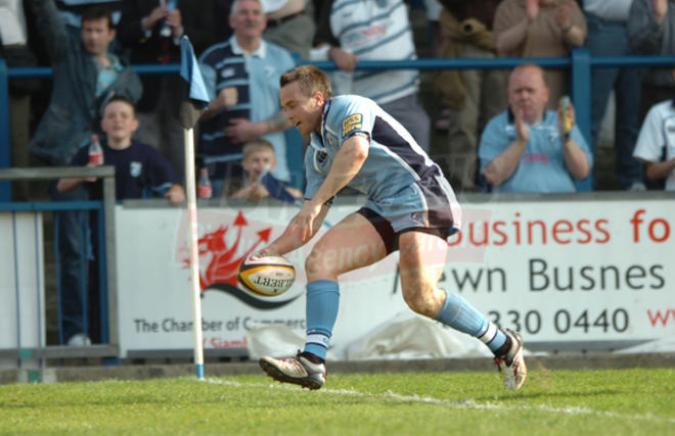 By Craig Muncey
September 17 2018
Pleased to publish the recent interview conducted with Rhys Williams. Thanks to Rhys for putting some time aside from his busy schedule. Much appreciated.
Interview with Rhys Williams
Really pleased to conduct this interview with rugby star, Rhys Williams. Rhys performed at the very highest level for a number of years with Cardiff and Wales. As a player, he was very quick and a great counter attacker when the game became open.
Rhys is now a Business Development at the WRU, so massive thanks to him for taking time out of his busy schedule to answer the questions put to him by rugby fans.
As always with the 1876 Cardiff interviews, 15 questions to answer for Rhys, and here they are. Rhys's answers are in bold after each respective question.
1/ When did you first get into rugby and when did you realise you might be able to make a career out of the game?
I first started playing rugby at 6 years of age when my father, Hugh Williams, started the mini section at Cowbridge RFC. It meant a lot to me to eventually go on and play my first senior game for the 1st XV when I turned 18. The community, my school, my friends and my parents became a big influence on my development as a rugby player.
2/ You represented Wales at all different age groups including representing Wales in the 1999 World Youth Cup Final against New Zealand. What do you remember about that game and the Kiwi players on show that day?
The whole 1999 World Cup gave me, I'm sure my teammates of the time would agree, a real taste of what professional rugby could be like. As we progressed through the tournament the highlight was not only beating England comfortably in the first game at the Gnoll but playing the semi-final v South Africa in front of a 10,000 sell out crowd at the Brewery Field.
The final at Stradey Park was again a sell-out with over 12,000 fans there. It was an amazing feeling to be in a World Cup final in your home country. Unfortunately, we were second best on that day. No wonder when the NZ team contained the following names- Richie McCaw, Jerry Collins, Aaron Mauger, Mils Muliaina, Seilala Mapusua just to name a few.
3/ You made your debut for Cardiff in 1998, what do you recall from your debut?
It was during the rebel season. I was training with the first team while studying at the Cardiff College of Medicine and playing for Cardiff Youth. It was February and I was given my debut at number 13. I remember being really nervous about achieving a dream of playing at the Cardiff Arms Park for Cardiff RFC. It's hard not to pinch yourself.
The first memory is walking across the pitch with Spencer John and him saying 'don't worry it's only Bedford'…… needless to say, it didn't matter who I was playing against, it was the fact that I was going to play for Cardiff RFC.
In the changing room, I was changing next to Andy Moore (scrum-half), who was on loan. Andy was a real positive influence on me that day. He made me relaxed before the game and just put me at ease. I am ever grateful for his influence on my debut.
The game is a blur. I think Paul Burke may have broken his leg early in the game? But we won comfortably, and we had a great team. I was fortunate to score my first try for Cardiff in the second half, a feeling I will never forget.
4/ Only 2 years later at the age of 20, you made your debut for Wales at fullback at Lansdowne Road against Ireland (not the easiest place to make your debut), in the 6 Nations against Ireland. Making your debut for your country must have been a dream come true, but what do you remember about that game (apart from the dodgy headband you had on) ;)
It was a day I will never forget. Although, I don't remember much of the first half. It went so quick and was intense. The old Lansdowne Road ground was iconic and everything seemed to happen quicker on the pitch and with the crowd so close the pitch it was a great atmosphere. I had a few good touches throughout the game but getting the win on debut meant the most.
The story that I remember the most is post-match sitting in the changing rooms and I was just sitting there trying to absorb everything that had happened. Scott Gibbs approached me, said a few very kind words and presented me with Rob Henderson's jersey that he had swapped from the game. It was a genuinely kind gesture that I will never forget.
5/ Who was the best player you played with or against?
The best player I consistently played with was Martyn Williams. Club/Region or country he was the most consistent and always led from the front. He was a great teammate who helped develop players around him. A true professional in my eyes.
Best players to play against. There are many when you consider the international teams. I did play against my schoolboy hero Christian Cullen which was amazing. Another highlight was playing alongside Jonah Lomu. He single-handly changed the face of professional rugby and you could see the massive impact he had in a short time he was with us.
6/ What was your favourite away venue to play at?
This is a difficult one to answer. I didn't really have a favourite away venue to play. I will say that South Africa and Cape Town was my favourite touring location. Such a fantastic country to visit.
7/ Which coach had the greatest influence on your career?
I would have to say my father in my early career and my development. If I rephrase the question the coach that taught me the most was Scott Johnson. In my eyes, he was an innovator in the game at the time.
8/ You played your club rugby for Cardiff throughout your career, did you ever consider playing elsewhere and if so, were there any offers out there to move on?
I did have a few offers to move on. One came early in my career and I can remember exactly where I was when the call came. It was great to have that interest, but it was never a difficult decision to turn it down. I loved playing for the Cardiff Blues with my mates. The club felt like home and I was honoured to have played a part in its history.
I am proud to have only ever represented one club/region in my career.
9/ When the game went regional in 2003, did you see initially any noticeable change in training, standards of play etc. from what you were used to previously?
If I'm honest there didn't feel much change to me as the game went regional. I know some readers will see this as a negative. I was as passionate about playing for Cardiff RFC as I was to play for the Cardiff Blues. There is no doubt that the professionalism in the game was changing and there was a requirement to invest in facilities and different areas around the game.
When you see the facilities today, its great to see that the investment has occurred. The facilities in Wales are second to none and it is no surprise that we produce some amazing rugby athletes.
10/ Who was the player or team(s) you always wanted to put one over on?
There was no specific player!!! I always enjoyed beating other Welsh teams. Welsh derbies always had spice.
11/ In 2005 you played a big part in the Grand Slam for Wales including 2 tries against Scotland as a winger. In the final game against Ireland, you were not fit to start but you were involved in the pre-match warm up. Was it a late decision that you would not start or was a tactic to make Ireland believe you would be starting?
The call was made on the Thursday before the game when I had a fitness test. If I was honest with myself I knew I wouldn't make it when I had the injury. As a professional rugby player, you get to know your body and how it feels. I knew it was going to be difficult to recover in time but the medical team and I tried everything we could. The management team decided to keep it quiet as to not give Ireland much time to prepare ahead of the game. It was a different feeling going to the game on the team bus but not needing to play. It gave me a real chance to absorb the atmosphere on the way in. The waves of crowds that day were something extra special.
12/ You played for Cardiff as a fullback, winger and even appeared in the centre. What was your favourite position?
Fullback or wing. Inevitably the way I played the game I always tried to get my hands on the ball.
13/ In 2008 at the age of only 28, after a great career for Cardiff and Wales, playing for Cardiff nearly 200 times, captaining the side and playing 44 times for Wales, you had to retire due to a serious knee injury. Do you have any regrets about your rugby career?
None. Well, I only wish that my career could have prolonged as planned. The dream is always to bow out from the game and know it is your final game. Say thank you to the people who have supported you and meant the most to you. If I sat me as an 18-year-old down and said you'll play for Cardiff, Cardiff Blues and Wales on 44 occasions, I think I would bite my own hand off.
14/ You have taken on a number of roles within rugby since retiring including Commercial Director at Cardiff Blues, Welsh Rugby Players President and now Business Development Manager at WRU. How do you see Welsh rugby from a business sense currently, and what does your current role entail?
I think the professional game of rugby is ever changing. Without a doubt, the roles that I have had in rugby since retiring have given me a broad perspective of the different influences on the game. The game has to continually evolve as the rugby market becomes more challenging. One thing for sure is that Wales keeps churning out talented players and we have the supporters the game has to offer.
15/ The final question we always ask is can you please name your best fifteen based on players you have played with by position?
Rhys Williams XV
15. Mike Rayer
14. Gareth Thomas
13. Tom Shanklin
12. Peter Muller
11. Craig Morgan
10. Neil Jenkins
9. Rob Howley
1. Gethin Jenkins
2. Jonathan Humphries
3. Dai Young
4. John Tait
5. Paul Tito
6. Dan Baugh
7. Martyn Williams
8. Xavier Rush
View a Printer Friendly version of this Story.
Exclusive Interview with Rhys Williams
Discussion started by 1876 Cardiff Rugby , 17/09/2018 18:32
1876 Cardiff Rugby
17/09/2018 18:32
What do you think? You can have your say by posting below.
If you do not already have an account
Click here to Register
.