Harlequins v Tigers AP Match Report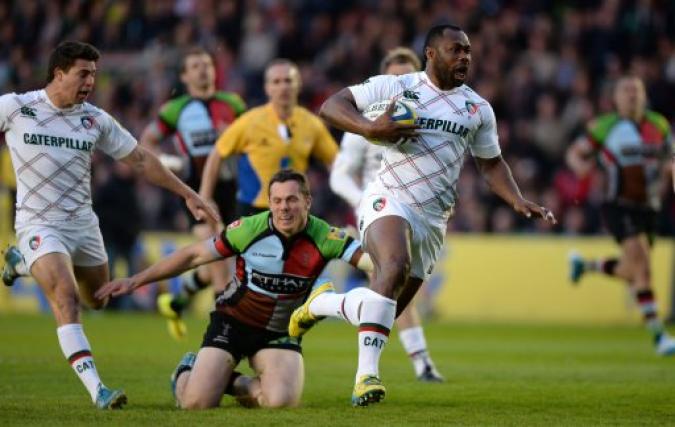 Goneva Scores
By Stopsy
April 19 2014
Harlequins 24 Tigers 20 So seeing as no one else can be bothered to help our site out, you are lumbered with another effort from me. 19:45 on Good Friday, what a time to pick! It's bad enough trying to do these when sober.
I am not sure of the fitness or injury issues behind our team selection and Tom's omission from the squad is, I pray, on grounds of preservation rather than necessity. I am interested and pleased to see Toby back in the side; this is no comment on Owen, who I believe has been showing fantastic maturity and play over the past few fixtures.

Will Logo actually take the pitch after coming off last week? No disrespect to Fraser but I hope so.

There is an Austin inspired thread on the Quins board regarding the relative merits of Care and Youngs Minor and it reminded me just how far the former has travelled in my regard over the past few seasons. Before that I regarded him as being similar to the main character in this advert [www.youtube.com] , not the man with the dog! However I have seen him overcome personal issues and also broaden his game to become really irritating in an entirely different and admirable way.

Please let there be no repeat of his match winning performances against us tonight.

Logo does make it onto the pitch and Marler doesn't, Lambert filling the breach at Loosehead.

The ground looks packed and indeed is a sell out with no need for any non rugby razzle dazzle entertainment, surely these people cannot have paid full price for tickets in order to watch a top flight clash in the Premiership, it will never catch on!

Toby takes the kick off, high and hanging and wonder of wonders, chased by Scully who is duly obstructed, 0 – 3. Quins kick off and Scully challenges Easter in the air for the ball and strips it from him and we go to the TMO, seeing as Easter caught the ball before Scully it makes it a tackle in the air. Penalty to Quins who kick to touch, Quins go for the catch and drive but Slater admirably disrupts them and a scrum is awarded which is reassuringly solid.

Care is already looking threatening except when he and Ben are exchanging smiles and pats all round. My internet feed then hangs but it appears we have scored. Fortunately I get to see the replay and we are very lucky that the TMO adjudges no forward pass twice for Niki to score, we would have been livid had that gone the other way. The sooner we go back to a simple and consistent did the ball travel forwards interpretation, the better. Toby adds the extras and we are 0 – 10.

Care takes a quick one but is called back and the ensuing penalty makes it 3 – 10 with just 7 minutes gone. Scully again chases the restart and the Slater twins are everywhere, there must be 2 of them!

Toby hits a fantastic penalty to touch on their 5m line, the ball is taken well and spread out to the opposite flank where unfortunately it bounces off Slater's chest for a knock on. The crowd are making a great atmosphere, amazing what can be achieved when 2 teams are really going for it. We are however becoming increasingly inaccurate with knock ons. The scrum is also interesting as I haven't seen a 4 man front row deployed for a long while and I thought Wallace was a Flanker. Sinckler is doing well by hook or by crook against Marcos and showing an admirable propensity to play what you can get away with but I am more impressed by Lambert who had a rock solid game against Logo.

Brown and Care are beginning to threaten more and it is quite clear that we are struggling with their pace. We are also inaccurate at the breakdown, Ward turning over the ball well when he should have been splattered into next week. Another penalty and Evans makes it 6 – 13 and Quins are looking increasingly dominant aided and abetted by some distinctly dubious interpretations from the ref so it isn't just us that benefit from his decisions.

And the internet goes down again.


By the time it is back Quins have levelled the scores at 13 apiece, I understand a penalty try from a scrum going down for the first time and it is Half Time.

The first scrum of the second half sees Quins retreat at a rate of knots and we get a penalty, its all well and good being dominant in the scrum but where you do it on the pitch makes the difference.

Crane is off, Matera on and we seem to be missing what Jordan brings to us, a bit like Allen, you really notice when he's not there. Scully then beats Brown to touch down and excellent communication between the ref and TMO shows that Scully took the ball over our try line so 5m scrum. Sinckler then pops up out of the scrum but is invisible, he then rapidly gets involved and goes over but is held up. The tide is against us now. Brown and Flood get involved, Flood knocking Brown late and Brown responds but TMO advises to leave alone.

Sinckler is then on his knees and Marcos is penalised for dropping the scrum! 16 – 13, really Sir?

Hawkins on for Briggs who has had a solid game. Manu is making yards but is pretty well marshalled by the Quins defence. Deliberate offside? No just intercepting a scoring pass from an offside position, really Sir? Never mind, the penalty is taken and the ball gets to the impressive Gibson to score the extras added by Toby from out wide. 16 – 20.

Geoff on and immediately you can see him communicating. We get a scrum the ball just sits in the tunnel and this time the ref sees Sinckler go to ground and penalises him.

Another mini punch up as Matera is daft and Robson violent, both get a yellow card that penalty would have taken us 7 points clear assuming it was successfully taken, penalty reversed only once, really Sir?

And the internet freezes again. Brown has scored and a further penalty take it to 24 – 20 and the ball is kicked out for no side.

A good game to watch, I bet the neutral would have enjoyed it as much as the partial. Well played Quins and both sides put on a show to reward the crowd who in turn made a fantastic atmosphere. So a home semi looks unlikely, let's make sure we get a place in the Play Offs and pray we don't get this ref again or if we do, we up our game significantly to take him out of the equation. We lost tonight because we didn't do that.
View a Printer Friendly version of this Story.
Harlequins v Tigers AP Match Report
Discussion started by TheLeicesterTigers.co.uk , 19/04/2014 18:43
TheLeicesterTigers.co.uk
19/04/2014 18:43
What do you think? You can have your say by posting below.
If you do not already have an account
Click here to Register
.
Edited 2 time(s). Last edit at 2014:05:21:20:12:14 by Tiggs.
Cheers, Mike - a fair summary. Dealing with the ref's idiosyncracies better, and not conceding yellow cards in the crucial last few minutes would be a good plan for the remaining games of the season.
riverlodge
21/04/2014 20:55
Saint, in peace. very good report.

I obviously wanted you guys to lose but even when you do lose (did you, I think you just about did?) the victor needs to be shoot you with a silver bullet, stab you in the heart with a bowie knife and make you eat 10lbs of garlic. if you don't do all these things........
Sorry, only registered users may post in this forum.