Tigers v Ulster ERCC Match Report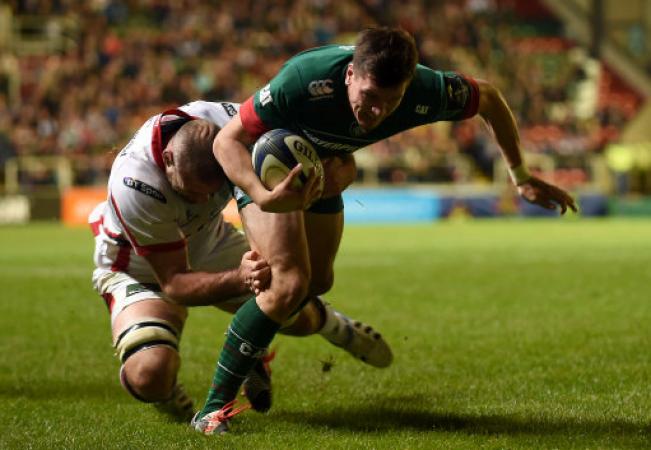 By Stopsy
October 19 2014
Enjoy the journey. I travelled more in hope than expectation, my prayer was, as ever, let us play to our best, individually and collectively.
Evening kick offs or as the Axeman rightly points out, night kick offs, are a pain, I had wanted to take my daughter out for a meal but needing to be in the ground for 6:30 and wanting to get home before midnight means that wasn't going to happen, so we had to sustain ourselves with samosas in the Swan & Rushes. Apologies to all around me on the terrace and Mrs S this morning for my breath!
The crowd was sparse and even on the tickets sold measure was the lowest attendance of the season, disappointing that so many were robbed of seeing what I felt was a good game by the desires of our new TV paymasters.
The game kicked off, I was immediately impressed by our defence, it was so much more coherent and consistent than in previous weeks, thank you Mr Blake.
Ulster took a 0 – 3 lead from a penalty at the breakdown which was somewhat ironic as M. Poite seemed to be somewhat laissez faire (I wonder what the French is for that?) in refereeing that aspect of the game all night. Players diving off their feet, no arm shoulder charges, interference beyond the breakdown, laying all over the ball, delayed attempts to roll away all seemed to be ignored in M. Poite's determination to check the defending team were onside.
Manu made a break and was flopped upon by two tacklers who made no attempt to roll away ensuring there was no quick ball and once the ball had been eventually dug out, Manu remained prone. 15 minutes and our talismanic Centre was off (please recover swiftly Manu!). That said, I was delighted in that he wasn't really missed for the rest of the game.
What followed was wondrous, we smashed the ball up to the try line and Owen, ignoring a wide open field advantage, bludgeoned his way over. The TMO took and age and in keeping with these modern times, just when even all the cyclopean terrace dwellers around were agreed that it couldn't reasonably be awarded as a try, M. Poite raised his arm.
Next, Gibson closed off the open side of the breakdown so the Ulster 9 doubled back and Ben intercepted a pass from his diminutive opposite number, had he not regained control he could have been sent for 10 minutes rest as was the vogue last season for genuine attempts to intercept, however, he did. Feeding Kitchener the work was done and the big Lock duly went over for our second. By this time Cockers had, I am advised, overruled Burkey and Owen took over the kicking duties. I know Freddie needs confidence but in a game such as this, the 5 relatively straight forward points that were missed is a high price to pay.
Then Freddie shaped to pass out to the wing and delightfully stepped inside to go over. 3 tries in 15 minutes, Ulster were on the ropes. Leo was denied a 4th by Ben's foot being just in touch at the breakdown before.
We then endured a couple of minutes before half time but the score remained the same.
The second half started and we simply had to score first to keep Ulster under the cosh, Owen duly obliged.
What followed mystified me, we suddenly reverted to hoofing the ball poorly, whether in attack or clearing our lines or from restarts.
The excellent Scully could only get to the 22m before the ball had been gathered on the 5m line and returned, why give the opposition so much time to make the catch? One such kick off leading to our put in at a lineout 5m in our own half.
We kicked to the Ulster back 3 to relieve pressure, the last thing we needed was Tommy Bowe at full speed.
Most worryingly, the players seemed incapable of seeing how this execution of the tactic was failing, worse still, despite copious interventions of the coaching staff on the pitch in the not entirely convincing disguise of Geordan and a water bottle, no one else seemed to notice either that hadn't paid for their ticket!
Ulster scored a try down their right which was a thing of speed and beauty, we continued to give them the ball back at every opportunity and they duly obliged by scoring under the posts with the 2nd Row having the wit to dive over the breakdown to touchdown. Fortunately the splendid Gibson had not given up and charged down the conversion to keep Ulster 7 points behind.
We also saw the unedifying spectacle of Freddie pointing and shouting to someone, unaware that the ball was descending on him. Fortunately after letting it bounce we got it away. I was not entirely convinced by Freddie's limp as he came off immediately afterwards.
We then seemed to shake off the malaise and forced some territory only for our lineout to malfunction for the first time in the match with overthrows, not straight and cabbaging from the hooker.
The defence however withstood the ensuing Ulster onslaught and I hope we do not rue the lack of a bonus point or the allowing Ulster to get one when the final reckoning comes about. This was a game I was delighted we won but it could so easily been a bonus point win without Ulster getting anything.
This was a real team effort and a great result, I enjoyed the game. Gibson was immense as was Williams, Tait was imperious under the high ball and Scully and Benjamin showed speed. Goneva made a great line break but was otherwise subdued and I'm not sure how Ben got MOTM. Up front we matched them and even outdid them in the lineout, amazingly Fraser getting pinged for doing what their 3 did for the entire 1st half without sanction. Marcos was Marcos J. Gibson continues to impress and Crane and Salvi delivered what was expected. Barbieri tackled like a demon when he got on.
However my MOTM was Phil Blake, thank you.
View a Printer Friendly version of this Story.
Tigers v Ulster ERCC Match Report
Discussion started by TheLeicesterTigers.co.uk , 19/10/2014 19:35
TheLeicesterTigers.co.uk
19/10/2014 19:35
What do you think? You can have your say by posting below.
If you do not already have an account
Click here to Register
.
Edited 1 time(s). Last edit at 2014:10:30:18:15:13 by Tiggs.
Strangely enough that was exactly the game I saw from two feet in front of you!
Always a pleasure to see you Mike.
...
Edited 1 time(s). Last edit at 2014:10:19:23:14:14 by Rich W.
Thanks Mike it was like you were there this time !
Edited 1 time(s). Last edit at 2014:10:23:18:41:22 by Tiggs.
Well it served it's purpose and kept the board alive for a bit longer.
Thanks Stopsy , reminded me of how nervous I felt before the game , not about losing but about how we would perform.
Sorry, only registered users may post in this forum.