A Visitors Guide to Leicester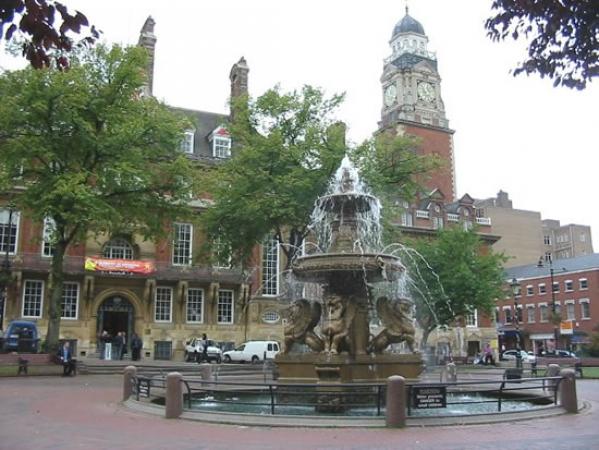 Town Hall
By RichW
July 28 2012
Welcome to the beautiful garden city of Leicester? Ok? No? Perhaps not...shall we try again? Welcome to…well…Leicester. There, that's better. We all appreciate that coming to Welford Rd to watch your team get its regulation spanking can be a painful and dispiriting experience so, being the good welcoming folk that we are and possessed of the regulation number of fingers, heads and toes and being well balanced and impartial we present this guide to enhance your visit and maybe to help obviate the painful hurt of inevitable defeat.
Whilst it is of course impossible to cover every possible option hopefully, gentle reader, you will find below, an acceptable selection of amenities and attractions to enhance your visit as suggested by the readership of our little web-site.
Basically – these are some of our favourites. Hopefully you will find something that appeals. If you need more information about anything I'm sure someone will be able to advise on the message board.
So – to business...
...arriving…
The Train
Newly beautified – well the works should be complete by the start of the new season – Leicester's London Rd Railway Station is well sited for those headed to Welford Rd – straight out the door across the road, follow the signs, keep walking – 15 mins tops – really if you get lost you shouldn't be travelling without company…
It's also really convenient for many of the pubs and restaurants mentioned below making a post match drink or two and a bite to eat eminently practical before the journey home.
So where possible the train is a good option.
Parking the car
However there will be many for whom the train is not an option and for those, a word of warning: parking in Leicester can, as in most British cities nowadays, prove a difficult, fraught experience. What with the free-booters and privateers at one end of the spectrum and the official council backed sharks, with their army of traffic wombles (I wanted to call them something less complimentary but thought it politic to refrain) busily making out tickets to hit their performance pay based targets at the other – and all squeezing in on a dwindling stock of free parking it can seem that the motorist is a persecuted minority at times. (I'm not angry…)
Anyway:
I think services run until 7.00pm, and not at all on Sundays, so it's only good for Saturday afternoon ko times. The buses stop at St Nicholas Place – about 15 mins walk from the ground and convenient for Highcross shopping and many of the central hostelries and eateries mentioned below.
Free street car parking in Clarendon Park LE2 – streets of Victorian terraces off the A50 Welford Road south[ish] of the ground, bounded by Victoria Park Road, Queen's Road, Avenue Road Extension…an easy 20 minute walk down to the ground but uphill on the way back – so time to get the refereeing decisions out of your system before you head off; though you can of course go further out if you've time and don't mind stepping a bit further. Please try to park responsibly around here – try not to block the pavements and locals' access and don't use two spaces when you can use one!

Clarendon Park [LE2]
There is of course the NCP next to the ground (behind the main stand) which gets very full very quickly – and charges NCP prices (£10)…and also restricts departure until 30 mins after the final whistle – although I don't see that making much difference given the usual post match grid-lock. Basically – don't park close to the ground if you want to get away quickly – you're probably better off 10-15 mins walk away!
Which, if you head down Aylestone Rd away from the city, is about the distance to Raw Dykes Road and surrounds. There is some on-street parking down that way if you get there early and it will get you out past the traffic if leaving sharp.

Raw Dykes Rd
More parking can be found at the De Montford Hall – follow the signs and look for the war memorial – although, confusingly, it's not open every week for some reason.

De Montfort Hall
The NCP on the Newarke is conveniently close to the Tigers shop in the city centre for those wanting a souvenir of their visit – go on you know you love us really – but is also well positioned for cafés, bars and other good city centre-type stuff whilst only a brief stroll from Welford Rd stadium in the other direction.
There are of course several others: click here to see Leicester car parks.
A point well made by one insightful contributor to this guide is that, when parking in Leicester it is perhaps wise to bear in mind where not to park as much as where to park. So – avoid the Morrisons' car park and the bingo and Cinema car parks backing onto it. Parking on the grass verges opposite the stadium from Waterloo Way up to the railway bridge on Welford Road is, despite the absence of any obvious signs to the effect, a no parking zone and parking wombles a-plenty, all armed with their instamatic ticket dispensing machines, prowl on match days; preying on the unfamiliar and the unwary.
Now – time for the good bits!
We're all going down the pub…
In no particular order:
The Pub on New Walk – numerous real ales, and continental lagers, Belgian Beers on draught with a wide range of bottled beers, decent grub – great Scotch Eggs – and post match some of the best clientele you could wish to meet – so that'll be yours truly and associates then! But don't let that put you off! Right next door New Walk Burgers (open evenings only at the weekends) does a good range of gourmet burgers.

The Pub
Currently closed - Nearby on Churchgate is the Longstop, another good freehouse with lots of good real ale variety. Longstop
Also worthy of a mention is The Ale Wagon on Rutland Street off Charles Street if you want an old fashioned city boozer with local ales. I am genuinely surprised it has website…which tells you something. A little shabby at the corners, don't bother if you want elegance, music sky sports etc!

The Ale Wagon
The Kings Head on…wait for it… King Street (would you believe it) with a back door onto New Walk and conveniently facing The Pub, has recently been taken over by Black Country Ales who have given it a new lease of life, with 8 hand pumps on. Cosy but with a decent part covered patio area behind it's an unfussy drinkers pub offering a restricted selection of basic grub.

Kings Head
Swan and Rushes – another pub favoured by regulars on this board and another pub that does a wide range of real ales, continental and bottled beers – some would vouch it the best range in Leicester – and who am I to argue? Good pre-match bar snacks (cobs, samosas) with pizza's available after 5.30pm – and, whisper it soft, if you're lucky you might even see that rarest of things – no not the transit of Venus – but Tiggs buying a round! One minor point – due to its size, quality and proximity to the ground it gets very busy on match days.

Swan and Rushes
The Sir Robert Peel – famous amongst some users of this site for its cheese and onion cobs – decent, old fashioned back street pub behind the Royal Infirmary and just about a good touchfinder from the Welford Rd stadium. It's an Everards House and if Everards Beers are your thing, they do well run, well looked after pubs.

The Sir Robert Peel
The Counting House – quirky sort of place in the counting house of old Cattlemarket with its handsome clock tower and central bar. Sadly a Greene King house travelling under their Hardy Hanson's affectation and purveying their usual identikit, characterless beers, but convenient and serving acceptable, standard pub fare. Very close to the ground.

Google Map.
Bricklayers Arms – close to the ground, and conveniently en route from and to the city centre – a large, open, traditional pub.
On the way into Leicester from the South along Welford Rd, the Donkey and New Road Inn, side by side – both acceptable, some local parking and a short walk to the stadium. The Donkey can be varied apparently but if there is music on (and he hasn't sold out of beer) it can be a great post match venue with good real ale. The NRI– in a former life your correspondent's manor – has a better than passable Indian menu and serves a decent pint.
If you're arriving by train Parcel Office (formally Time Bar), next to the station is convenient and it will have plenty of fans in it – though personally I think it's hideous and I'd avoid it like the plague! But then some people like the fake, the over-priced and the pretentious – looks great in an old railway building though!

- recently revamped.
There's also the nearby Weatherspoons: The Last Plantaganet on Granby Street – with all that's good (and bad) about the market leaders in the provision of big drinking barns: cheap drinks, real ale, cider that isn't Strongbow and decent wine to go with a range of cheap edible food options, but somewhat formulaic and short on atmosphere. Good for breakfast and early food and drink, as is the High Cross – another Weatherspoons on High Street. The one thing about a 'spoon is you know what you're going to get.

The Last Plantaganet High Cross
Currently closed - The Black Boy on Albion Street the favoured watering hole of a now sadly departed, good friend of mine. A regular Pub of the Month winner down the years; a handsome old Victorian back-street pub and keeper of the 'best pint of Bass in the county'. A place I have wasted many an afternoon watching the cricket in the back bar. Black Boy
Useful link to Leicester CAMRA's map of watering holes.
And there are of course variously, and in the main conveniently, The Varsity, O'Neills, Scream/Loaded Dog and Walkabout (showing rugby if anyone wants to watch a game before or after the real thing) – chain pubs all, selling bland, mass market drinks brands. I'll let those of you for whom that appeals [of student age] seek them out for yourselves – they should be easy to find on-line.
Pre-match grub:
I must preface this by saying that these suggestions are made on the assumption of a Saturday afternoon kick-off. Should we find ourselves subject to the vicissitudes of the Television schedulers with Friday night, late Saturday and Sunday kick-offs some may well not be open and others perhaps impractical.
If you don't mind eating on the go Bombay Bites on Belvoir Street is possibly the world's smallest Indian take-away. But don't let its size fool you – this place is the beans! It does great take-out boxes of spicy heaven for a very reasonable price – superb quality, selection and value. Try a three item starter box but chance your arm for extras by asking what something tastes like – they tend to load you with tasters. More than a few of us love this place!

Bombay Bites
Down Belvoir Street on the corner with Granby Street is the Peri-Peri Original franchise with their flame-grilled peri-peri chicken – from garlic to mouth tingling extra-extra hot. A bit like Nandos stripped down and nitrous injected; and so much better than the all too numerous fried chicken shacks.

Peri-Peri Original
Top quality sandwiches, wraps, rolls, melts etc from Croques on Loseby Lane in the Lanes (opposite O'Neills). Boxed up – £3-4 for a huge variety of quality fillings of some quantity!

Googly map click thing
McIndians - 'You've tried the cowboys now try the Indians'! There is one on London Rd (turn left as you come out of the railway station if you're arriving by train and head up the hill) and another in the city centre, purveyors of spicy Indian influenced fast food for 20 years. More fast food than an Indian takeaway but none the worse for that. Patronised by at least one of our number with near religious fervour on each of his all too infrequent trips to watch Tigers.

McIndians
Pizza Express on King Street. Usual stuff from PE – good, well priced, slightly up-market pizzas and associated offerings – before the game you can apparently get a 25% discount off your bill if you present your match ticket. Can't say fairer than that! There is another one at St Martins Square and another next to the Highcross Shopping Monstrosity.

Pizza Express on King Street St Martin's Square Highcross
Whist we're on the subject – on Welford Rd on the way to the stadium from the city centre and on High Street close to St Nicholas Circle you'll find TJ's Burgers. A long established Leicester firm - you can find several of them around the city they certainly used to be good with a good range of interesting finishes – but I haven't tried them for years to be fair.
In the ground
Food – pies and pasties at the Goldsmiths stand end of the Holland and Barrett stand are acceptable if not outstanding and there are the usual numerous burger, hotdog, hog roast and do-nut (sic) stalls. You can get a passable impression of a curry below the Goldsmiths stand – but why would you? Save yourself and have a proper one at the numerous places suggested both above and below.
With Everards Tiger on hand pump in the Club House Bars and the Final Whistle behind the Cat Stand (which usually features live music post match, from house band Rock Bottom) offering an alternative to the otherwise standard fare of Strongbow, Carling, Heineken and Guinness with some vin ordinaire for those who prefer the grape, it's by no means a desert. As you might expect though, it's an expensive place to drink with Heinken and Guinness pushing £4 a pint! Other bars (too numerous to mention) the style and atmosphere of each varying, have 'smooth' Tiger – oh the humanity!
After the game many of the bars remain open for a while and there's a big difference between the bars around the ground but as some close down many of those remaining in the ground head for the cavernous Final Whistle where things continue for hours after no side. The choice is yours but Rock Bottom will entertain you for an hour or so and the pubs and bars outside will all still be there later in the evening.
Post-game eats.
Well it's Leicester so Indian food is front and centre.
For ease I've divided them into two areas – London Rd – which is convenient for Welford Rd and the train station and Belgrave Rd/Melton Rd which is less convenient but possibly more authentic; the sub-continental cultural centre of Leicester.
There are of course so many options in Leicester that I couldn't begin to mention them all but this is a flavour provided by those contributing:
Kayal on Granby St at the very bottom of London Rd – superb and a bit different from your standard curry house its southern Indian, Kerala menu is a revelation. Try the mixed seafood curry or the beef chops and definitely try the breads!

Kayal
The Curry House – again fairly standard North Indian cuisine and no pretentions to be anything else but the food is excellent (the Indian Cricket team are known to head there when playing in Leicester) and the service fast (possibly a little too fast for some). It's always busy on match day evenings but they've always managed to accommodate even groups of 8 or 10 of us with only the briefest of waits.

The Curry House
More Restaurant – next door to The Curry House it's not exactly Indian though they do do Indian – and Thai and Chinese and other foods from around the world. If you fancy a bit of everything it might be worth trying this International Buffet style restaurant. And you can keep going back & back & back! So fill your boots. The sweets/puds are very good.

More Restaurant
Moving over to the Belgrave Rd/Melton Rd are – the Golden Mile – famous far and wide as a little bit of the sub continent in Leicester. It's a bit of a trek from Welford Road but well worth the effort.
Others further afield.
Paddy's Marten Inn on Martin St, off Catherine St. It is always booked up in advance - so you'll need to book (Tel 0116 266 5123). Formerly a pub it now has a strong claim to being the best Indian Restaurant in Leicester. And that is saying something!

Paddy's Marten Inn
For the vegetarians among you Shivalli the Village Vegetarian – (I know that sounds a bit like The Village Idiot but work with me) comes highly recommended. Well situated (open Sat for Lunch – buffet £4.99) en route to the game from the city centre or vice versa on the way back afterwards! Owned, we think, by the same folks who own the aforementioned Kayal this is the vegetarian version of Southern Indian Cuisine!

Shivalli the Village Vegetarian
Poppadoms on Welford Rd: A little out of town but convenient for parking if your way home is to the South side of the city. Opinions as to its quality are a little mixed but it's been there a long time so you'd think they must be doing something right in a competitive market place! Occasional haunt of some Tigers players apparently! I suggest that you avoid Little Italy next door - the food perhaps reaches the dizzy heights of adequacy but the service really doesn't!

Poppadoms
There are dozens more of course – beyond counting really – but these have been recommended by at least one of our number.
For those who don't want curry (weirdos):
Nearby, the Highcross food precincts include 1573 Bar & Grill; Almanack; Cafe Rouge; Carluccio's (see above);EAT; Handmade Burger Co (see above); Mem-Saab – posh curry – which kind of misses the point in the mind of your correspondent, but hey…to each their own… Also: Nandos; Real China – a serious competitor to Terracotta; Wagamama and Yo! Sushi for the raw fish lovers. Take your pick…
And if you want something special The Case – Not cheap I'll admit but you get what you pay for – quality. In my humble opinion, the best restaurant in the city. But then I would say that being related by marriage to the proprietor…

The Case
Spanish: , Barcelonetta on Queen's Road. For those who choose the free parking option up in Clarendon Park the least you can do is spend some money on their doorstep. I really like this place. Good range of tapas (though like all British tapas bars they haven't quite grasped the idea of a few dishes at a time preferring to bring them all at once) well cooked and presented, with plenty of good things to drink. Better than any of the chain Tapas places and a lot more fun. Not for those afraid of garlic!

Barcelonetta
And whilst you're there try Babelas Continental Bar across the street. It's an odd little place but has a great atmosphere and good booze including Taylor's Landlord on hand pump and a wide range of Belgian beers.
Or if Kebab is more your speed: Pavlos also on Queen's Road is probably the best in town. Again it doesn't look much but they've been doing great Cypriot grub since before I first landed here as a penurious student (can you feel my pain?) those 30 long years ago. Take-away only but highly recommended by many contributors to this board.
Italian: , San Carlos on Granby Street. Well I suppose it's a chain but for upscale Italian dining there aren't many better and certainly not in Leicester. Maybe a bit pricey for a night after the rugby but it is a great option if you fancy something that isn't Indian!

San Carlos
Casa Romana on Albion St – once again it's another place with an unprepossessing appearance but they've been there for many years as the oldest traditional Italian restaurant in the city. Good food and reasonably priced, family owned with an upstairs loft for large groups; its centre location means it's close to most things – including the Welford Rd.

Casa Romana
En route to the aforementioned Poppadoms and Grimsby Fisheries and just along the road from the Donkey is the wonderfully named Chinese 'The Big Wang'. Great [authentic] food, they do serve the standard Chinese menu fare but if you are feeling brave – Pigs Ears and other more unusual bits of animal anatomy are available. Well worth a visit.
A little out of town – you'll need to drive or take a cab – is Timo's on Allendale Road. Owned by Welford Rd luminaries Castro and Geordan Murphy, its walls adorned with framed match shirts of a multitude of opponents, great players all, it's well worth the trip. Not inexpensive and you definitely need to book well in advance on match days but you'll often find yourself in the company of players and the food and service are top drawer. Oh and there's a picture of the big man making pizza here ! Obviously!
A bed for the night:
First a disclaimer – since very few of us will have stayed in any of these the comments below are not, perhaps, authoritative – but I doubt there are any real horror stories here:
The Belmont : Quiet with a little park opposite but convenient for Welford Rd and all of the pubs and restaurants mentioned in London Rd area above. It's nicely sited on the tree lined, Victorian pedestrian way; New Walk. Experiences of the Belmont are mixed but you can't fault its great location.

The Belmont
Travelodge Leicester Central – the usual from Travelodge – at the back of the High Cross, popular due to bars and food nearby; and the cinema and casino for those with time on their hands with shops – lots and lots of shops – very near for those for whom retail therapy is their bent…
Lastly – a word of warning perhaps about the area around the Days Inn and the Campanile. Backing on to one of the city's less salubrious districts there is surely nothing wrong with the hotels themselves, but reports are of a few visitors having come unstuck in the area after dark.
And that's it. Thanks to all those who contributed suggestions and comments on this. I hope we've managed to provide a range of choices for visitors but I have to point out that this has all been a rather unscientific process with subjective opinions from across numerous users of TheLeicesterTigers.com. So caveat emptor! Apologies if anything above is inaccurate or if any of the suggestions disappoint. We did our best! If anyone finds another recommendation or has a bad experience feel free to let me know – I'll try to update this once in a while.
Rich