London Irish 14 - Sale 31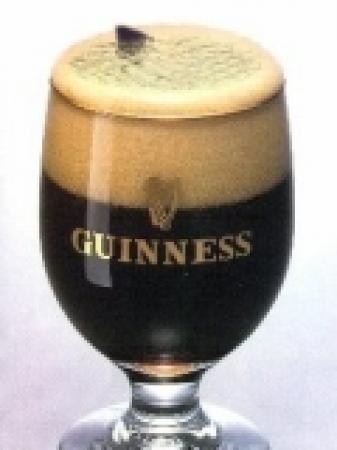 By Auntie Angel Shark
October 17 2006
Guinness, green wigs and drums. A day out at the Oirish is generally enjoyed by anyone who travels to Reading. Sale's record at the MadStad is quite good, but LI finished strongly last season, so there was an air of expectation for this one. Angel Shark dons her leprechaun outfit and heads south...
After a quick breakfast, we set off to get petrol and driver's mints for the long journey to the Mad Stad for only my second game of the season. That sounds like I was playing, doesn't it? My main reasons today were to watch Sale, obviously, but also to meet the Wakefield family who would be making the journey from the Isle of Wight.
Anyway, we negotiated the motorways, only stopping once to retrieve the mints, which had rolled under the seat. Three hours after setting off, we pulled into the car park at 12:30 pm. After a short text conversation with Levellershark, it seemed they were running late – by a good couple of hours, and would be lucky to get to the ground for half two. Well, some people won't be getting a nice present from Santa (stan) this year by the sounds of things!
After a quick cup of coffee in the car, you know you're getting old when you bring a flask… we set off for the hotel as that's where some of the LI board's posters would be. I was just about to open the door to the 'comfort facilities' (thanks MWM for that wonderful description!) and a voice shouted "Auntie!" I walked over and was introduced to a bunch of lovely people, and was finally able to put faces to the names. After having my wig nailed on at the bar for two drinks (£6 for a Guinness and a J20 with soda!) Colin struggled to keep a straight face as I lifted my chin off the floor. We chatted with Carlovian (Mr) about each team's chances and asked about the live music in the 'Cowshed'. As we chat, Nick Johnston walks past. I wonder. If he was on Through the Keyhole and they opened his wardrobe, would it just be loads of pairs of shorts on hangers? Meanwhile… back in the real world… Carlovian gave us directions to the Cowshed, and we set off through the glorious sunshine.
On entering the Cowshed (it's in the North stand so you know for next time) we bumped into the rolyns and oxfordshark, who said "Have you seen Gordon?" I replied that I hadn't and they pointed him out to me. As I looked over, the Wakefields turned and spotted me and after a big teary hug we got chatting. Vickie was excitedly mumbling something and it turned out that Gordon had said that he'd give them £10 for every Jack Wakefield's Pirates/LI shirt they saw and I'd put another £10 in the kitty! He must owe them an AWFUL lot of money – there were loads! Don't worry, I had my lovely new Sale shirt on over the top. The Wakefields then set off to spend Gordon's money in the shop and we said "See you later!" The next person to come over was Gagging4AGuinness and his lovely other half, and we had a nice talk with them… just don't mention hair dye!
On the way to our seats in the East Stand we bumped into MulledWineMarie, who was giving out homemade sausage rolls to anyone passing (they were delicious, by the way!). Making our way into the stand, we were pleased to see so many Sale fans had made the long journey Dahn Sarf, although there didn't seem to be any funbussers in evidence. We also spotted a local celebrity – Digger the Dog! He's a huge Irish Wolfhound and was proudly wearing his London Irish colours. There was another celebrity in front of us but without his trademark hat… the one and only (thank Goodness!) f!
As there was lots of room, we decided to move to seats that were a bit more central once the game had started. Well, that added to the fact we heard someone describe Billy Whizz as being 'a Manc, through and through'…pardon me?
Right, you'll have to bear with me from now on as I can't do that blow-for-blow rugby stuff, only the waffle that you've just had to plough through. Bruno receives treatment to his head and we suspect a hair injury. A large bandage is applied à la Mr Bump and he's back into the fray. An Irish player is binned and Sale have the man advantage. Charlie slots a penalty through and Sale are three up. The pressure on Irish is relentless and following a long kick by the Yorkshire Manc, Cuets scores. Following the conversion by Charlie, there can be heard the mysterious tones of the cowbell…
Mr Bump is working well and his endeavours lead to a try from Mark Taylor, once again converted by Charlie. Sorry Gordon! He'd asked if I could have a word with the lads to give the Exiles a ten-point start but it isn't exactly panning out the way he'd hoped. There's a bit of a to-do down below us near the touchline between an LI player who seems to have hold of Wiggy's head. As Wiggy breaks free, he stands up leaving the LI lad on the ground. After a bit of a kerfuffle (I'll say no more!) in front of the ref and touch judge, Sale are penalised and from this Irish score. LI 7 Sale 17. From the restart, Sale surge forward and at the end of a wonderful move with a dead certain try at the end the ball is passed forward. AARGH! More work from the boys leads to a try by our very own Spanish Sirrocco, Oriol Ripol. Boy he can shift! The conversion by Charlie brings the points tally up to 7-24 and then it's half-time.
The first few minutes of the second half are like chewing a Quality Street toffee penny – a lot of effort for no result. Substituted are Tay and Big Barry who are replaced by The Bear and The Mayor. We break and the ball is passed along the Sharks line and as it heads towards the corner it goes to Deano... who fumbles and drops it. He only had to catch it and fall over the line – no 100yard dash required! – and the ball is on the deck. His impact on the game, though has been noticeable and it's good to have him back. With 21 minutes to go, Deano is replaced by Sea Bass, resplendent with his big bouncy ponytail. Away we go again and once more it's The Rip putting the ball down under the sticks. He's like lightning! The conversion from the boot of Charlie brings the tally up to 7-31 to the Sharks… and gives us a bonus point.
The fervoured drumming of the East Stand drummers can't lift the Exiles, who are stifled by Sale at every turn. The big lad Briggs takes over from Mr Bump and Lilo comes on for Wiggy. Can someone get hold of a tin or ten of that stuff you spray on your hands and it makes them sticky? We seem to be Teflon coated today. J-Lo (that's Junior Lobbe) is lifted up and crunched head-first into the deck. Ouch! No action taken by the ref, who seems to have gone a bit vague. Ten minutes left and Elvis leaves the building and on comes Thomas… six minutes to go and J-Lo is off and Christian 'the Cake Monster' Day comes on. With two minutes to go Chabal is binned. Not sure why cos it's the other side of the pitch and I've not got my specs on, but I'd bin him for his hairstyle alone. Oh, by the way Sebastian, my name is, erm, Mrs Doyle.
Finally, the drummers get their reward and the Irish score a try with only 45 seconds to go. We should have taken the hint from the Red Indian drumbeat and drawn our wagons into a circle. The kick is converted, bringing the final score to London Irish 14 Sale Sharks 31.
After giving our lads a round of applause, we decided to head back to the Cowshed, to let the car parks empty a bit and to see if we could find Gordon and the Girls to say 'sorry'! As the doors hadn't yet re-opened, we decided to grab a burger while we waited. This brought my favourite comment of the day, from a passing Irish fan. He shouted out "Hey, look at that! Even the fans eat raw meat!" Very good sir! We were then approached by a LI fan who I recognised as Bisach even though he didn't have his wig on anymore. He wasn't very happy with the ref and the team's performance, but said well done, and then set off to put his drum away. Finally the doors had opened and the crowds were streaming back in. We went back into the Cowshed and I joined the queue for a beer for me and a coke for Colin. I noticed that they were putting lids on the pint pots like they do with the coke and I thought... hmm, I know what I'm going to do. I paid for the drinks and grabbed two straws. I gave Colin his drink and before he could stop me I stuck the straw through the lid of mine and proceeded to drink my Guinness like a kid - via a straw!
MulledWineMarie then came over to say hello again, and then she spotted someone she thought should meet us. She walked up behind said gentleman and grabbed his collar and dragged him over… I think her and CE are from the same egg! The gentleman turned out to be SOD (Star of the County Down) and he was resplendent in a kilt. We were then properly introduced to Bisach, who had the look of 'I'm sure I just spoke to you in the car park!' There was no sign of Gordon and the Girls and as time was ticking on we decided to head off back Oop North. After a quick cup of coffee, we joined the traffic queue. We needed to get into the middle lane and we had to try and get in between the queue of cars. I glanced across to the car next to us and hey! I know that face, it's Miss Vickie Wakefield! After a quick conversation, Gordon let us sneak in and we were on the move again, albeit very slowly. All that searching and we find them in the traffic, heading to Southampton to get the boat home.
Further along the queue we pass the team coach, and a mile and half an hour later we're on the open road. We discuss the game and come to the conclusion that we were really on form and made the best of the play, and London Irish hadn't. The ref had been a bit odd in the second half; I think he wanted to get home for his roast dinner. We stopped for a short break at Norton Canes on the M6 Toll and I heard a voice say "Are you following us?" – it's f again! All the funbussers were there and seemed to be trying to drink the place dry of coffee. It's a long old journey down to the Mad Stad and I'm just glad we won – I couldn't bear nearly four hours of travelling if we'd lost.
Overview? Sale were firing on all cylinders though LI didn't make it to the races, drink your Guinness through a straw, my admiration for the Wakefields is a strong as ever, MWM makes great sausage rolls, don't buy drinks in the hotel, without the fumbles how many points would we have scored, and I'd forgive Deano even if I came home from work and found him in high heels and my best dress.
Auntie Angel Shark, The Mad Stad, over and out.