View from the south stand: Sale 46 Gloucester 41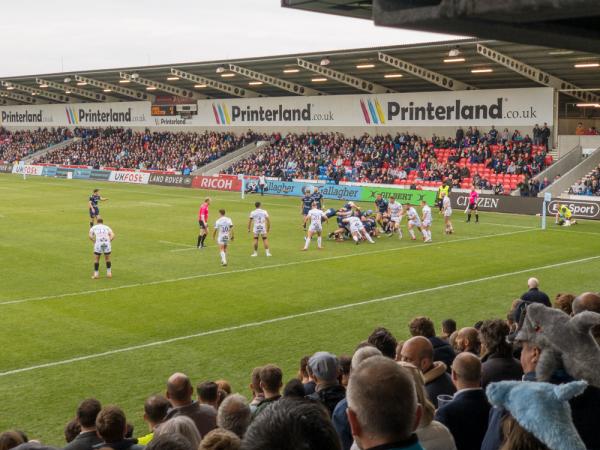 By Major Bloodnok
May 21 2019
A common saying—a refutation—joyous beginnings—inevitable continuations—mayhem and bewilderment—deja vu—expecting the worst—a magnificent finish.
It is often said (usually after a dour, low-scoring, forward-dominated borefest) that the speaker would rather watch a fast-flowing, entertaining defeat than a tedious win.
Nope.
Nope, nope, nope.
No way.
Oh, if you're a neutral, then a 13-try, 87-point yo-yo of a game is immensely entertaining. But 7,000-odd invested people at the AJ Bell on Saturday watched with racing hearts, clenched buttocks and rapidly see-sawing emotions. Enjoy a fast-flowing defeat? No way: at half-time, with Sale 24-26 down, I would have settled for a 3-0 second half. Actually, that's not true; nothing short of Sale camped on the Gloucester line for 40 minutes would calm the nerves.
---
The game started fantastically from a line-out on the left: off the top, Faf weaves forward, a Curry-Curry interaction event and — boom! — seven points up with two minutes gone. Easy, easy; this was going to be a good day…
Yeah, right.
Five minutes later, Jonno has a rare "after you, Claude" moment, Poledri oozes past, feeds Seabrook and it's 7-7. We were left wondering where Sale's defence had gone, and would it be reappearing at some point later in the game. (Edit: on further review, Poledri skinned Jonno for the second try, not the first.)
Fifteen minutes in, Sale have a 5-metre lineout on the right. Rumble, rumble, rumble and Wayne Barnes's hand is up signalling the try in the corner. Then things got a bit odd. Everyone was wandering back and AJ was looking over to the other touchline for the kicking tee when I saw the ball arcing towards the posts (wide, as it happened). "What was that?" I thought, assuming it was someone getting rid of an extra ball on the field, perhaps. Then I saw Barnes guiding a bemused-looking AJ back to the Sale half and heard him say "Sorry, AJ, Faf's already taken it. Still, at least you're still 100% for the game, eh?". Was there something iffy about the try, requiring a quick conversion? I couldn't see anything on the highlights, so I don't know why Faf did that.
A couple of minutes later, Sam James goes over, we're 19-7 up, not even twenty minutes gone and we've got three tries on the board. Has there been a game this season when we've scored so fluently?
At this point the Sale fans were delirious with delight and checking the score down at Leicester. The way we were going, all we needed was for Bath to fail to get a bonus point, and we'd be sixth and in the Champions' Cup next season.
Yeah, but this is Sale, isn't it? Twenty-three minutes in, Sale have possession in the Gloucester half, the ball goes loose and all of a sudden Vellacott is sprinting 70 metres for the try. And three minutes after that, Matt Banahan gratefully strolls through a pair of open barn doors to score under the posts.
So now it's three tries each, 19-21 and there's still more than ten minutes left in the first half.
Five minutes later and we got what we'd been waiting for for too long: an Ash splash. Bonus point try, three points ahead, five minutes to half time. That'll do.
Yeah, but this is Sale, isn't it? Dying seconds of the half, Gloucester have a 5-metre lineout, bada-boom bada-bing, it's half time, 24-26, both teams have a try-scoring bonus point and we're looking at one other asking "have we come to a Barbarians match by mistake?"
---
The second half couldn't continue in the same vein, could it? Generally, you have an open, high-scoring first half and the second is frequently a much cagier affair. And, to an extent, that was the case here. Well, if you consider a mere five tries in the second half to be "cagier" than the eight of the first half.
Two minutes after the restart, Ash fed Horse on the left and we were now 5 points ahead.
Five minutes later the scores were level at 31-all, and this was looking like an action replay of the first half.
Ten minutes later, Sale were 7 points behind and then, just into the final quarter, the deficit was 10.
We were now frantically checking the other scores and the league table to see if we were going to retain 7th place with the bonus point we had and if we could pick up another.
Within a minute of going 10 points down, though, we were 5 points down and then 3 points down as AJ converted his own try, which had come from some slick interplay between Faf and Denny down the right.
And then, a minute after that, the moment that I and, I'm sure, every Sale fan has watched at least a dozen times. Do I need to describe it? Do I need to talk about the Curry break, the Langdon offload, the de Klerk mazy run, the McGinty pass, the preternaturally long Solomona arm depositing the ball within a gnat's of the touch line? Anyone who was there will remember seeing Barnes calling for the replay and watching the big screen in disbelief as an airborne Denny did a Mr. Fantastic to somehow ground that ball. Those with RefLink will remember hearing the words "that's a try for me" over their headsets and going bonkers. We even vividly remember watching that most difficult of conversion kicks as it sailed nearer, nearer; the cheers starting as it curved its way in…
And bounced off the post. So, so close.
And here we were, from 10 points down to 2 points ahead with 12 minutes still to play. What else did this game have in store for us?
Not a lot as it happened. There was no further score until, with about 30 seconds left, Gloucester gave away a penalty close to their goal line. AJ looked as if he was contemplating going for the corner, but Dimes was having none of it. The tee was being held ready on the line as soon as Barnes signalled advantage and, when he blew, the tee arrived in Olympic record time. An easy kick, time up, victory by 5 points, 5 league points gained and our fate in the hands of a distinctly underperforming Leicester. Who deceived us briefly by holding a six-point lead, but giving up to Bath's bonus-point try at the death.
So, so close…
---
So, how to sum that game up? "Defence went AWOL" probably about gets to the nub of it. Several times in that game I felt that Sale players were plodding a bit – the effects of a long season with such a small squad? The maul fell completely to pieces – I dare say they could hear Dorian screaming from the Trafford Centre.
On the plus side, seven tries and all of them well-worked. Also, that was the first proper Faf performance in ages. He played the way we love to watch him play: darting, elusive, genius, frustrating.
I'm now trying to imagine what next season will be like. Will the new recruits hit the ground running or will they take time to bed in properly? How on earth do you perm three from Solomona, Yarde (oh, I am so looking forward to him coming back), Ashton, McGuigan, Reed, James, L. (maybe) and now Hammersley? They say that's a nice problem to have, but I'm glad I'm not the one who has to sort it out.
---
I say this most years but, boy am I excited for next season.
(Now watch England break Ashy and Tom at the World Cup).