View from the south stand: Sale 32 Leicester 5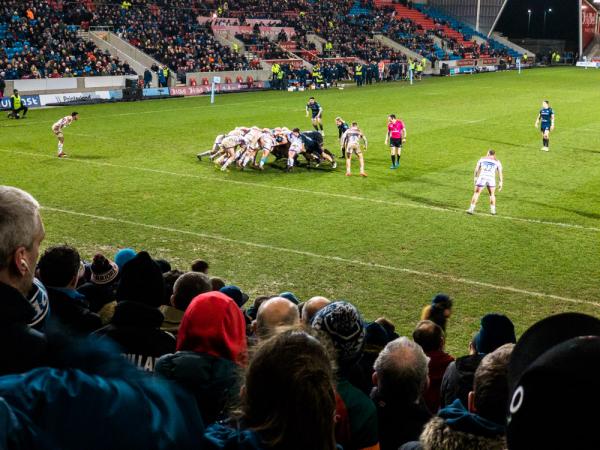 By Major Bloodnok
March 11 2019
Q&A—Miserable weather—Hopes and fears—Miserable start—A turn-around—Taking control—A satifying end—Prospects and pitfalls
---
Q: What does Faf order at the Chinese takeaway?
A: A number 8 and a number 9.
Ben Hughes found out in South Africa; Billy Twelvetrees got a lesson in it; several other players have learned it over the course of the season. This week, it was the turn of Sione Kalamafoni and Harry Simmons to find out what Sale fans relish most weeks: that small bundles can sometimes be very destructive.
---
The weather was pretty miserable at the gathering of the clans, which didn't bode well for a feast of running, Friday-night rugby. Given Sale's seeming ability to drop a Velcro ball, there was an undercurrent of trepidation that perhaps things might not go entirely to plan. Yes, we knew Leicester were missing a whole tranche of first-team regulars. Yes, they've been turned over several times this season by, shall we say, unlikely conquerors of a formidable side, but this is Leicester, and they are formidable, whatever the ravages of injury and international call-ups. This was probably as good a time to play them as any, but still there's that quiet, annoying voice pointing out that they are a team used to winning; they know how to do it against the odds.
Nobody tried to take a shortcut through the coach this week — thankfully, given the amount of time it took to get from the motorway to being parked up. There was no time to check out whether any defenceless songs were being brutally manhandled in the tent as we went straight into the ground to make sure we claimed our accustomed spots.
---
Things started badly (now there's a surprise). For the first five minutes, both teams were being pretty cagey, with what action there was mostly happening between the two 10-metre lines.
And then Faf – who must have found a pair of Will Addison's old boots – slipped defending a Leicester attack down the wing. A bit of a kerfuffle on the try line and we had the first of many TMO referrals for the evening.
Did the ball reach the line? Was it placed immediately? Ref and TMO both thought so and we were 5–0 down. Joe Ford missed the conversion (hmm, why does that sound familiar?), and everyone trotted off for the restart.
The next 13 minutes consisted of what seemed a litany of gaffes, bloopers, mistakes and pratfalls as both sides seemed to have forgotten all of their basic skills in the face of what was, for Manchester, some pretty mild weather. Honestly, if the PA had been playing Yakkety Sax throughout, it would not have been out of place. Somewhere in the middle of it, Faf missed a penalty.
Halfway through what had been a turgid, uninspiring first half the Sale forwards were camped on the Leicester line. There was a brief flurry of action and we had Bryn over the line and Joe Ford in the bin. Faf missed the conversion (there was a bit of theme developing here…) and we were all square at 5–5.
Five minutes later, it was 10–5 to Sale as they overcame the early jitters and put together a nice, fluid backs move and put Denny over in the corner.
Faf missed the conversion…
With one thing and another – TMO referrals and so on – the half was taking an interminable amount of time to complete, but we did manage to get to half-time before the heat death of the universe.
The second half was much more encouraging as Sale took control of the game, Leicester not really getting a look in.
And the tries came: a mazy run from Reed lead to a 49th-minute Morozov cocktail[1] (conversion missed), Josh B ten minutes later (conversion missed), Faf with five minutes to go (conversion— you get the idea) and finally, as the last act of the game, a penalty try. (Interestingly, for a while there, the scoreboard only recorded five points for the penalty try, so we even managed to miss a conversion that we didn't have to take.)
Somewhere in the middle of all that, Kalamafoni was shown a red card for a shoulder-first clear-out on Josh at a ruck, meaning Leicester played 35 minutes with 14 men. Maybe he wanted to get off the field early because he was fed up with being flattened by a diminutive, blond Saffer.
---
Nice as it is to beat Leicester and even nicer to do it with 27-point winning margin, I'm not going to get carried away with this win.
For a start, there's the small matter of yet again taking a good twenty minutes to get going. Top-flight teams (or teams with pretentions to the top flight) do not faff around for a quarter of the game, giving the opposition a head start and making life difficult for themselves.
Also, top-flight teams don't keep dropping the ball at important times, nor do they regularly cough it up in tackles.
Until these basic errors are eliminated, we'll continue to be a team that can beat Gloucester and Saracens handily and then get stuffed by Northampton. It's like a wall whose bricks are all fine, but the mortar's dry. Looks good, seems to stand up well but is fundamentally unsound.
It sounds harsh to say that, but it's so frustrating to have a team that is capable of some utterly sublime rugby, but that can also struggle to put two or three phases together. I imagine it's what it must be like to be French.
On the plus side, though, we could enjoy Faf marmalising Kalamafoni and Simmons behind a creaking Leicester scrum. We can also relax slightly knowing that Valery Morozov is shaping up to be a worthy understudy to Ross (another Vadim in the making, or is that putting the curse on it?).
Cannonball and JOC are getting better together in the centres (what will be the pairing when Ashy returns?) and Aaron Reed is proving to be a very slippery customer indeed; he just needs to work on his defence a bit. Even there, he showed a couple of good flashes, including a good bundle-into-touch worthy of the best.
A couple of tries butchered, a couple disallowed: we almost could have done to Leicester what Northampton did to us. Yes, this was probably the worst Tigers team I have ever seen in some 25 years of following Sale, but we scored six in the sixty minutes we actually played rugby and shut them out completely for 75 minutes. That still counts for something.
It's the nature of this team that we have a run-in that could see them win all six games or, equally, lose them all. We were in this position last season: should have secured a top six place, but blew it. The team have fifth and possibly fourth in their grasp. Can they eliminate the schoolboy errors and live up to their potential?
I'd quite like a trip to Exeter for a semi-final.
---
[1] I've been waiting since the day his signing was announced to use that…