View from the south stand: Sale 20 Connacht 10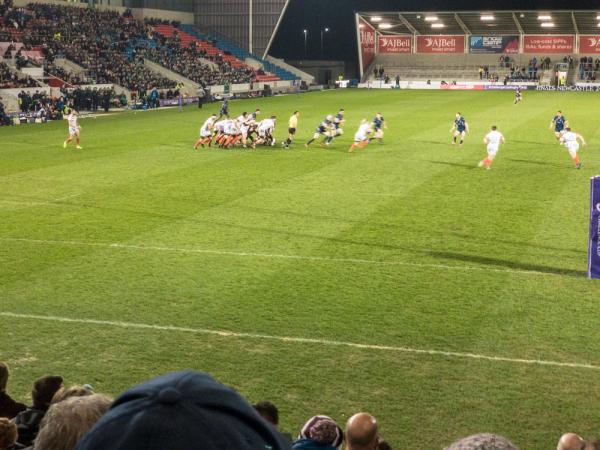 By Major Bloodnok
April 2 2019
A welcome return—A mojo regained—An oddity—Prime position—The future—Heavyweight—Problems remain—Questions
What a difference an AJ makes.
Two touchline conversions — one from each side — and a couple of penalties showed us what we've been missing for too much of this season. Faf is capable of some stunning kicks, too, but he's less consistent than AJ.
AJ also typically put himself about in defence, too, so it was a relief to see him go the full 80 minutes without breaking.
It was good to see Denny take on the Ashton role of chasing down a lost cause a couple of minutes in. Carty actually fluffed the offload before Denny made the tackle, but I think the threat of him bearing down like that was at the root of Carty's poor pass and getting Sale (and Faf) off the hook.
Talking of Denny, it's good to see him so obviously with his mojo back, not only scoring for fun again, but getting stuck in (remember him packing down at 7?) and so clearly enjoying playing.
Byron is a bit of an oddity at the moment. You think he's being a bit anonymous and then –bang! – he justifies his place in the team.
Sam James is such a good rugby player that you can stick him at 10 or 15 and he'll make a (more than) decent fist of it. But put the 13 shirt on his back and you see the step change: this is his position, and he deserves to play there.
Luke, on the other hand, is starting to look more and more comfortable at full back – still a bit green, certainly, but getting there – and I'm wondering if it isn't time for the club to do a Foden on him: tell him he's a 15 and get him the specialised training that that position requires. Meanwhile, I'd still like Ashy back there, please…
And the cannonball is (nearly) back. After a few weeks of frustration watching him drop balls with an alarming regularity, and not really crashing through the way we know he can, in this game we started to see the old wrecking ball that we remember from last year. Still dropped a couple, but a big improvement.
Philips continues to impress me. When he was first signed, the descriptions were "journeyman", "impact sub", "useful lump" and so on. The reality is that he's pretty much the nailed-on starter who needs to be displaced rather than superseded.
And yet…
And yet…
And yet.
For all we have some key players coming back from injury or coming into form, for all we have some – shall we say? – unexpected talent coming good, for all we can dominate teams the way we did in the first half, there's that second half to consider.
To me, Sale did that thing that they did at Newcastle the week before: dominate the first half, but fail to adapt to the opposition's change of tactics/intensity in the second half. Connacht came out after the break with much more of a sense of purpose, of desire and Sale got caught on the hop. If it weren't for Connacht's hopeless butterfingers, Sale might now be "concentrating on the league" rather than planning a trip to the Atlantic seaboard of France.
This falling asleep for long periods is a big concern for a team with high ambitions. Top-flight teams keep going for 80 minutes; they don't dominate for the first 40-60 and then sit back and let the opposition in. I don't think that this is a failure of desire on the part of the players: it is, as I've hinted before, about a failure to adjust the game plan, to respond to the opposition changing their tactics. Maybe they need to have a more variable game plan themselves – keep the opposition off balance, so that they can't enact a coherent game plan of their own.
I don't know, I'm not a rugby tactician in any way, but it concerns me that we're failing put teams to the sword when we have the upper hand. Until we are regularly hammering home any advantage we have in games, I will continue to watch games in trepidation unless we have a lead of at least twice as points as there are minutes remaining (and even then…).
Anyway, Quins next. They won't let us off the hook like Connacht did. Will we get Ashy back? I hope so, the difference he makes to the team is considerable and I think we'll need him if we're going to make progress in the league.