View from the south stand: Sale 28 Harlequins 17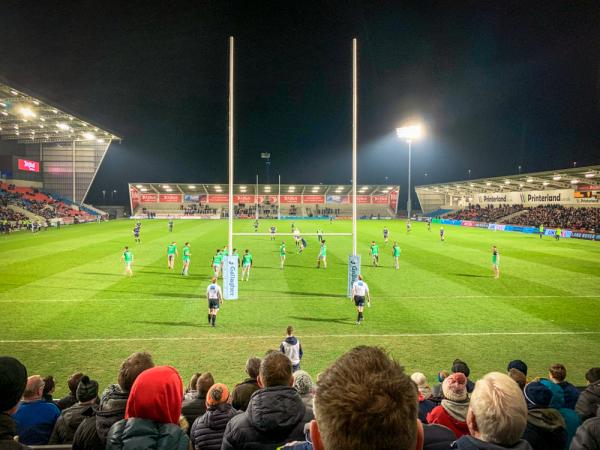 By Major Bloodnok
April 8 2019
Truisms—Expectations—A familiar start—A battle won—Indiscipline—Refs and TMOs—Improvements—Future needs
What a difference a kicker makes.
There's an adage that says "if the points are on offer, take them". This game certainly added a data point in support of that. Seven penalties are worth three converted tries: sometimes it's possible to forget that simple fact and underestimate the power of racking up the three-pointers if your opposition is daft enough to give them to you.
I occasionally envy supporters of (say) Exeter or Sarries, who can turn up pretty much expecting a win. Even supporters of (currently – sorry) Worcester or Newcastle might have a reasonable expectation of a certain result; even if it's not the one they would like. Supporting Sale, it feels as if every match is a genuine 50-50 proposition. We can beat the top team and lose to the bottom. At the gathering of the clans before this match, I genuinely could not call it – any result seemed to be equally likely, as has been the case with nearly every game this season.
---
The game started badly, with Quins 7-0 up after 5 minutes. Van Cannonball was a bit over-eager rushing out of the defensive line, a gap appeared, Quins exploited it and, a few phases later, Brown was scoring his 90th try for Quins.
And it could have been so much worse a few minutes after that, when Dombrandt squeezed through another gap, eventually setting Care off for what looked a certain second try. As it happened, though, Faf gave himself a lot of credit against the "doing something silly" tally by grabbing Care and rolling him over, preventing the touchdown. Coupled with Harrison making Sinckler look a bit silly at the subsequent scrum, this short spell seemed to be the one to spur Sale on to greater efforts.
Over the course of the next twenty minutes or so, Harlequins' indiscipline gave McGinty three kickable penalties. He doesn't miss those and Sale now found themselves ahead, without ever really threatening the Quins line. Contrast that with Harlequins decision to go for a line out late in the half, rather than take a kickable penalty. They didn't get close enough to the line, and they ultimately not only failed to score, but gave up the interception try that gave Sale a 5-point half-time lead. Three points then would have made a big difference…
---
I suppose we need to talk about referees. Normally, I avoid passing comment on the ref in these reports, but the circumstances of Harlequins' second try mean I can't really ignore it this time.
Let me say immediately that I rate Wayne Barnes as one of the best refs in the world; up there with Nigel Owens. His communication with the players is good and clear and, most importantly, he is nearly always right. Games that he's in charge of generally flow pretty well and, overall, I'm happy to see his name there, despite Sale's appalling win/lose record with him in charge (a result more of the nature of the opposition that he's selected for, I believe, rather than anything untoward). Also: no ref; no game.
At the time, it certainly looked as blatant a bit of obstruction as you could wish to see. Hearing Barnes immediately tell Jonno "you tackled the wrong man" suggested that he had seen it somewhat differently. And, so it proved as play continued and Quins eventually went over for their second try. Now, I'm not an international referee at the top of his game, so I'm not going to argue the toss over whether Ross was blocked or chose the wrong target — I'll believe the boss.
However. However, however, however. I watched the match back again at home and the commentators spotted something else: as Jonno came off the tackle, that same Quins player (slightly ahead of the ball carrier) knocked Rob Webber away from a possible tackle on the carrier – a much clearer obstruction, but easily missed without a replay.
Ah, the TMO. I feel that the game is still struggling to come to terms with it. We have referees who seem to doubt themselves incessantly and refer nearly everything upstairs, and we have those who refer almost nothing. On the whole, I prefer the ref who backs himself and his judgement and uses the TMO when he is unsighted or to check when something might have a major impact (e.g. a potential red card offence). Another ref might have checked, seen the second obstruction and wiped off the try. That same hypothetical ref might also have waited on the earlier "offside", let play continue to a possible try and allowed it when the TMO showed no offside.
Swings and roundabouts. Move on.
---
The second half went as so many second halves go: more cagey, lower scoring, less eventful. Three penalties to one consolidated Sale's half-time lead and meant that Quins failed to secure a losing bonus. That puts us, as it were, one score behind them in the table, rather than two (5 points, not 6).
---
This wasn't a great game, but it was entertaining, as Sale/Quins games often are. Sale are still making too many unforced errors and squandering good positions with misplaced passes, dropped balls and schoolboy errors. On the plus side, Sale's penalty count was gratifyingly low, unlike Harlequins', which ultimately cost them the match. Thankfully, the extended "going to sleep" of the previous games was not apparent, although there were scrappy periods, where only dogged determination stopped a mini-rout occurring.
AJ got the man of the match award, and it's hard to disagree with 23 points and good, controlling performance at 10, but I want to give a big shout out to James, Luke of that ilk who had, I felt, his most mature performance so far at 15. Confident and commanding under the high ball (a source of frustration to Quins, I suspect, as they may well have specifically targeted him), he made several penetrating runs and just looked totally at home. Like I said, let's just tell him "you're a fullback" and make him one of the best.
Ross Harrison spent most of the game getting under Kyle Sinckler's skin, which probably had a lot to do with his (Sinckler's) binning for a petulant slap on Faf's chest. Webber and John continue to grow and mature, forming, with Ross, a very potent front row that, as they say, stitched up the Quins front row a treat.
Van Cannonball also showed more signs of the wrecking ball of old. I didn't see him drop anything and he put in, in my view, a solid performance that bodes well for future demolition jobs.
---
So, fifth in the table, level on points with Bath and two points ahead of Northampton and Wasps. Potentially, we could be eighth after the next round of games if we don't beat Worcester at Sixways. Mind you those three are away at Gloucester, Harlequins and Exeter respectively, so a win at Worcester could also mean pulling ahead of the pack somewhat. That would be a nice thing to take into the Challenge cup semi-final.
Worcester are going to be scrapping for their lives on Saturday, but I think this is a genuine must-win game. That possible gap ahead of sixth could be psychologically important for the remaining three games, all of which are potential slip-ups. Gloucester's win at Saints puts a big shadow over the season's last game, Bath are no mugs and Bristol are still a force at home. I don't want to do Worcester down, but if we have pretentions of top six and Champions' league, we have to win and win well.