View from the south stand: Sale 6 Bath 3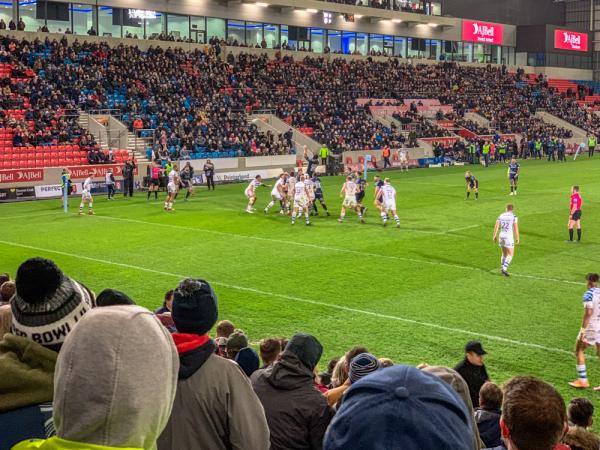 A rare foray into the 22
By Major Bloodnok
April 28 2019
Several drafts—Difficulty starting—Problems continuing—A terse summary—Describing tedium—Positives?—Looking forward
---
I went through several entire drafts of this report on the walk between the south stand and the coach home. Usually, I have to spend some time coming up with the first sentence, after which the rest mostly follows. The first sentence, in this case, was quite easy: one or two of those I came up with were even printable. No, the problem with this game was finding something about it to warrant a second sentence.
---
Well, it was a win.
---
So, Bristol next up and this is going to be a—
Oh, you want more? Gluttons for punishment, eh? Hmm, let's see…
---
The Premiership app on my phone has a helpful timeline of significant events in a match as they happen. At half time, it read: (KO)-(PG)-(substitution)-(PG)-(HT), which, I think, somewhat overstates the entertainment levels at that point. The head groundsman was heard to suggest covering the in-goal areas to protect them from the weather as there seemed little chance of either team actually using them. For long periods of the game, he could have included both 22s.
This was the sort of game that is euphemistically described as "attritional" – if, by "attritional", you mean "error-strewn", "tedious" and "mind-numbing".
I actually watched the game again the next morning (I know, what was I thinking? Would it become an exciting multi-try-scoring thriller overnight?) and I still couldn't find anything of note to talk about in that first half.
About ten minutes into the second half, we were rudely awoken from our communal stupor when something approaching a period of rugby broke out. Sale got hold of the ball and started to string several passes and phases of play together to make strides into Bath territory.
It couldn't last: Sam Underhill brained Freddie Burns as they both tried to tackle (I think) an unspecified Curry (phrase ©Andrew Cottar). With Burns spark out on the grass (and several supporters fainted from the unexpected excitement), referee Foley had to call a halt to things (and was heard to apologise for stopping the first bit of rugby in the match) whilst Burns was revived and led from the field.
I've mentioned before Sale's tendency to have a 20-minute siesta; for this match, they put in an extra effort and went to sleep for 70 minutes. For the final ten minutes, however, they tried hard to turn their 6-3 advantage into something more substantial. Inevitably, the attempt fizzled out and we were treated to that old friend of Sale supporters from seasons past: several minutes of squeaky-bum time.
But then, with the clock dead, Sale booted the ball out, the game was over and we all gave a rousing cheer for (a) the win and (b) the end of the torture.
---
And now I struggle to come up with anything in the "takeaway" section. Our kicker (2 from 3) was better than their kickers (1 from several). The Currys just get better and better and, if Eddie Jones only takes one of them to Japan, then I seriously doubt his current state of mind.
In trying to sum up that "performance", the word that forces itself to the front of the mind is "tired". I can't speak for Bath's contribution, but the Sale players looked a bit knackered after a short turnaround from their exploits in France. The penalties of a small squad, I suppose, but they all seemed a bit off the pace and some of the decision-making betrayed sluggish thought processes. And, for me, the one showing the most signs of fatigue is Sam James. I think I'm right in saying that the ten minutes or so that he spent in the blood bin was the only period that he has not been on the pitch in a Premiership game this season.
If Rohan is available, I think I'd play him and JOC against Bristol and give Sam a well-deserved three-week break to come back firing on all cylinders against Gloucester.
---
To sum up: a game to forget (memories of Leicester at Edgeley Park, Mike Hercus's first game). I know, a win's a win, for a' that and all, but you have to wonder about the casual fan who's thinking of coming along to a game and watches that. What does that do to help increase the fan base?
---
So, Bristol next up and this is going to be a tricky one, especially with them being on a high after defeating Leicester. But they are beatable and I can't really see us retaining a top six place unless we win both of our remaining games. There are those who say we might be better off in the Challenge Cup again next season, but I can't go along with that. I want us to be tested against the best, even if it does mean we don't get past the group stage. So go for it, let's finish the season on a high so we can spend the summer contemplating all the good stuff to come next season.