Sale v Leicester (EDF semi) report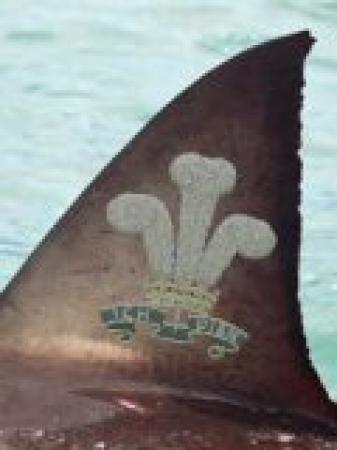 By snaderson
April 6 2007
It's amazing how often it happens that you face the same team in the league and the cup within a very short period. Having played Leicester in the EDF cup, Sale face them again in the league in their next match. As crunch time looms, snaderson sharpens his leek, and looks back to the Cardiff trip.
Down by the deserted railway station a bus was making its ponderous way through the forest of traffic lights. We were on the wrong side of the road from the stop and still a little bit away. Hurrying to get there before the bus, Pete did his best to chivvy Jill along. She was having none of it so he skipped ahead and got his foot in the door for all of us. Then, in two shakes of a bendy bus's tail, we were in the centre of Cardiff, by the main railway station. The streets were moderately busy; one or two people in rugby shirts, both Leicester and Sale, were walking around having made their way early for the game.
None of us had eaten that morning so we were looking for somewhere to line our stomachs. The first pub we came to, just past the station, was advertising cheap breakfasts so we went inside. It was a big place. Here and there people were getting stuck into pints of lager; behind the bar a screen was showing a Pussycat Dolls' quasi-softcore video; over in one corner Wookie was shovelling down a massive plate of fried food. It looked spot on so we got to the bar and ordered big portions too.
After feeding our faces (and making do with chips, Wookie having finished off all the hash browns) we walked up to the stadium to see where we needed to be. It's odd these days to find stadia in the middle of towns, like Maine Road used to be and Anfield is (for now). The Millennium Stadium (sorry, Stadiwm y Mileniwm) rises incongruously behind offices and shops like an alien spaceship with odd probes and insectoid arms and legs poking out of it. While we were in town Pete wanted to go to the shop – not for himself I should say, but to buy a birthday present for his Welsh chum Sian. However, it seemed like you had to enter the stadium to do this, so we carried on past it up to the north end of town. A group of Leicester fans passed us, cheekily muttering 'ooh' and 'who are Sale?'. A little Sale-clad lass with her Sale-clad family passed by too, grinning up at us. As we approached the castle I spotted Austin Healey crossing the road. Pete and I wondered for a moment whether to shout something or just to give him a shove but he was with his wife and kids so we considered it best not to.
At the top of the town we had a look at the slowly moving Taff then went into the Irish pub next to it. It was full of Leicester fans (we presumed they were mainly sitting at that end of the ground) and inevitably we sat by some and fell into conversation. A big bloke complained that Sale get all the press about being hit by injuries while Leicester had suffered their fair share and were being ignored. Oh, boohoo. 'We're the biggest club in the country,' he said, chomping into the packed lunch he had brought with him. 'No one can argue with that.' In terms of crowds, he added, and maybe he meant money too. I'm not sure what he was getting at – perhaps I should be generous and just say he was asking for respect, but he seemed to be implying that their past successes and their unparalleled income meant they should be treated as a special case. Whatever he meant, the group was friendly and pleasant, despite only having eyes for Tigers.
We moved on and had time for another drink, this time in a trendy bar opposite the main entrance to the stadium (where we saw the Major pass by chugging his pipe, blind to our waves). Though we were meant to enter by a gate at the south end, we tried the main entrance anyway and were somewhat jobsworth-ishly shooed away (even Twickenham is relaxed about what gate you use). Pete said he wanted to go to the shop and was told by the steward that there was one near our gate or that we could walk back round to the main one just in front of us. When we finally got in the ground, Pete set off to look for the shop round our way. He found it. It was shut. Nice work, Ms Steward. I suppose she hadn't lied – it was certainly where she said it would be – it was just that her advice was a waste of time.
Time was suddenly running out so we went up to our seats and looked out over the ground. It's a whopper of a place but whopping in a different way to, say, Twickenham. Whereas that stadium seems enormously wide and open, this one towers up. Designing it like that has the advantage that you feel quite close to the pitch, even a few rows back in the middle tier, while at Twickers it's sometimes like watching a game in another county. The stands at the Millennium were maybe half full, though more people kept coming in up to and during the game. We recognised a lot of faces around us (unable to get away from Wookie, we found him sitting right behind us) and they included our neighbours at Edgeley Park, John and Sue. The Sale players were still out on the pitch and only went in a couple of minutes before kick off (to our chants and cheers).
Some young dancers leapt about, some flame throwers belched fire by the players' tunnel and then at last the game kicked off. It was a steady, conservative start for both teams, keeping the ball tight and kicking for touch. There were early penalties for both sides. Sale were looking quite good, perhaps a little flattered by a shaky Leicester defence. The Tigers looked threatening in attack though and it took some last ditch tackling to keep them away from the try line. Down in the Tigers 22, Sale lost the ball and it was hacked ahead by Alesana Tuilagi. Sherri tackled him late and was sent to the sin bin for his troubles. Immediately from the penalty lineout, Tuilagi charged ahead and broke through the centre channel to bash through the last line of defence and score. Oh dear, we thought, here we go.
As it happened, the try-fest didn't materialise, mainly thanks to some dogged defending. A long period of pressure – scrums and penalty lineouts – ended with a penalty for Sale. We cheered and whooped in appreciation, as we did for big tackles by Seabass, Jonesy and Elvis. At half time we were behind but felt we were still in it at 13 – 3.
On the restart Ripol made a break and found Seabass on the wing. The big man engaged flying-fish mode and battered through a poor tackle from Moody and a lightweight one from Geordan Murphy to touch down. My voice suffered for that one. What a man! Despite that little glimmer of hope, Leicester kept the scoreboard ticking over with penalties and a drop goal so we never quite got close enough to them. Larry got injured and no one seemed too upset to see him go off and Lee Thomas come on. Moody was sin-binned for a cynical offside at a ruck near the Leicester line (altogether now: 'same old Leicester, always cheating'). Tuilagi showed his strength again, and our weakness, bashing through the middle and offloading to Dan Hipkiss who scored under the posts. What we'd give for someone with as much strength in attack as that. Goode, on for a poorly performing Paul Burke, kept his percentages up.
Things started getting a bit bogged down. Subs came and went – Seabass got a barracking from the Leicester fans by the tunnel as he left (they were just jealous; the Tigers fans said they would love to take him off our hands). Towards the end Nacho, making a very welcome return from injury, charged over for a try, which the ref needlessly queried with the TMO. It wasn't enough to bring us back into the game and being two scores behind with a couple of minutes to go meant we had run out of options. It finished 29 – 19 to Leicester but when our boys came over to wave to our group of spectators we cheered and chanted as loud as we could. We might have lost but it was a powerful performance and a lot more convincing than many of the recent ones. Most agreed that if we carried on playing that way, we had a good chance of winning all our remaining games (though perhaps such a level of optimism is foolhardy).
We were staying for the second semi-final, between the Neath-Swansea Ospreys and the Cardiff Blues, but took the opportunity to visit the shop (the one that was actually open) in between. It was pretty rammed so I waited outside while Jill and Pete bought some Welsh gear. A Cardiff fan wandered over for a chat and discussed the last game, the next game and the state of rugby in general. He was a bit too keen on Jonny Wilkinson for my liking (referring to the golden era of the World Cup he said, 'He controlled the game and got the backs moving,' whereas I rather think Jonny just kicked the points while an unstoppable set of forwards battered the opposition into the ground). As we walked round the ground someone tried to sell Jill a ticket for a prize draw for a trip to the final. 'Look at my shirt,' she said, 'do I look like I'd be interested?'
Back in the stadium an Ospreys fan moved into one of the now unoccupied seats in front of us and moaned about the Sale-Leicester game. 'Doesn't say much for the state of English rugby,' he said. The Welsh game was a scrappy affair with sendings off, plenty of mistakes and lots of slipping on the dreadful turf (when will they ever sort it out?). Martyn Williams worked his heart out in a hopeless cause; Brent Cockbain – who couldn't slip any further down in my estimation – went on demonstrating what a nasty piece of work he is; James Hook added to his accolades with an assured performance at 10.
When it was all over we went back to the Irish pub we had been in before. It was busy again but we managed to avoid most of the Tigers fans, instead chatting to a Blues fan and a couple of young Ospreys fans ('from the Valleys,' one said). Leaving that pub we found ourselves in step with an old Leicester boy who told us, as if we were really interested, that Gloucester had won their game that afternoon and had knocked Leicester off the top of the Premiership. Yawn.
Having caught a Rick Stein programme on TV that morning, I had a hankering for fish. Wookie had been heading to a seafood restaurant the night before so we thought we might try to find it too. Pete tried asking a policeman where such a place might be ('Sorry to use you as a tourist guide') but failed (he should have stuck to asking the time). In the end we went back to the Old Arcade pub – packed full of Sale fans as before – and there we found Tigger instead of Wookie. Tiggs had been drinking since 10am and was in a friendly mood (isn't he always?). He was more than happy to phone the hairy one to get directions to this mysterious fish place. It was just down the main street, apparently.
The streets were as wild as any town on a Saturday night: lads braving the cold in shirt sleeves, lasses tottering on high heels, policemen keeping a watchful eye. After running the noisy gauntlet of the main street we found Le Monde, our restaurant, down at the bottom. It was up some stairs and was dark, cosy and very full. A friendly waiter told us we would have to wait 40 minutes for a table but we could hang around at the bar until one was free. It sounded like a good plan so we booked ourselves in and got a bottle of Beaujolais Villages ('Beaujolais vee-aazh,' I asked; blank looks from the lass behind the bar; 'Um, Beaujolais villages?'; 'Is that a red?'). While we stood there, in our Sale gear, an old fella in a jacket and tie walked over and asked Jill if he had seen her at the game wearing a blue wig. 'Not me,' she said. 'Who were you supporting?' we asked. 'Ah, Sale,' he answered. 'You see my son is Chris Jones.' Cue astonishment followed by praise for the big lad's performance (mighty as always). He turned to another old boy who had wandered over. 'This is Charlie Hodgson's dad.' Wow! We started chatting but then he pointed out the woman at his side was Charlie's mum. Double wow! We turned our attentions to her (at which Mr H good-humouredly joked, 'I thought you were interested in talking to his dad'). Another lady joined us and was introduced as Mark Cueto's mum. It was like hanging round with royalty…but in a good way.
They stayed for a good while to chat and were lovely and friendly, clearly very happy to meet fans of the club. Jill endeared herself to Mrs H in a Jilly, speak-before-thinking way, by saying, 'I love Charlie.' 'So do I,' replied Mrs H, beaming. We waved them goodbye and wished them well, and just at that moment found that our table was ready.
The restaurant was organised in an odd way. There was no menu as such, you just went up to a fresh food counter and ordered what you saw lying around there. It was mainly fish – scallops, tuna, sea bass, Tuilagi-sized tiger prawns, hake and so on – but there were also some monster sirloins and steak fillets the size of half bricks too. Jill asked the guy behind the counter if she could have some tempura oysters and was led to the chef who was presiding over the open kitchen. He apologised that he wouldn't have time to get the batter ready and Jill came back to reconsider her options. Almost immediately the chef dashed over, unwilling to be defeated, and offered to use a thin coating of the normal batter, to which Jill agreed.
Pete had some simply grilled scallops to start; I had four fresh oysters served on a bed of crushed ice and eaten with a splash of Tabasco. The sea flavour was a bit of a shock at first but they were very more-ish by the time I got to the end. Rather extravagantly we drank champagne with this course (actually the drink was a little late in coming and the drinking of it dragged on to the main course too). Champagne in defeat? Oh well, we had met Jonesy's, Quates's and Charlie's parents.
For main courses Jill had a whole lobster, grilled with a cheese sauce. Pete had grilled sea bass fillets (garlic rather than Gallic) and I had black sea bream, served on the bone. It was spectacularly delicious, the quintessence of fishiness, delicate, moist and smooth. Swilling down Sancerre, New Zealand Sauvignon Blanc, coffee and cognacs we made the night last a long time. We were pretty much the last to leave the restaurant and found most of the staff sitting round a table having a chat and a drink as we headed out.
We took a taxi back to the hotel and grabbed a drink in the bar. There we were joined by a couple of Midlands lads who had been to the game as part of a stag do. Leicester fans, unfortunately; one of them said Andy Goode had been his cricket captain at his school. Pete dipped out early and a weirdly intense Scottish-Swiss lad came over. He was a bit aggressive ('What language do you want me to speak?' he asked in a Scottish accent; 'You wouldn't say that if I was black,' he moaned in response to some fun poked in the direction of Switzerland). The clocks had changed, it was 3:30am, it was clearly time to go to bed. Time to close the day down and soon time to bid farewell to Cardiff. Another eventful, fun-packed away trip over and done.