Bath v Sale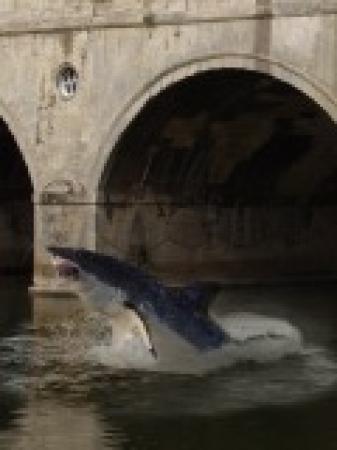 By madhatter
January 5 2006
With the New Year's celebrations over, would there be renewed partying on the funbus home? No win at the Rec for 7 years meant the omens weren't good. But Sale are on a real roll, so the omens were good. Madhatter butters up a Sally Lun tea cake and brings us this crumb-spoted report...
Off to the Rec for the next instalment in the battle of the Premiership leadership. Will it rain or won't it rain was the question most people were asking. What will come of the battle between Bell and Sherri, will Beattie win the battle over White, forwards v. backs battle or not? Alas the game today..........was a dogfight and had some very interesting moments.
It started with a bang penalty to us, followed by a penalty to Bath, followed by another penalty to Bath 6 mins gone and 6-3 to Bath. After that not much else happened in the 1st half - a lot of ref pinging trying to control the game from the whistle. At one stage Robinson took a high ball, long kick ahead ran to catch the ball with Stephenson not seeing him took his time, Jase tackled result Sale ball, this move however broke down with another turnover. Sale had a lot of possession but couldn't quite find a way over: the Bath defence was really good, with some good hits in. Sherri v. Bell was certainly interesting and I thought Bath slightly edged it in the scrum, the ref though couldn't tell who was penalising who so gave the penalties in a one for you one for them style!
Half time was spent reflecting in the lack of score from Sale's possession and queing for the toilets!
The 2nd half started with a bang: Elvis try which has been well documented as bad tackling whereas in fact it was a brilliant pass from Charlie to exploit the defence for Elvis to run in swerves. A couple more penalties apiece, with Bath's only decent possession of the match which resulted in the turnover scrum which I didn't see....it was in the wrong corner.
The 2nd try came from within our 22 cross kicked to Quates after a bounce, passed to Jones I think (far touchline), then onto Lund who went in under the posts, definitely one of the best moves of the match. Chabal was double marked all match and at one point 3 on him and got dumped from off the base of the scrum. When Epi came on he created a stir at the base and showed good power with a couple of good runs towards the try line, but, alas, the story of the match: another knock on. Both teams seemed to be having trouble holding onto the ball. Charlie played well as always and had a hand in both tries that were scored.
We had a problem disrupting Bath's lineout, and in the end they ended up disrupting ours as well, although Jones played well again. At one point Bath threw too long; Charlie sprinted up and got the ball: Sale attack including Epi charging forward but the move broke down - turnover - and Bath were off, soon knocking on though.
Larrachea had a very good game from full back. He did an early knock on from a high ball - this prompted a lot more high balls from Bath assuming he would lose face but no: leaping away plucking the ball out of the air and ready to run, pass and off load. In the 2nd half, near the try line, Sale throwing the ball around going forward - I thought the ball had gone to far behind him,but no - one hand outstretched behind him whilst running backwards forwards, caught the ball, secured it for another attack: great hands. I was very impressed with the way Sale offloaded in the tackle, and tried to keep the ball moving, reminiscent of Super 12 and NPC rugby which I have been used to of late.
Our defence was awesome again and Bath never really looked like they were going to score. Very few missed tackles, and great back up, team work in the rucks and mauls.
All in all an impressive performance; we took the game to them up front and our backs looked a little sharper than theirs: Charlie commanding well and providing inspiration in attack. Chabal by the end looked very tired and needed treatment most of the way through, Bath were man marking effectively.
My man of the match Larrachea just for his catch!