A Weekend in France and Spain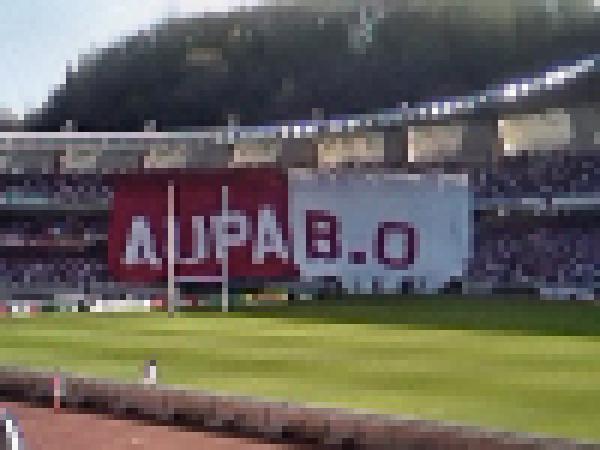 By CheadleEnder
April 8 2006
European away games are fun-filled adventures, enjoyed by all: good food, good booze, great fans. Sometimes, though, things don't always go to plan. CheadleEnder necks another G&T and relates the following tale of woe...
Five go to France
At least France was the original destination. Thanks to Ryan Air and French air traffic controllers the eventual itinerary reads more like a poor Monty Python parody - Spain, Spain, France, Spain, France, Spain, France!

I blame RiggerstheBeer. The omens weren't good from when we arrived Chez Rigby at 5.30 am to find thebeer and themissus had slept in. They were unaware of the shadow play which entertained us as we waited - two panic stricken figures flitting backwards and forwards across the bedroom blind. However, the "famous five" remained blissfully, even excitedly, ignorant of what the Gods had in store as we set off for Blackpool Airport anticipating nothing more than a full Irish breakfast and a drink or two in O'Neill's at Stansted. We arrived safely, we ate, we supped, we ignored the announcements as you do. "What was that........cancelled? Toulon, Marseille........air traffic controllers?" "Oh sh*t"

And so it began.

Moonbeam went off to investigate while the rest supped on. The queue formed, reformed, lengthened till it stretched from one end of Stansted to the other. Rosie's Rebels (Rosie, Ginny and Joe) and others arrived to join us in the queue. Hopes were raised on news of a flight to Pau with seats available and dashed when we discovered the last two taken by the couple in front of us. What was left? A flight to Santander at 6 am on Friday morning!

It is possible to spend too long in O'Neill's - several were heard to say they never wanted to see it again. As they threw us out of our comfy chairs at 11.30 pm we settled to sleep as best we could on seats in the main area. It's amazing the friends adversity throws your way as we shared a laugh and a snore with complete strangers.

For the second day in a row we learned there are indeed two 4 o'clocks in a day. At last we can check in and it looks like this flight will go. After stripping down to almost bare for the over zealous security check we head straight for Wetherspoons and breakfast - who should we meet? Yes, Scuba, Hippy and the first of the Friday travellers heading out. With their laughter ringing in our ears we went our separate ways - they to Bilbao, us to Santander. On to the shuttle train, through the checks, on to the plane, seats buckled - here we go. "What's that? Delay? Two hours?" Yes, we've missed our slot and we have to sit on the runway for 2 hours . . .

Now we're in Spain hiring a Spanish car - pay attention at the back, this has significance at the end of the story! By now all our original plans had been revised so we head straight to San Sebastian. Riggersthebeer says "I've never been to Spain before". Another omen we all ignored at the time! However, at last all goes well. The first hotel we find, the Parma, has rooms for us all for Friday night so we sign in and head for the showers. Washed, primped and feeling better we head for the Old Town, the sea, the bars and all the wonderful things San Seb has to offer. Saturday morning we make the first of our visits to France as we head to Biarritz along the scenic route taking in the marina full of expensive yachts in Hendaye as we go.

Biarritz is hilly. I have yet to receive an explanation for why when we left our hotel (The Tulip) we walked uphill to Pascal Ondart's bar, and when we left the bar we walked uphill to the Tulip. Logic says there should have been a "downhill" in there somewhere. Moonbeam, however, denies walking me around in circles. They sang "Sayull" as we walked but I was forced to explain I don't do "uphill" and "singing" at the same time. The "craic" in Ondart's is an essay on its own. "There's only one F in Adam", "Adams Mum, Adam's Mum, Adams Muuuuuum", Olga bouncing on the knee of a certain committee member who will remain nameless (but I have the pictures!), Manzana - now there's a drink to rival G&T in my affections, the exuberance and warmth of the Biarritz fans and the hardy Sale fans who joined them on the back of the lorry.

Sunday dawns as hot and sunny as Saturday did. And yes, we saw dawn again but this time because we were setting off back to Spain for "the big day". The Sharks flag flying from the car window signified our allegiance to all the Biarritz fans we passed on the motorway - much honking of horns and waving as we leapfrogged each other along the road. The whole of San Sebastian appeared to be awash with red and white. Fans from both teams congegrated in the Old Town. The square was a sea of colour and every side street was crammed with people. The atmosphere was as warm as the sun. Live music, flags, posters - just like Edgeley Precinct when these teams visit us. Or maybe I'd had one too many Manzanas when that picture flashed through my mind..........

I'll draw a red and white veil over the next few hours as we all know what happened then. The saga of the lost passport delayed our return to France and Biarritz. Do I take it with me and the owner is in San Seb? Do I leave it in safe hands and the owner is in Biarritz? I opted to leave it and indeed several hours and many phone calls later the owner is found - in Biarritz! More phone calls and with the help of Niels de Vos, both are re-united the following morning long after we have set off for Riggersthebeer's third visit to Spain in as many days.

It's 4 am again - this time we are up and ready to head back to Santander for the return flight. We have to go back to Santander because we have a Spanish car (remember?) and it can't be left in France. Little hills of spare coins are bundled on Pink Lady's lap to cope with all the tolls along the way, Moonbeam has matchsticks to keep his eyes open as he has to drive, the Riggerses and I snore in the back. We arrive to the airport at 8 am - unload and return the car and set of in search of a loo and a check in desk. Pink Lady is first to the loo, she speaks Spanish. The announcement is in Spanish, the English translation only starts as a now Grey Lady returns. Yes, due to "industrial action" our flight from Santander is cancelled. Off we go to queue again. In the meantime I wonder what is happening with our fellow travellers in France where this supposed industrial action is taking place. A quick call to Tigger and he tells me the Bordeaux flight is boarding. Another call to GB in Biarritz, he calls the airport and they say "non" - no problems in Biarritz, all flights on schedule. Suspicion mounts. A fellow traveller calls his Mum. She calls Stansted Airport and relays the message that Stansted are operating normally and are not aware of any industrial action. Ah, good old Ryan Air - one of the exclusions to the compensation package forced on them by the EU is "industrial action". It may be just our collective cynical minds but militancy mounts as those further back the queue become aware of the situation. However, there is little to be done except find another flight home. FrankG is offered and accepts a flight from Valladolid for himself and MrsG - but he has a two and a half hour drive to get there. BarrytheBus and group are behind us in the queue when we insist on going back to Biarritz for the 5 pm flight. When it's his turn he insists too only to be told sorry, you can only go to Valladolid. The now incendiary Moonbeam, memories of his Che Guevarra, militant left days bright in his eyes, springs to action and produces the forms to prove it can be done and olé, Barry is also on our flight.

Back to the car hire firm. Can we get a car we can leave in Biarritz? Ah no, Spanish cars can't be left in France (I told you this was significant didn't I?) But suddenly our luck returns. One firm has a French car that needs to go back so we can have that. Barrythebus isn't so lucky, he can only get a Spanish car so they have to drive to San Sebastien airport, not for a flight but to leave the car, then get a train to Hendaye and another to Biarritz. We sail off back to France full of confidence that our problems are now over........

Ondart's bar again for a wonderful lunch and a couple of bottles of good French wine. Thanks to the miracle of mobile telephony our fellow travellers are aware of our tribulations. At 3 pm we walk through the airport doors to loud cheers and a round of applause! The owner of the lost passport appears with a G&T in one hand and a box of chocolates in the other and thereby earns my undying love. Suddenly all is right with the world again.

At least it was till we reach Stansted. In the confusion of Thursday afternoon, Ryan Air have lost their record of us on the return flight to Blackpool. They claim we "phoned" on Thursday to cancel! Ummm says I, why would we be phoning when WE WERE STOOD IN A BL**DY QUEUE OVER THERE all afternoon. I was beginning to lose my sense of humour just a tad at this point you understand.

Time is moving on. Everyone else has gone through. The check in desk has closed. Still we wait. A very patient check in person seeks to comfort us "don't worry, we have plenty of time to sort this out - the flight has been delayed by an hour"...........

Did I mention I lost my glasses in Ondart's on Saturday night? Ah, one last hurdle to leap. It's my car that's parked in Blackpool and I have to drive! The journey home via Bury and Heaton Mersey is punctuated by "What does that sign say?" "Am I ok in this lane?" "It's a mile to the next junction", "keep left here", but most importantly "look out there's a camera up ahead!"

As for the person in the back seat who started singing "didn't we have a lovely time the day we went to........." she survived, but only just.

Travelling tribulations aside we had a wonderful time. We laughed our way from Spain to France and back again several times over, met some wonderful people along the way but most importantly we had the warmth, kindness and friendship of all of you who made the journey and kept our spirits up through it all.

So when do we go again?